New month, new MUST BUYs
This week's MUST BUY update renders two and a half times as many results as the previous week. For the third consecutive time, Burgundy dominates, with 19 out of the 77 first MUST BUYs of November. To help you browse through all MUST BUYs (currently totalling 1,739 wines), you can now use the MUST BUY browsing blocks from our free user homepage and/or search page.
Six of the most recent Burgundian additions hail from the latest available vintage – 2017. The likes of Vincent Dauvissat, Olivier Leflaive, and Remi Jobard make the cut for whites, while red 2017s are represented by two cuvées from Domaine de l'Arlot (Vosne Romanée Suchots and Romanée-Saint-Vivant), and Nicolas Rossignol's Pommard.
Meursault dominates white vintages with a bit more age, from Roulot, Pierre-Yves Colin Morey, and the iconic Arnaud Ente. Other red Burgundy back vintages between 1990 and 2015 range from DRC's Romanée-Saint-Vivant, to Bruno Clair's Gevrey-Chambertin Clos Saint-Jacques.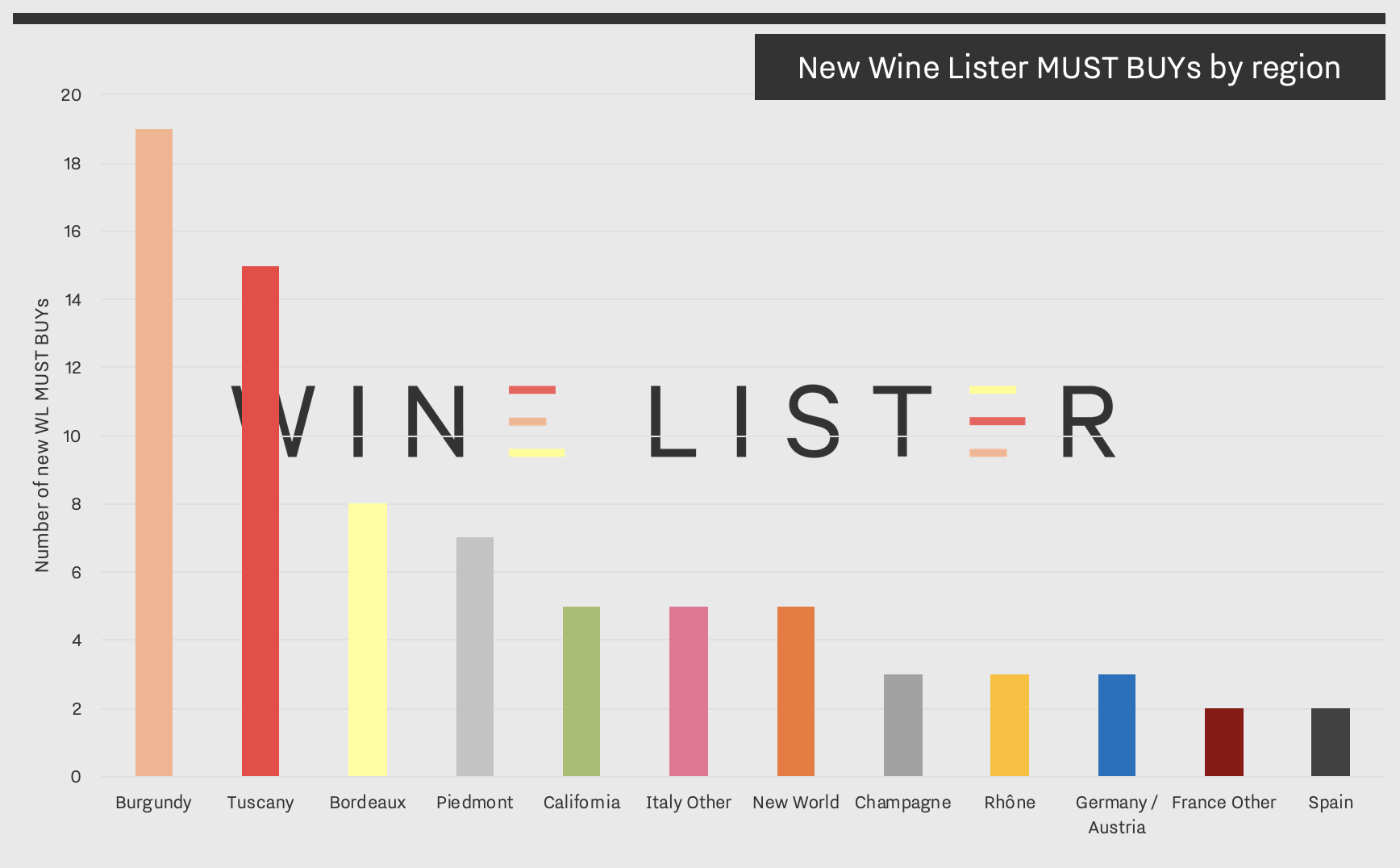 Italy too makes a strong showing this week. 11 of the new Italian MUST BUYs are "Super Tuscans", amongst which two vintages of Tua Rita's Syrah qualify (2016 and 2012), as well as 2011s from Masseto and Querciabella Camartina. Also appearing are two back vintage Chianti Classico crus, from Castello di Ama and Fontodi. Piedmont and regions further afield in Italy are by no means neglected, with 12 new MUST BUYs between them.
Wine Lister MUST BUYs must pass not only the algorithm itself, but also the Wine Lister team's seal of approval. Following recent trips and tastings by different Wine Lister team members, we were especially excited to select wines from Vajra (the Barolo Bricco delle Viole 2015), as well as Gaja, Domenico Clerico, Argiolas, Galardi, and Elisabetta Foradori, as well as three Champagnes – A.R. Lenoble's Blanc de Blancs, Agrapart's L'Avizoise, and Béreche's Le Cran, and finally a stunning dry riesling from A. Christmann.
Download the list of new MUST BUYs here: Wine Lister Blog – New month, new MUST BUYs
Alternatively, you can search and browse through the full MUST BUY list here.