Harvest time in Italy: the rule is now the exception
In Piedmont, the 2019 harvest is late (compared to recent standards). Most Dolcetto was already picked when I visited last week, but healthy Nebbiolo bunches were still hanging on the vines (apart from those of early-picking maverick Roberto Voerzio, whose harvest finished on 23rd September, before anyone else had started). Most growers started harvesting Piedmont's noble grape this week (the second week of October). At Gaja this was around a fortnight later than the already late vintage of 2016, which Gaia Gaja cited as similar for its great quality and quantity.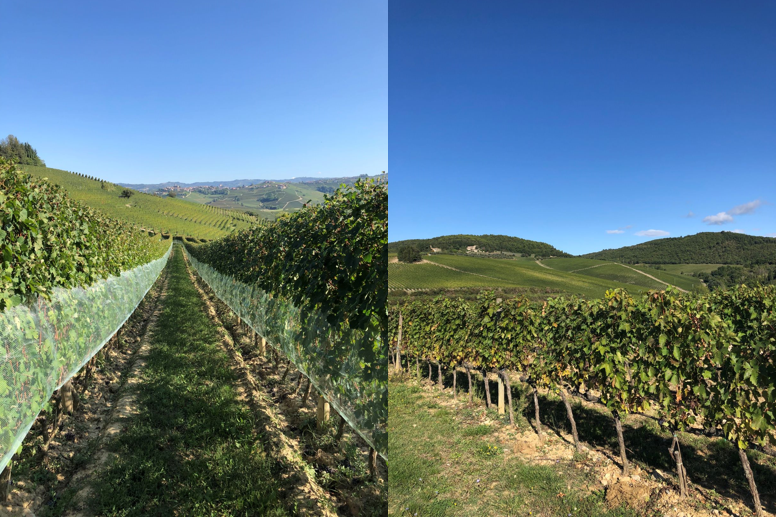 Left: the only grape-free Nebbiolo vines spotted in Piedmont last week, at Roberto Voerzio (with hail-protecting nets that stay on all-year round and last for 15 years). Right: recently picked vines at Tenuta Tignanello in Tuscany.
It has been a late year since the start: the first drought was in February and March, so there was "no energy for vegetation to develop," explained Gaja. "In April we got rain but it was cold, so no sicknesses developed," she continued, expressing relief that there was no replay of 2018's almost tropical spring. There was a "shocking jump in temperature" on 25th June. With the grapes still all green, at 40°C for almost a week, some grapes burned, "even though we hadn't touched the canopy by then, but very old vines don't have so many leaves to protect the grapes," explained Gaja. Then on 7th and 8th July, 200ml of much-needed rain fell. An accumulated delay was increased further by the higher quantity of grapes for each vine to ripen.
At Bartolo Mascarello, the Nebbiolo harvest is starting around now, which is especially late given that Barolo itself – where Mascarello's vines are – ripens earliest of all the Barolo villages. However, such a late harvest has become an exception with the world heating up. "The rules have become the exceptions," mused Maria-Teresa Mascarello, when I asked her about the usual timing for malolactic fermentation at Bartolo Mascarello. "There is no normal time for malo' any more with so many early vintages," she answered.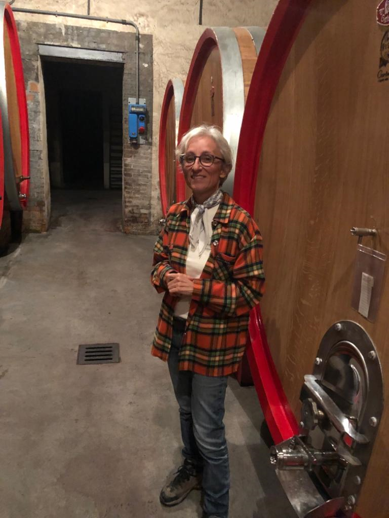 Maria-Teresa Mascarello in the Bartolo Mascarello winery in Barolo, explaining that the rules have become the exceptions due to climate change.
The 2019 harvest might seem late compared to recent, hot vintages, but at Pio Cesare, Augusto Boffa tells me that picking in the last week of October or the first week of November used to be the norm. This is why the winery advocates the Barolo "classico" (they understandably prefer this terminology to "basic" or "standard") – a blend of many different villages. It is "the only way we can guarantee consistency," although he adds that, "there used to be more worries on this front climatically."
A five-hour drive further south, in Chianti, harvest is also on the late side. At Castello di Ama, winemaker Marco Pallanti had to postpone the last day of picking due to some light rain on the morning of Thursday 3rd October. The same spring rain and dry August delayed the vines in Tuscany as in Piedmont. Pallanti was very happy with what had been picked and vinified so far. The wines have "good colour and structure," he told me, likening the quality level to 2015 and 2016, though quantity is around 20% down on last year.
The wet, cold May and torrid summer have also delayed the vines at Tenuta Tignanello, where they were running the risk of rain to achieve the right balance of sugars and polyphenolics. While the season "started very late and is very long," said CEO Renzo Cotarella, "the vines didn't suffer," he continued, leading to "very balanced grapes" and vines "that still look unstressed even now." He compares 2019 to 2016 and 2010, saying it is "more fresh than powerful". If 2019 is anything like the 2016s ("the best we've ever made", declares Cotarella) then we're in for a treat.*
*I was lucky enough to taste the 2016 and the 2009 Solaia side-by-side at the estate, and very excited to hear about an upcoming retrospective at The Ledbury in London being organised by Wine Lister's partner critic Vinous. It will include those two vintages and go all the way back to 1978. Renzo Cotarella will be there, as will Piero Antinori, with Antonio Galloni as host. Tickets are available here to Vinous subscribers or email info@vinous.com.