Does Bordeaux have a new "normal"?
A new "normal" seems to be developing for Bordeaux.
After a fleeting trip around Bordeaux properties on both banks at the start of harvest, the Wine Lister team is excited to see the 2019 vintage take shape.
We must admit this was not our sentiment on the 23rd September, when, on arrival in a dreary, damp Bordeaux, our first thought went to the poor pickers, and of course to the grapes and potential spread of disease in such wet conditions.
Thankfully this worry was quickly cast aside – "the grapes are in an incredibly healthy state. For grape health, this has been a dream year", said Château Dassault's Valérie Befve. This, she further explained, was thanks to the combination of a good spring without too much humidity, budburst that was a little cold but without rain, and a dry summer that was hot without having placed too much water stress on the majority of the vines.
The summer heat wave and consequential drought, similar in timing and nature to 2018 (and to an extent, 2016), will likely result in another year where freshness and caution in extraction are key. Befve put this succinctly, noting that the "skin to juice ratio will require delicate management". This theme, recurring in several of the last Bordeaux vintages, highlights the importance of careful handling in the cellars, and explains in part the purposeful movement towards a fresher, more approachable style, and away from big tannins and high alcohol that need time in bottle to soften.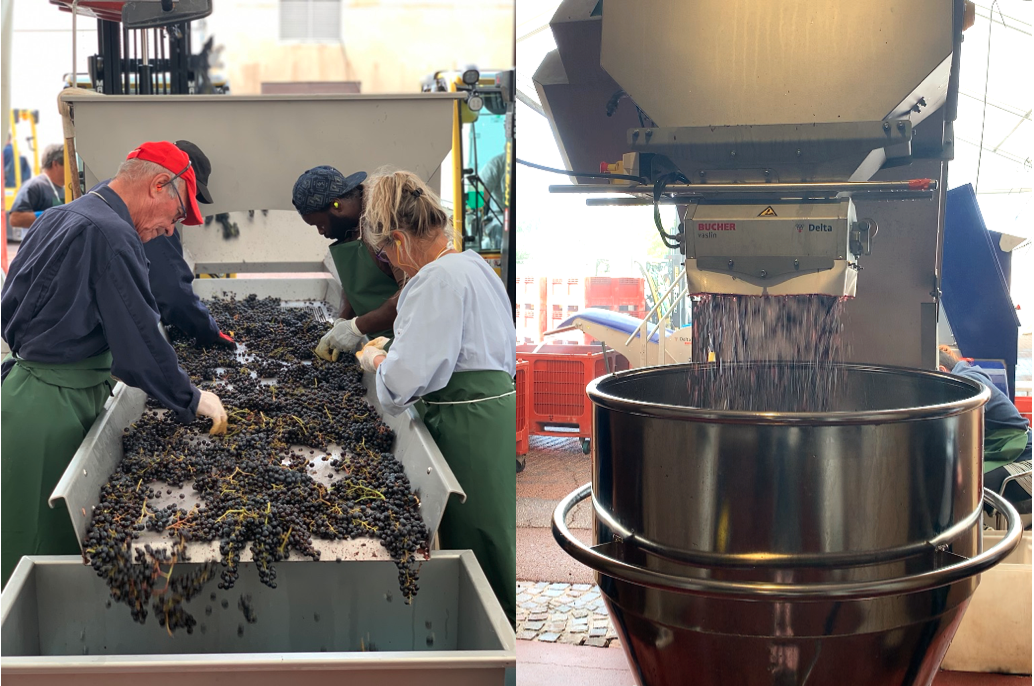 Left: Sorting of the first Merlot grapes at Pichon Baron. Right: Pichon Baron now uses small vats on wheels to transport freshly-picked grapes into fermentation tanks, since they cause less breakage of grape skins than traditional pumps.
Comparable characteristics seem in play on the left bank too. At Pichon Baron we tasted some of the very first 2019 Merlot grapes, and though the berries are a little smaller than usual (because of the drought), they are in perfect health. Axa Millésimes' Commercial Director Xavier Sanchez was quick to say that it was far too soon to speculate on quality levels, but that the very early analyses "resembled 2018 and 2016".
Grapes of high sugar content will need to be vinified with caution in order to balance potentially high alcohol levels. The rain that has fallen in the past 10 days will likely be a welcome gift to the Cabernet Sauvignon from the "grands terroirs" on this front, the majority of which are set to be picked this week.
Sara Lecompte Cuvelier, Managing Director of Léoville Poyferré and Le Crock echoed the positive sentiment on the general quality of grapes for both her properties, in Saint-Julien as in Saint-Estèphe – "We're hopeful it will be another beautiful vintage, for both quantity and quality this year".
While successions of good years are by no means unusual for the bordelais, harvests following heatwaves are becoming a pattern. All that remains to be seen is how the winemakers of Bordeaux deal with this "new normal" in the cellar. We are looking forward to finding out next year!