Investing in Italy – top five Brunello by Economics score
With our founder, Ella Lister, just back from tasting the latest releases at Benvenuto Brunello in Montalcino, we thought we'd dig deeper into the data behind the appellation's top wines. The pyramid system in the region means that most producers make at least three wines: in the middle, a Brunello di Montalcino DOCG Annata (or "vintage"); in good years, a Riserva (with longer ageing but also nearly always the best selection of grapes from the estate); and at the bottom of the pyramid, a Rosso di Montalcino DOC, producing fresher, approachable wines requiring less ageing.
This allows, and indeed encourages, a healthy level of selection in the region. At last weekend's event, the vintages on show were 2013 Brunello Riserva (excellent), 2014 Brunello Annata (a tricky vintage, with some producers declassifying to Rosso di Montalcino), and Rosso di Montalcino 2017. There is also a trend in the Brunello DOCG towards vineyard-specific crus, such as Casanova di Neri's Tenuta Nuova or Il Marroneto's Madonna delle Grazie, both of which feature in this week's top five: top Brunellos by Economics score.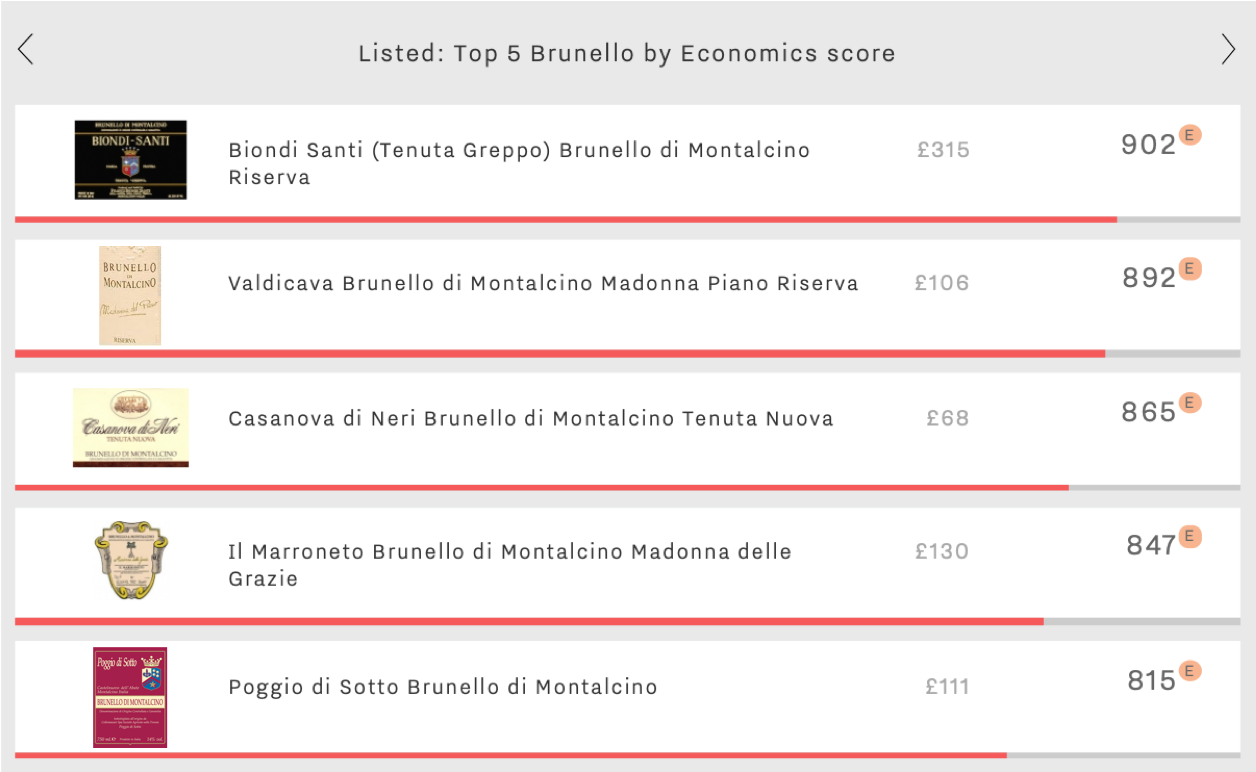 When examining the economic profile of Brunello wines, we see that Riservas tend to have higher Economics scores than Annatas, in line with their higher Quality scores. The best-performing Brunello by Economics score is Biondi Santi's Brunello di Montalcino Riserva, with a score of 902. It earns the number one spot of this week's top five with the highest price at £315 per bottle in-bond, and annual auction trading volumes of 458 bottles. The wine also outperforms the rest of the group for both Brand and Quality scores (904 and 938 respectively).
While Riservas are strong economically speaking, Annatas often have stronger Brand scores than their longer-aged counterparts, being produced in larger quantities and thus achieving greater visibility. In second place is Valdicava's Brunello di Montalcino Madonna Piano Riserva, with an Economics score of 892, whereas its straight Brunello has a Brand score 57 points above its "big" brother, an example of the potential branding conundrum surrounding Brunello and other parts of Tuscany with a Riserva denomination. Nonetheless, the Riserva shows better price performance, with a compound annual growth rate (CAGR) of 15.2%, and an average of 257 bottles sold at auction annually.
Specific "crus" can also perform better than their straight Brunello Annatas in economic terms. In third place is Casanova di Neri's Brunello di Montalcino Tenuta Nuova with an Economics score of 865. Despite having the lowest Quality score (841) and lowest price (£70) of the group, it earns this week's second-highest Brand score (887).
In fourth place is Il Marroneto's Brunello di Montalcino Madonna delle Grazie, the winery's top cru, produced from grapes grown around the historic chestnut flour store house, and below the church by the same name. It has an Economics score of 847, benefitting from by far the best long-term price performance of this week's top five, with a compound annual growth rate (CAGR) of 22.9%. Moreover, it sits just one point shy of this week's number one in Quality terms (937) at 40% of the price – £130.
Rounding out the group is Poggio di Sotto's Brunello, with an Economics score of 815.
While Super-Tuscans have been recognised for their investment potential for some time, Brunello still sits rather in the shadow of its Bordeaux-blend brothers. In Wine Lister's first Tuscany market study, conducted in 2017, Brunello held nine places out of the top 25 Tuscan Economics scores. Today that number has increased to 14, as Brunello – Montalcino's very own, highly ageworthy selection of the Sangiovese grape – goes from strength to strength.