Champagne – slow and steady wins the race
At the end of last year, Wine Lister released its first ever Champagne report. As well as exploring a handful of key trends as identified by Wine Lister's Founding Members, the report also sheds light on top Champagnes as compared to other regions in terms of economic performance.
Prices of the top Champagnes (Dom Pérignon, Krug Vintage, Louis Roederer Cristal, Salon Le Mesnil and Dom Pérignon Rosé) have seen a compound annual growth rate (CAGR) of 4.8% over the last six years. Relative to other major fine wine regions, this long-term growth is slow, as shown in the chart below, but also stable.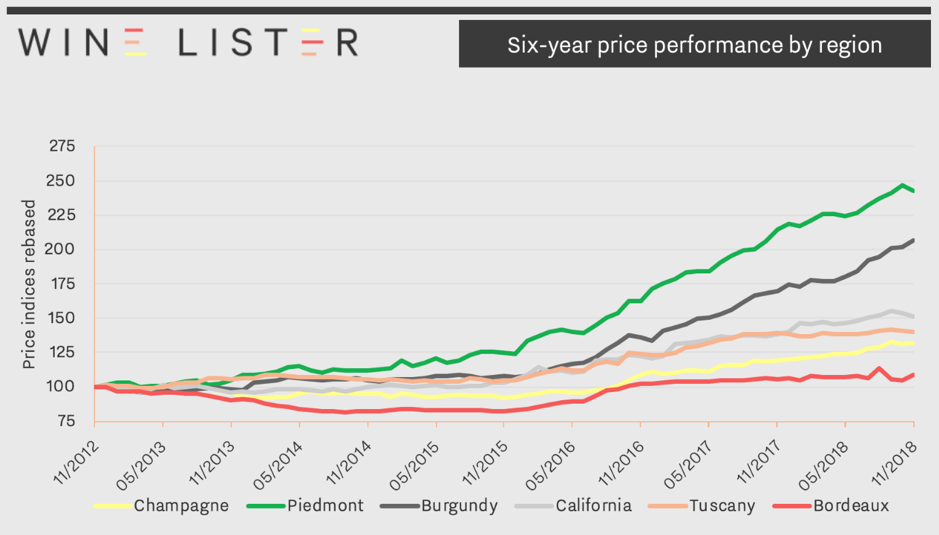 One notable advantage of Champagne as an investment option it its low volatility. Indeed, Champagne prices show a much better level of stability in the secondary market (deviating by just 2.5% from the average price over 12 months) than any other major fine wine region. Slow and steady wins the race.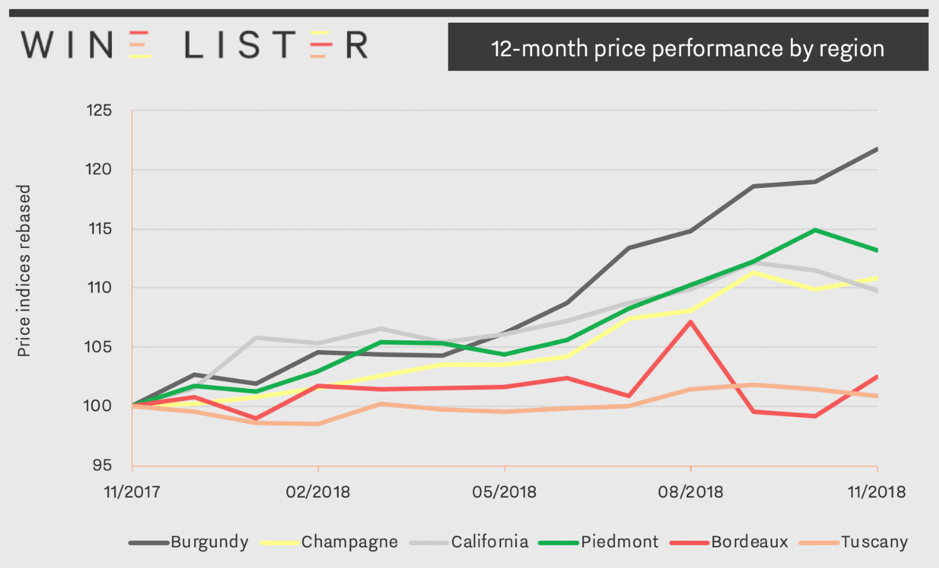 Moreover, recent price performance shows Champagne accelerating. Prices of top Champagnes are starting to grow at a faster rate than their counterparts in California, Bordeaux, and Tuscany, beaten only by Piedmont and the seemingly unmatchable Burgundy. Indeed, as of December 2018 top Champagnes had seen a 12-month price growth of 11%. The region's potential for long-term investment is already being acknowledged by the trade, with one of our Founding Members, a top tier UK merchant commenting "Champagne (Salon especially) has experienced solid growth and has become a reliable investment for collectors".
Salon Le Mesnil is the number one performing Champagne for price performance, with an Economics score of 978, closely followed by Krug's Clos d'Ambonnay (962). Krug also tops the Champagne Economics charts with its Clos du Mesnil, Brut Vintage, and Collection. Interestingly the only NV Champagne to appear within the top 10 Champagnes for Economics is grower Jacques Selosse's Brut Initial, with an Economics score of 911. Its price, £106 (per bottle in-bond), is a mere 18% of the average price of the other nine top Champagnes by Economics score.
To read more key findings from our in-depth Champagne study, read the free summary here. (The key findings and full study are also available to download in French on the Analysis page.)