Bordeaux 2016 top dogs and underdogs – part II (right bank)
Yesterday we examined Wine Lister founder, Ella Lister's top left bank picks from the recent re-tasting of 204 Bordeaux 2016s, now in bottle.
Almost as many wines stood out across appellations on the right bank, from a tasting the following day of 171 wines – testament to the fantastic quality available across the board in 2016. There is no doubting 2016 is a great vintage in Bordeaux. Tasting these wines from bottle only served to confirm the Wine Lister team's enthusiasm during en primeur tastings in the spring of 2017. Revisit our blog post from the time for details of the unusual weather conditions behind this vintage.
Wine Lister right bank highlights include 11 Saint-Emilion wines vs. 10 in Pomerol, and the top pick overall was Figeac, which was "intellectual", "fine-boned" and "gourmand".
Several of its well-known Saint-Emilion neighbours also made the cut into Wine Lister tasting highlights, including Canon ( "feather-light, but generous"), Clos Fourtet, and La Gaffelière.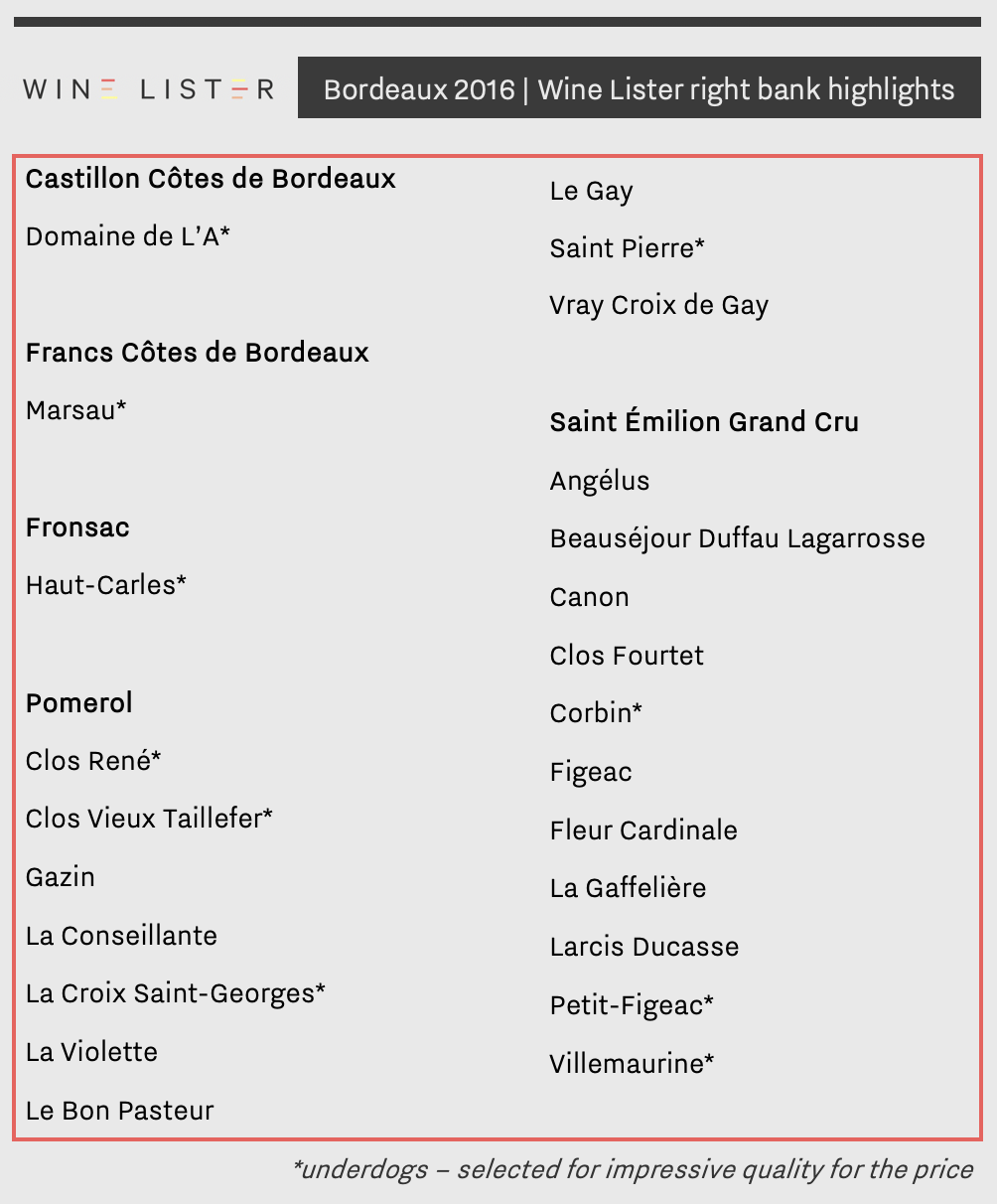 N.B. The tasting did not include wines such as Petrus, Le Pin, Vieux Château Certan, Trotanoy, Ausone, Cheval Blanc, or Pavie.
However, it was Pomerol that produced more "underdogs" than its neighbour: not-so-big names punching above their weight. Of particular note were Clos Vieux Taillefer and La Croix Saint-Georges.
Among Pomerol top dogs, La Violette was showing beautifully, with a "delicate, fresh" nose and "unctuous, satin" palate. Vray Croix de Gay was "refined" and "thoroughbred", while La Conseillante produced a "gorgeous, fine-grained texture".
Further afield, Domaine de l'A from the Côtes de Castillon impressed, as did Marsau, from Francs Côtes de Bordeaux.
Also included in Bordeaux 2016 right bank picks were: Gazin, Saint Pierre, Le Gay, Beauséjour Heritiers Duffau Lagarrosse, Larcis Ducasse, Angélus, Villemaurine, Fleur Cardinale, Clos René, Corbin, and Petit Figeac.