Top five California whites by Wine Lister score
With Christmas and New Year celebrations now behind us, the first Listed blog of 2019 has us dreaming of warmer climes. As an antidote to the January blues, we suggest a dose of California sun in the form of Chardonnay from Sonoma and/or Napa Counties. Below we examine the top five whites from the Golden State by Wine Lister score.
In the context of Chardonnay world-wide, it is worth glancing at regional differences to place the Californian scores in context. While the top five white Burgundies by Wine Lister score outperform their American counterparts by 147 points (953 for Burgundy vs. 806 for California), the Burgundian average price is over 15 times higher (£2,383 vs. £153).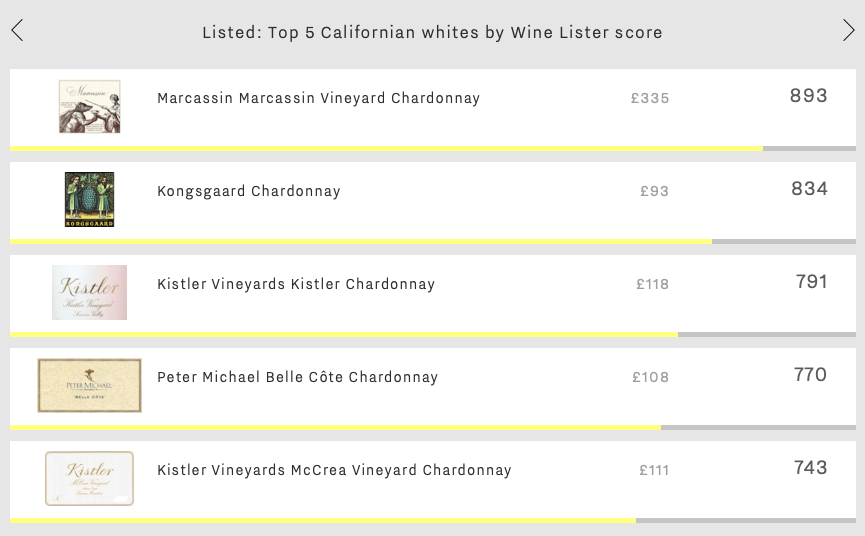 The first of this week's top five is Marcassin Vineyard's Chardonnay with a score of 893. Though it beats the other four wines in all three Wine Lister score categories (Quality 927; Brand 843; Economics 903), its Economics score sits 123 points above the next best Economics performer. This is thanks to achieving the highest market price of £335 per bottle (in-bond), and the largest volume of bottles traded in the past four quarters (353).
In second place is Kongsgaard Chardonnay with a score of 834. At vintage level it actually achieves the highest Quality score of all wines in the group – the 2013 earns 966 points, thanks to a score of 95+ from Wine Lister partner critic Antonio Galloni, who calls it "a real knock-out". This is all the more impressive considering the wine's average price of £93 per bottle in-bond – just over half the average of the group's other four wines combined (£168). Given this price to quality ratio, it is perhaps unsurprising that Kongsgaard has the strongest restaurant presence of this week's top five, featuring in 15% of the world's best.
Next in this week's top five is the first of two wines from Kistler Vineyards. Its straight Chardonnay and McCrea Vineyard Chardonnay earn 791 and 743 points respectively, placing them third and fifth. The straight Chardonnay's Quality score of 892 sits just two points under the quality achieved by Kongsgaard, however its overall score is balanced by a much lower Economics score of 640. This is due to a recent price drop, resulting in short-term price performance of -10.3%. The performance of its sibling from McCrea Vineyard is quite the opposite, with the best short-term price performance of the group (7.7%), and the second-highest Economics score of this week's top five (780).
Sandwiched between the two Kistler wines in fourth place is Peter Michael's Belle Côte Chardonnay with an in-bond price of £108 per bottle, and a Wine Lister score of 770.