Listed: top 5 dry white Bordeaux by Average price
While Bordeaux may be best-known for its red blends, many a left-bank cru classé also produces a dry white, particularly in Pessac-Léognan. This week we examine the five most expensive dry white Bordeaux wines.
Whilst each of the five frequently stands in the shadow of their red counterpart (or flagship sweet white in the case of Y d'Yquem), their average price is in fact 28% higher (£260 vs £203). This is presumably due to the dry whites being produced in considerably smaller volumes than their red/sweet white counterpart (just 10% on average).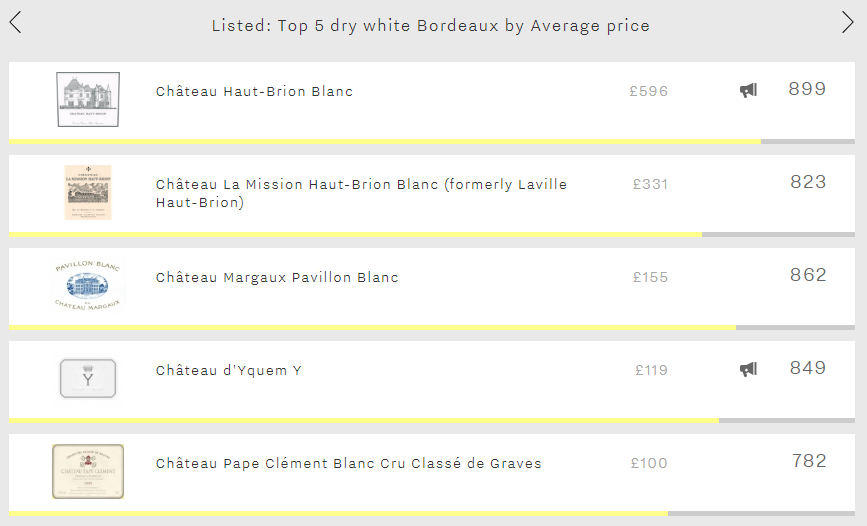 Leading the way is Haut-Brion Blanc at a cool £596 per bottle in-bond, 78% more expensive than Bordeaux's second-most expensive dry white – its neighbour La Mission Haut-Brion Blanc – and well over three times the average price of the remaining wines in this week's top five. Whilst its very low production, almost identical to La Mission Haut-Brion Blanc's and thus the joint-lowest of the five, undoubtedly plays a part in its high price, the fact that it achieves the group's best Quality and Economics scores (923 and 890 respectively) will also be a contributing factor. Aside from high ratings from each of Wine Lister's partner critics, its excellent Quality score is also thanks to an average wine life of 10.3 years – the longest of all dry Bordeaux whites on Wine Lister. Indeed, the 2014 vintage, Haut Brion Blanc's best ever with a Quality score of 975, "should drink well for years and perhaps even decades to come", according to Antonio Galloni.
Next comes La Mission Haut-Brion Blanc at £331 per bottle in-bond. Relabelled in 2009, this was formerly Laville Haut-Brion. The 2011 is its best vintage since its relabelling, achieving an outstanding Quality score of 974, with Jancis Robinson – who tends to award it her highest scores of the group – calling it "one of the best Bordeaux 2011s".
In third place is Margaux Pavillon Blanc (£155 per bottle in-bond). Whilst still priced considerably below the whites from Haut-Brion and La Mission Haut-Brion, it is closing the gap, courtesy of vastly stronger growth rates, with a three-year compound annual growth rate of 18% and having added 6% to its value since May. Over both the long and short-term, the two Pessac-Léognan whites have each grown at under half the rate of Pavillon Blanc.
Y d'Yquem is Bordeaux's fourth most-expensive dry white, at an average price of £119 per bottle in-bond. Boosted by the immense clout of the château's flagship sweet wine – which enjoys the joint-best Brand score of any wine on Wine Lister (999) – it has the strongest brand of this week's top five (894). It does so thanks to featuring in the greatest number of the world's best restaurants of the group (15%), just managing to nudge ahead of Haut-Brion Blanc (12%).
We return to Pessac-Léognan for Bordeaux's fifth most-expensive dry white, Pape Clément Blanc (£100 per bottle in-bond). The 2017 was its best ever vintage, achieving an excellent Quality score of 903. Whilst it wasn't quite able to match the scores of Haut-Brion and La Mission Haut-Brion (931 and 939 respectively), it represents considerably better value. At £100 per bottle, it is around one fifth the price of its Pessac-Léognan rivals.