Listed: top 5 Burgundies by Average price
Thanks to tiny production quantities, exceptional quality, and increasing popularity, Burgundy tends to be expensive. In Wine Lister's Burgundy Market Study (published in January this year), we analysed its rapidly-climbing prices. This week's Listed blog focuses on the very tip of the Burgundy price hierarchy, with the top five by average price.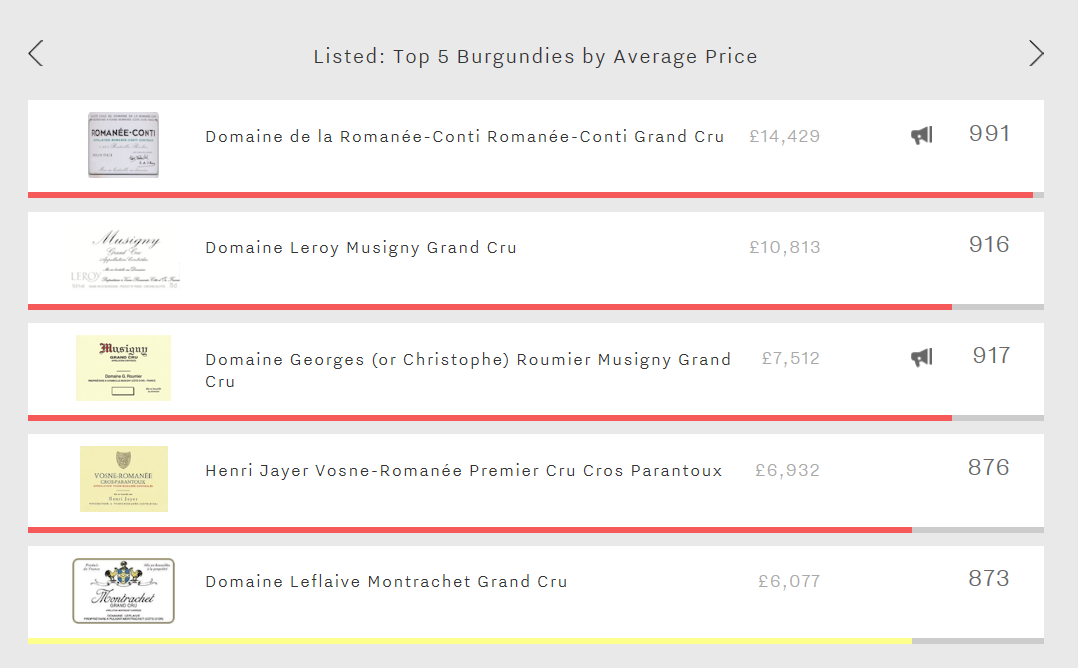 Four of this week's top five hail from the Côte de Nuits, the first of which is, unsurprisingly, Domaine de la Romanée-Conti's Romanée-Conti at an average price of £14,429 per bottle in-bond. The high price tag is accompanied by the best red Quality score on Wine Lister (993) and a Brand score of 989. The latter is achieved in part by being the 8th most-searched-for wine on Wine Lister (and indeed gains two and a half times as many monthly searches on Wine Searcher as the remaining wines of this week's top five combined). Its most recent release – the 2015 vintage, receives a Quality score of 997, with Wine Lister partner critics Bettane + Desseauve and Jancis Robinson both awarding it 20/20. Even if the 2015 vintage is DRC Romanée-Conti's best-performing in the last 15 years, its price increase of nearly 500% (from £2,925 to £17,496) since release in January is virtually incomprehensible.
In second place is one of two Musignys to feature this week. Domaine Leroy's Musigny has an average in-bond price of £10,813 per bottle and a Quality score of 988 – just five points behind this week's number one. Its overall Wine Lister score sits 75 points down from DRC Romanée-Conti, due to a more modest Brand score of 781. Interestingly, Leroy's Musigny has been qualitatively more consistent over the past five releases than Wine Lister's highest-quality red – its Quality score deviates a maximum of just one point from year to year since 2010 (compared to DRC Romanée-Conti's maximum deviation of seven points).
Number three of this week's top five is the second Musigny, this time from Domaine Georges Roumier. With a slightly lower price tag of £7,512 per bottle in-bond, and the second-highest Brand score of the group, Roumier is somewhat a darling of the trade – indeed, this Musigny is in the top 10% of most talked-about wines by the fine wine trade, according to Wine Lister's Founding Member Surveys.
The last two spots are taken by wines that each stand alone among this week's top five for their own reasons. The first, Henri Jayer's Vosne-Romanée Cros Parantoux at £6,932 per bottle is the only Premier Cru to feature, as well as the only wine no longer in production.
Finally, Domaine Leflaive's Montrachet Grand Cru is the only white of the group. As the most expensive white Burgundy on Wine Lister at £6,077 per bottle, it also earns white Burgundy's highest Quality score of 985.