Listed: top 5 dry white Alsace wines by Wine Lister score
Having dipped its toe in New World waters last week to look at Argentina's best wines, the Listed blog now shifts its attention considerably further North, heading to the Alsace to consider its top five dry whites by Wine Lister score.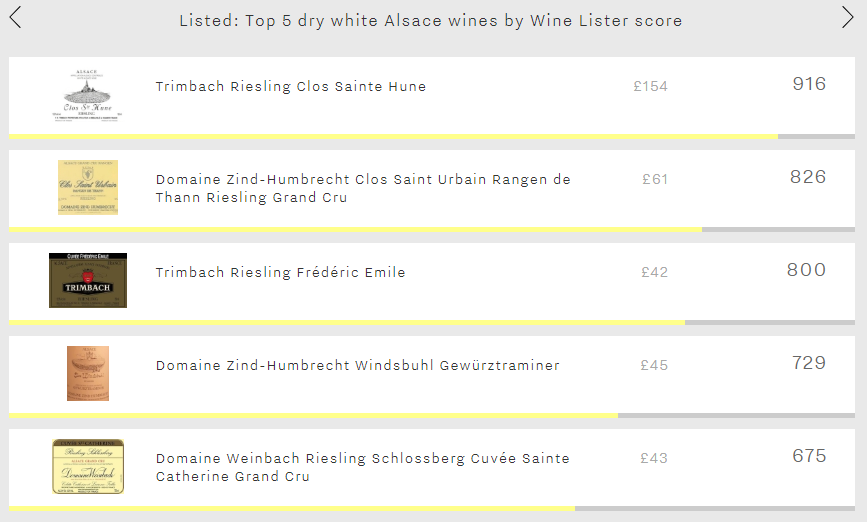 Whilst there was not much between Argentina's top two wines, in the Alsace it is very much a case of the best and the rest, Trimbach's flagship Clos Sainte Hune leading by 90 points with a score of 916. Its dominance is thanks to comfortable leads across each of Wine Lister's rating categories. However, it is in terms of Economics that no other Alsatian wine can get close to it, its score of 804 nearly 120 points ahead of Zind-Humbrecht's Clos Saint Urbain Rangen de Thann Riesling, whose score of 688 makes it the region's number two wine in the commercial category. The Clos Sainte Hune's economic clout is thanks to its higher price (over three times the average of the four other contenders to the Alsatian crown), and trading 2.6 times as many bottles at auction as the others over the past four quarters. As an aside, it is also by far the region's most searched-for wine online, although its ranking as the 216th most popular wine on Wine Lister perhaps betrays a lack of public interest in Riesling and Alsatian wines in general. Sommeliers are more convinced however, with it featuring in 37% of the world's top restaurants – which, interestingly, is not the best performance of any Alsatian wine. That accolade goes to its sibling Cuvée Frédéric Emile which manages to pip it to the post in this particular criterion (38%).
Trimbach isn't the only producer to feature twice in this week's top five, Zind-Humbrecht's Clos Saint Urbain Rangen de Thann Riesling (826) and Windsbuhl Gewürztraminer (729) both making the cut. Despite being separated by nearly 100 points overall, they achieve similarly excellent Quality scores, the Clos Saint Urbain Rangen de Thann Riesling leading by just six points (916 vs 910). There isn't that much between the two in terms of economic performance either, with the Windsbuhl Gewürztraminer sitting 47 points below its stablemate (641 vs 688). Thus the real difference occurs in the Brand category, with the Windsbuhl Gewürztraminer unable to keep pace either in terms of the number of restaurants in which it features (5% vs 16%) or search rank (2,070 vs 928), resulting in a considerably weaker score (546 vs 791). This perhaps confirms that Gewürztraminer, regardless of the quality in the bottle, is a grape that is currently unable to excite either sommeliers or consumers – Zind-Humbrechts's Windsbuhl languishing in fifth place across both Brand criteria.
The final wine this week is Weinbach's Riesling Schlossberg Cuvée Sainte Catherine (675). Confirming the outstanding Quality of the Alsace's top wines, across all vintages it achieves a Quality score of 900. Its overall Wine Lister score is dragged down partly by a lower Brand score (661), but for the most part by a weak Economics score (191). However, if you're looking for top Quality at a reasonable price, then look no further than its 2014, which qualifies as a Wine Lister Value Pick. Available for as little as £30 per bottle, yet with a Quality score of 944 and predicted to be drinking well for another 15 years, it would definitely be worth seeking out a few bottles of it.