Listed: top five Austrian white wines by Quality score
Even though Austria might not be the first place that springs to mind when one thinks of the best wines in the world, it is definitely a place of fine, elegant wines, as confirmed by this week's top five, which looks at the best Austrian whites by Quality score. With all of the five achieving Quality scores of over 900-points – thus making it into the "strongest" category on Wine Lister's 1,000-point scale – there is no reason not to have Austria in mind when thinking of top quality wines.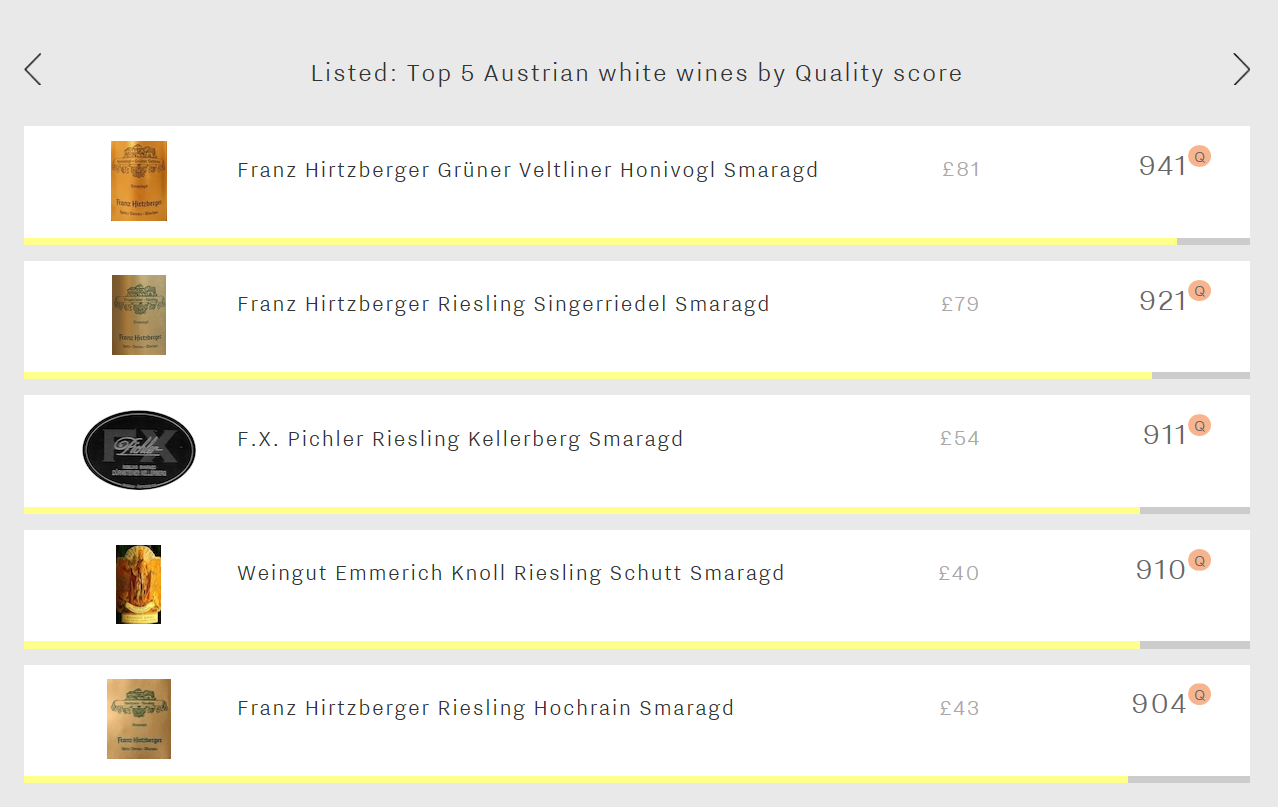 Notably, Franz Hirtzberger produces three of this week's top five: his Grüner Veltliner Honivogl Smaragd, Riesling Singerriedel Smaragd, and Riesling Hochrain Smaragd demonstrating that he is indeed one of the greatest Austrian producers of dry whites. Leading the way this week is his Grüner Veltliner Honivogl Smaragd with a Quality score of 941. Interestingly, it is the only Grüner Veltliner of the group, with Austria's national grape otherwise surrounded by Rieslings. At £81 per bottle, it is this week's most expensive choice. However, it is also Jancis Robinson's favourite of the five, Wine Lister's UK partner critic awarding it an excellent average score of 18/20. She was particularly impressed by the 2013, giving it a rating of 18.5/20 and writing: "Spectacularly rich nose. Very ample, intense and flattering. Smoked meat! Kerpow! Not flabby. Great structure. Amazing".
Franz Hirtzberger's Riesling Singerriedel Smaragd comes next, and backs up its phenomenal Quality score (921) with this week's best Brand score (760). Even though its Economics score is considerably lower (503), the Singerriedel is Austria's overall top-scoring wine, with a Wine Lister score of 781.
F.X. Pichler's Riesling Kellerberg Smaragd comes in at number three, with a Quality score of 911. This is Vinous' favourite of the five with an average score of 95/100. Its Quality score is however pulled down slightly by its relatively low average wine life of seven years, making it the shortest-lived wine of the group (which averages nine years). However, it has the most stable price of this group, with volatility of just 2.7%, well below that of this week's number one, Franz Hirtzberger's Grüner Veltliner Honivogl, which has volatility of 11.8%.
The two remaining spots are filled by Weingut Emmerich Knoll Riesling Schutt Smaragd in fourth place, and the third wine from Franz Hirtzberger this week, his Riesling Hochrain Smaragd, in fifth place. Although the two come in last in this particular race, both still achieve excellent Quality scores (910 and 904 respectively), partly due to Vinous awarding both an average score of 93.5/100.