Listed: top five Côte de Nuits under £200 by Quality score
Wine Lister's first in-depth study of Burgundy published earlier this year was named "Mercury Rising" for a reason. With prices climbing more quickly than any other fine wine region, it is hard to consider the possibility of finding Burgundies of "reasonable value". This week's Listed blog brings you the top five Côte de Nuits by Quality score that won't completely rupture the bank (or in other words, for under £200).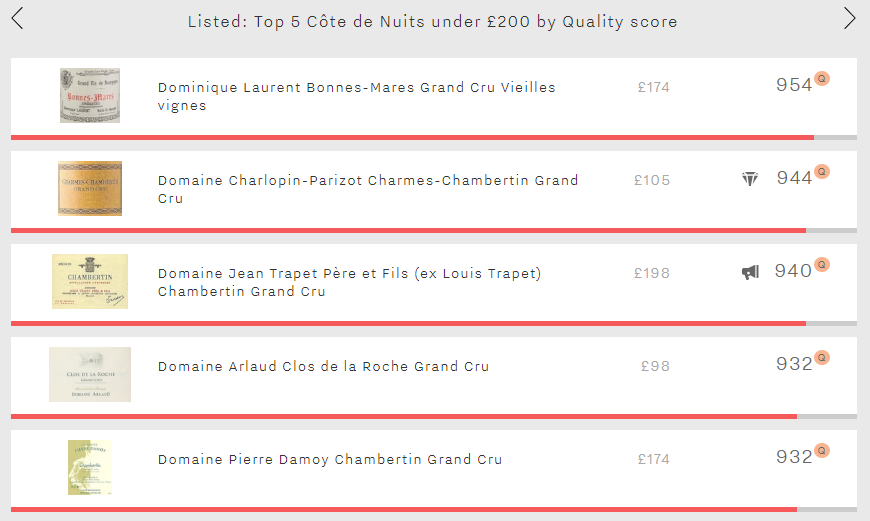 Dominique Laurent takes top spot this week with his Bonnes-Mares Vieilles Vignes, which has a Quality score of 954. Whilst this score sits comfortably amongst the highest of all Bonnes-Mares, the per bottle price of £174 does not – indeed, it is just under five times lower than the combined average price of the other eight best Bonnes-Mares on Wine Lister. Perhaps the lower price can, at least in part, be explained by its modest Brand score (531). For example, despite its Quality score sitting just one point higher, Georges Roumier's Bonnes-Mares records a Brand score of 934, and is £1,046 more expensive.
In second place is Domaine Charlopin-Parizot's Charmes Chambertin, with a Quality score of 944. Its high quality is not yet accompanied by an equal level of consumer recognition. With the lowest Brand score of the five (445) resulting from presence in only 2% of the world's best restaurants and a search frequency ranking of 2,335 (of the c.4000 wines on Wine Lister), this Charmes Chambertin is a Hidden Gem (Wine Lister's indicator that identifies under the radar wines that warrant discovery).
Domaine Jean Trapet Père et Fils' Chambertin takes third place this week with a Quality score of 940 and just sneaking in under the £200 mark. While in third place for Quality, it has the highest overall Wine Lister score of the lot (906), thanks to its Brand (868) and Economics (896) scores. Indeed, it beats the combined average scores of the other four wines in this week's top five in both categories by 310 and 319 points respectively.
The remaining two spots are taken by Domaine Arlaud Clos de la Roche, and Pierre Damoy Chambertin, each with a Quality score of 932. In addition to being by far the cheapest option of this week's top five (£98 per bottle on average), Arlaud Clos de la Roche's price is also the most stable, with volatility of just 5.7%. Conversely Damoy Chambertin's price is the most volatile (8.7%), possibly the result of strong growth rates over both the long and short-term, having recorded a three-year compound annual growth rate of 15.6% and having added 6.5% to its price over the past six months alone.