2018: a super Tuscan vintage?
The 2018 will be a five-star vintage for Chianti Classico wines according to Giovanni Manetti, newly-elected president of the appellation's Consorzio. The growing season was "very regular", with no extreme weather events, and normal picking times. Thanks to healthy grapes, ripe yet fresh, Manetti believes the vintage will be characterised by "harmony". The DOCG appellation is set to produce c.270,000 hectolitres, back to normal production levels after a less abundant 2017.
On Monday 24th September at Fontodi, Manetti's winery in Panzano, harvest was well underway. It had not rained for 22 days, and the ground was dusty. However, Manetti explained that in Panzano, while hot, temperatures had not risen above 36˚C, and that nights had been cool. At Castello di Fonterutoli, 15km further south, Giovanni Mazzei confirmed the heat had been nothing on 2015, when temperatures rose above 45˚C.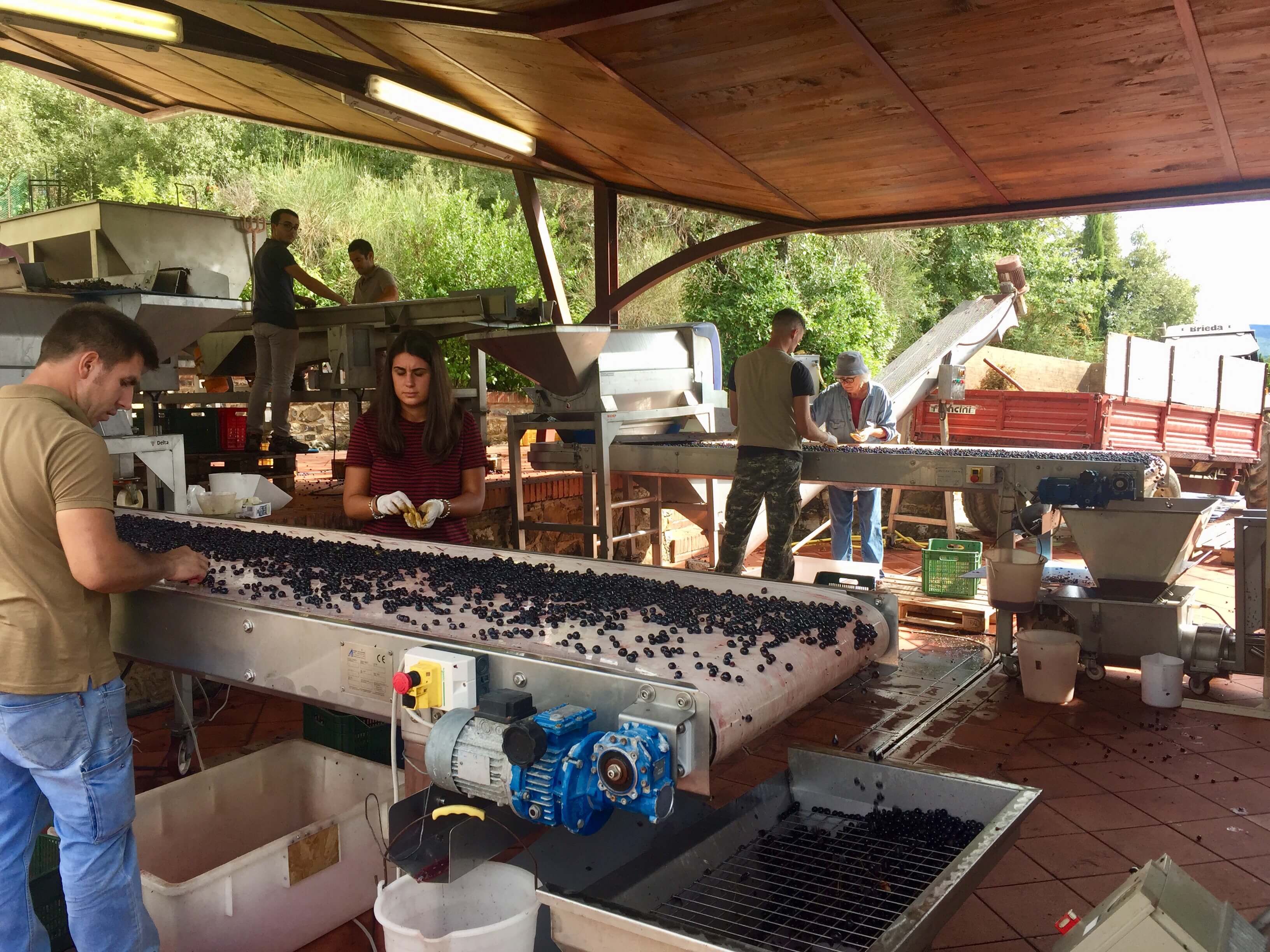 Quality control at Fontodi's sorting tables in Chianti Classico
However, Mazzei was somewhat less sanguine about the 2018, citing humid mornings as a challenge. Having picked one third of the estate's production by Monday, the next fortnight will be a race against rot. Mazzei predicts the vintage might fall between the opulent 2015s and the structured 2016s in terms of quality and style.
Towards the coast, in Bolgheri, the Merlot harvest is almost finished, and "the fermenting wines are silky and fragrant," according to Axel Heinz, Estate Director at both Ornellaia and Masseto. Heinz is grateful for "excellent conditions during September with sunny and mostly dry weather, occasionally hot day temperatures but cool nights". In Bolgheri, "mildew and humidity have been challenging," he states, "but we were able to bring healthy fruit to full ripeness," recounts Heinz, who says yields in 2018 are normal. He predicts "a more delicate vintage, like 2013."
Moving down the coast, in the Maremma, Elisabetta Geppetti, owner of Fattoria Le Pupille, spoke of regular climatic conditions leading to "a good year". The first lot of Merlot for Geppetti's flagship wine Saffredi is already vinified, and, she says, "marvellous". She is delighted with her Cabernet Sauvignon too, and relayed the view of Le Pupille's consultant oenologist Luca d'Attoma, that the grape has thrived throughout the whole southern part of Tuscany. Meanwhile Sangiovese has ripened less evenly.
Back inland, in Sangiovese's heartland, Montalcino, the picture is less clear cut, due to excessive rain in spring and early summer. "Winemakers had not seen this kind of weather since the nineties," explained Giacomo Pondini, Director of the Brunello di Montalcino Consorzio.
There has been "too much humidity in the air", according to Gianfranco Soldera, with an "almost tropical" summer (a similar story to the picture recounted in our Bordeaux harvest report). At Case Basse, Soldera's cult winery, 2018 has been "a year of suffering", with mildew, oidium, and "mould in general". To combat this, a team of 20 people has been combing the vineyard removing bunches non-stop since June.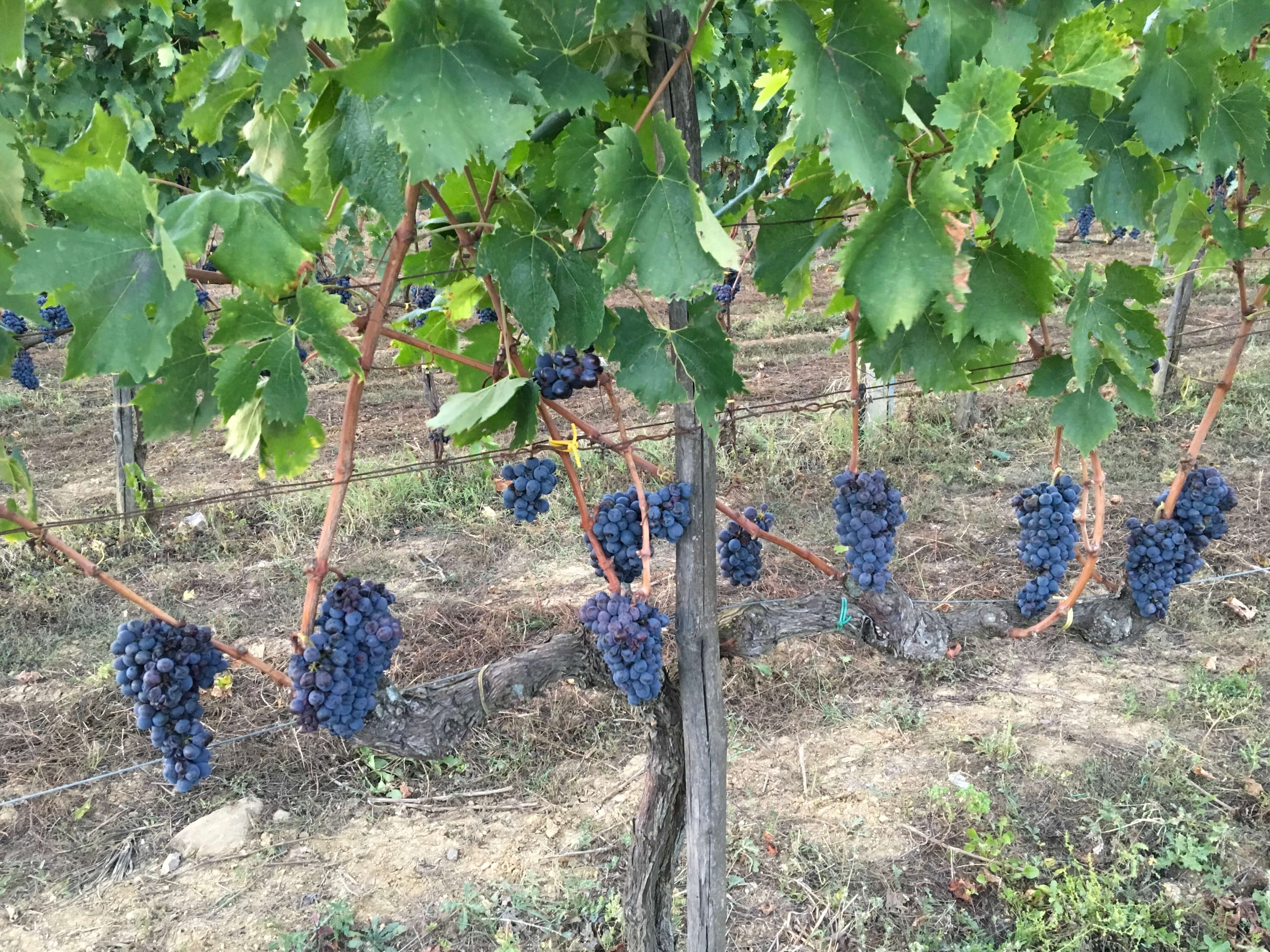 Remaining bunches after extreme selection at Soldera's Case Basse in Montalcino
Unlike in 1989, the only year when Soldera didn't make a wine because of too much rain, he was "ready for the challenge" this time round, and believes he will still make a great wine in 2018, albeit in very small quantities. For Soldera, rain is the enemy of vine-growing, and he rejoiced in the exceptionally dry growing season of 2017, "a year of fun", where the vines drank mineral-rich water from the ground. Incidentally, the 2017, tasted (or rather drunk – as spitting is banned at Case Basse) from its Garbellotto cask, is incredible: alluring, alive, pure, and long.
The owner of neighbouring wineries Caparzo and Altesino, Elisabetta Gnudi puts 2018 somewhere between a four- and five-star vintage. To absorb the humidity, her team used clay dust on the vines, "like using baby powder," she explained. Again echoing the story in Bordeaux, she reckons that "true organic vineyards haven't harvested a single grape this year."
At Argiano, Sales Manager Riccardo Bogi also described a less plain-sailing vintage than in Chianti. On top of the heavy rain, a hailstorm in July wiped out 25% of the crop in some vineyards. However, positioned high up on the hill of Argiano, wind in August meant the winery was able to counter rot with copper and sulphur, although the "agronomist didn't get a vacation", quipped Bogi. Like Heinz in Bolgheri, he expects 2018 to share characteristics with the elegant 2013s, saying they won't have intense colour or structure.
There was a dramatic change in the weather on Monday, with temperatures dropping and strong winds picking up, which lasted throughout our three-day visit. While half of the appellation's Sangiovese has already been harvested, and wineries are "happy with the quality," Pondini hopes that, "the other half may benefit from this sunny, cool, windy week".