Listed: top 5 Spanish wines by Brand score
This week, our Listed blog focuses on Spain's strongest Brands. Unsurprisingly, and fittingly as we creep into autumn, all are red. It will probably also come as no shock that Bodegas Vega-Sicilia features prominently – filling an impressive three out of five spots on the list, including the top two.
Wine Lister's Brand score combines a measure of a wine's prestige – as indicated by its visibility in the world's top restaurants – with its level of online popularity – calculated by ranking each of the 4000+ wines in our database by monthly search frequency on the world's most visited wine site, Wine-Searcher. Four of this week's top five also qualify as Buzz Brands – Wine Lister's group of wines that perform particularly well when it comes to restaurant presence and online popularity, or are demonstrating a recent growth in popularity, and which are identified by the fine wine trade as trending or especially prestigious.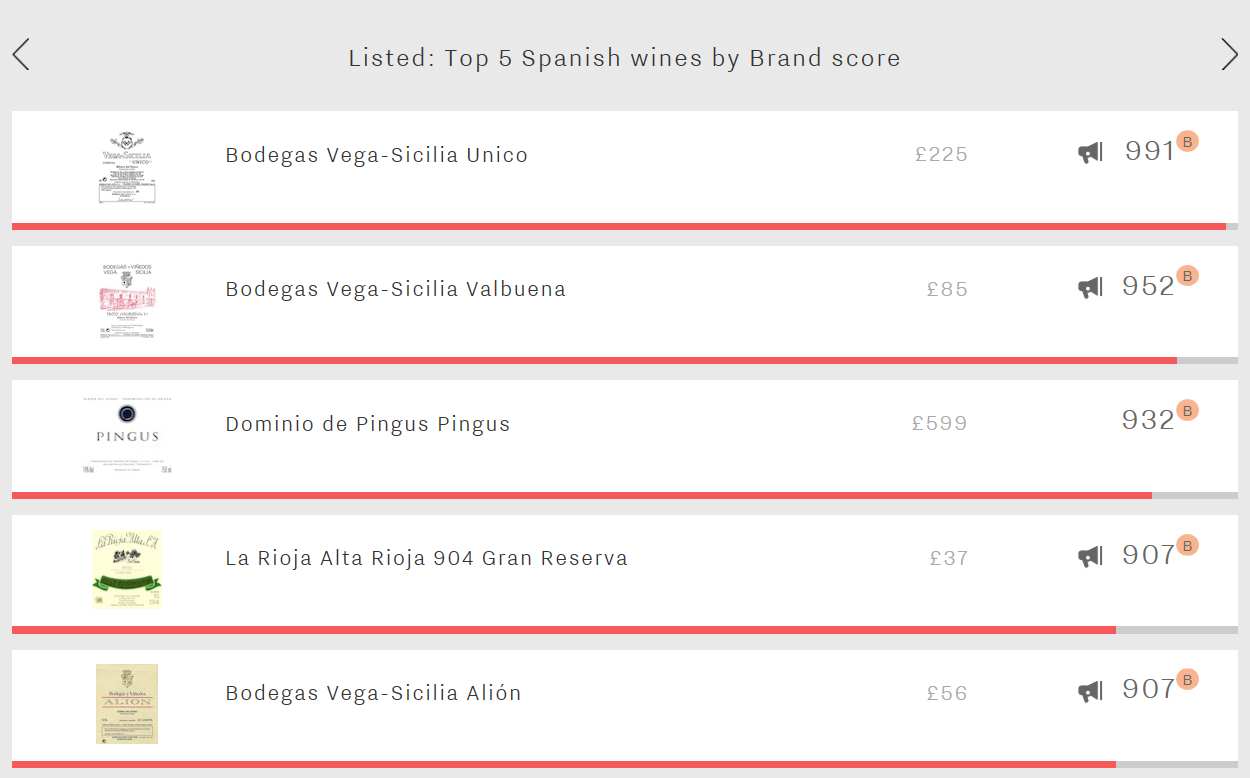 Vega-Sicilia Unico enjoys the best Brand score of any Spanish wine – and is thus the winner of this week's race. In fact, it also achieves the highest overall Wine Lister score of all Spanish wines (974). Although Unico outperforms the rest of this week's top five in all three of Wine Lister's rating categories, its Brand score is particularly impressive (991). This phenomenal score is the result of excellent restaurant presence (47%) and being the 32nd most searched-for of Wine Lister's wines on Wine Searcher.
Next, with a Brand score of 952 is Vega-Sicilia Valbuena. Despite not being able to match the Bodega's flagship Unico in any category, it is in terms of brand recognition that it gets closest, its Quality and Economics scores trailing Unico by 115 and 54 points respectively. Its slightly lower – although still impressive – Brand score is the result of being visible in under half the number of restaurants as Unico (23%) and receiving fewer online searches (it is the 119th most popular wine on Wine Lister).
The third wine to make it onto the list is Dominio de Pingus Pingus. Presumably due to its tiny production volumes – only 6,000 bottles of it are produced each year – it is by far the most expensive of this week's top five, at over twice the price of Unico (£599 vs £225). Its strong Brand – and high price – are supported by excellent Quality, with Pingus achieving the second highest Quality score of the group (935).
The last two places of this week's top five are occupied by La Rioja Alta 904 Gran Reserva and Vega-Sicilia Alión. Not only do these two have identical Brand scores (907) but, despite contrasting profiles, they also share the same overall score (858). Alión achieves a higher Economics score (874 vs 729), whereas La Rioja Alta 904 records a slightly better Quality score (876 vs 812). La Rioja Alta 904 also shows that strong Brand and Quality scores do not necessarily have to mean soaring prices, as it is by far the most affordable of the five – priced at £37 per bottle on average.