Listed: top 5 Barolos by average price
It was with a heavy heart that the global fine wine trade learned of the passing of Barolo legend, Giuseppe Rinaldi, last week. Known for their elegant style and lengthy ageing potential, Rinaldi's Barolos are not only some of the best that the region has to offer, but also some of the priciest.
In 'Beppe' Rinaldi's honour, Wine Lister looks this week at the top five most expensive wines in Barolo. And there is good reason for these Barolos to be so pricey, with all of the five achieving a Quality score that falls into the "strongest" category on Wine Lister's 1,000 point scale. On top of this, the first three qualify as Buzz Brands – Wine Lister's group of wines that combine outstanding restaurant presence with online popularity.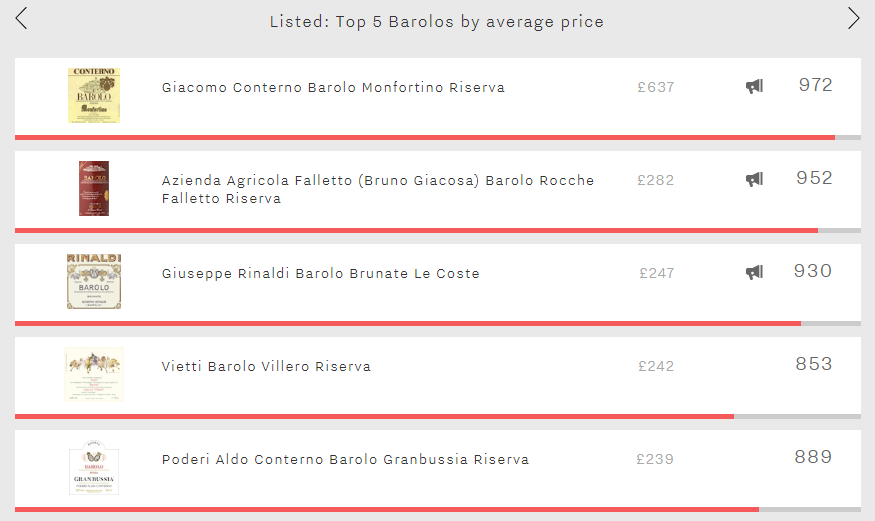 Giacomo Conterno's Barolo Monfortino Riserva takes first place. At £637 per bottle it is more than twice the price of the rest of this week's top five. In fact, it is the most expensive Italian wine on Wine Lister. However, it is no coincidence that Conterno's Monfortino takes first place as it also achieves the group's best Quality and Brand scores (977 and 969 respectively). Conterno Monfortino is actually the number one Italian wine and 11th best of all wines on Wine Lister, with an impressive overall score of 972.
This week's second spot is occupied by Azienda Agricola Falletto (Bruno Giacosa) Barolo Rocche Falletto. Even though it competes well with Conterno Monfortino – with Quality and Brand scores of 974 and 914 respectively – it is a considerably cheaper option at £282 per bottle. In fact, despite its lower price, its Economics score is slightly superior to this week's overall number one wine (969 vs 967), and is the group's best. Furthermore, it is the second best of all Italian wines on Wine Lister  – only beaten by Falletto's Barbaresco Asili Riserva. The phenomenal Economics score is partly due to a three-year compound annual growth rate (CAGR) of 21.8%.
Giuseppe Rinaldi Barolo Brunate Le Coste takes third place at £247 per bottle. As perfect evidence of Rinaldi's prowess, it is very consistent across each of Wine Lister's three rating categories, with each score putting it amongst the very best wines in the world. Confirming its upward trajectory, it records a remarkable three-year CAGR of 36.7% – if it manages to keep that up, it will soon start to narrow the gap to Conterno's Monfortino in this battle of the Barolos.
The two remaining wines in this group are not only very close in price but they also have the same Quality score (928). This week's number four – at £242 per bottle – is Vietti Barolo Villero Riserva, followed closely by Poderi Aldo Conterno Barolo Granbussia Riserva at £239. Visible in 17% of the world's top restaurants, Aldo Conterno's Granbussia has the second-highest restaurant presence of the group. It is only beaten by this week's number one, Conterno's Monfortino, which is visible in 23% of top establishments.