Listed: the Côte de Beaune's five most expensive wines
This week's Listed blog will for most be an exercise in window shopping (or perhaps lèche-vitrine might be more appropriate). Not just the eye-watering prices, but also the extreme rarity of this week's top five – just 500 bottles of d'Auvenay's Chevalier-Montrachet are produced each year – act as bouncers stopping all but the most fortunate from entering this exclusive Burgundian showroom. Nevertheless, we can at least vicariously get as close to Chardonnay nirvana as possible with the Côte de Beaune's five most expensive wines.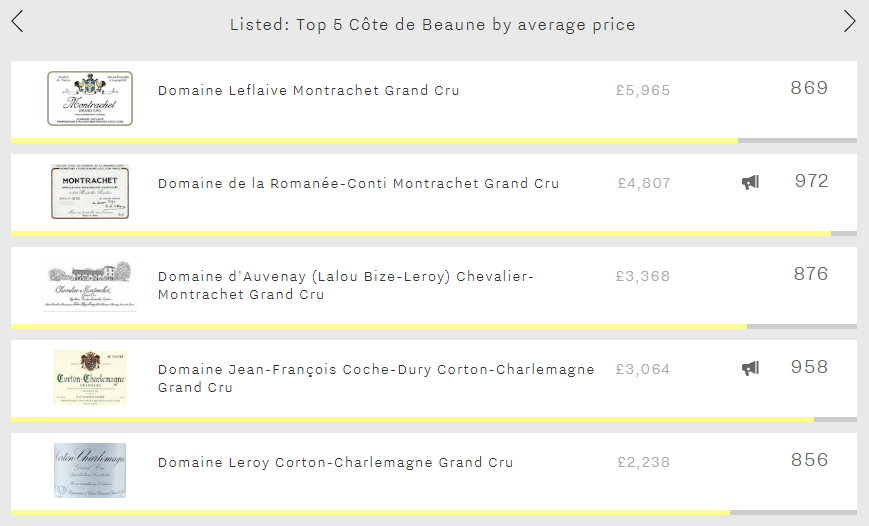 And these five really do get close to Chardonnay perfection, with a remarkable average Quality score of 975, putting them all amongst the top 15 still dry whites for Quality on Wine Lister. Perhaps reassuringly, Leflaive's Montrachet, the Côte de Beaune's most expensive wine, achieves the group's best Quality score (985). 2010 was its best ever vintage, with a Quality score of 990, Jancis Robinson awarding it 19.5/20 and calling it: "[…] Not rich but gorgeous. Pale gold and obviously much fuller and deeper than Leflaive's other grands crus. Rich yet so fresh! Nutty. Amazing concentrated fruit has already triumphed over the new oak. Very racy […]". Interestingly, at £4,400 per bottle the 2010 is currently priced below all recent vintages other than the 2003.
Descending from the dizziest of heights, in second place is DRC's Montrachet (£4,807). It is not just the Côte de Beaune's overall top-scoring wine, but the best still dry white on Wine Lister (972). It is remarkably consistent across each of Wine Lister's three rating categories, with Quality, Brand, and Economics scores of 975, 960, and 987 respectively. It is its Brand score that helps it nudge ahead in this Côte de Beaune showdown, with Coche-Dury's Corton-Charlemagne the only one of the group to get close (924), the other three lagging c.250-290 points behind. Its brand superiority is the result of dominating both in terms of restaurant presence (visible in 26% of the world's best establishments, comfortably above the Coche-Dury's 19%) and online popularity (receiving 65% more searches each month than the Coche-Dury).
Whilst the Coche-Dury can't quite match DRC'S Montrachet in the Brand or Quality categories, it does achieve the same phenomenal Economics score (987), having registered a superior three-year compound annual growth rate (25% vs 22%) and being the most-traded of the group at auction.
Lalou Bize-Leroy features twice in the list, first with d'Auvenay's Chevalier-Montrachet (£3,368) and secondly with Domaine Leroy's Corton-Charlemagne (£2,238). If ever there was proof of the life-altering potential of these hallowed wines, of his first taste of d'Auvenay's Chevalier-Montrachet 1996, Wine Lister's newest partner critic Neal Martin writes: "I took a large sip. It was like a thunderbolt hitting my senses: the tension, the complexity and intensity sent shivers down my spine. It was difficult to put down in words, yet this wine became instantly and indelibly etched onto my brain. Now I understood why oenophiles genuflected at the altar of white Burgundy". With the d'Auvenay achieving a three-year compound annual growth rate of 45% and having added 18% to its value over the past six months alone, experiences such as Martin's are only getting further out of reach for most.
The d'Auvenay is not alone in its soaring prices. As the chart below shows, demand for all of this week's top five has skyrocketed over the past three years, each having added at least 62% to its value since July 2015. It seems the majority of us will have to satisfy ourselves with window-shopping for a little while longer.