Listed: the five most expensive Australian wines
Having spent the start of the Northern Hemisphere summer focusing on Old World wines of various regions, colours, styles, and prices, this week the Listed section is feeling flush and has journeyed Down Under to take a look at Australia's five most expensive wines.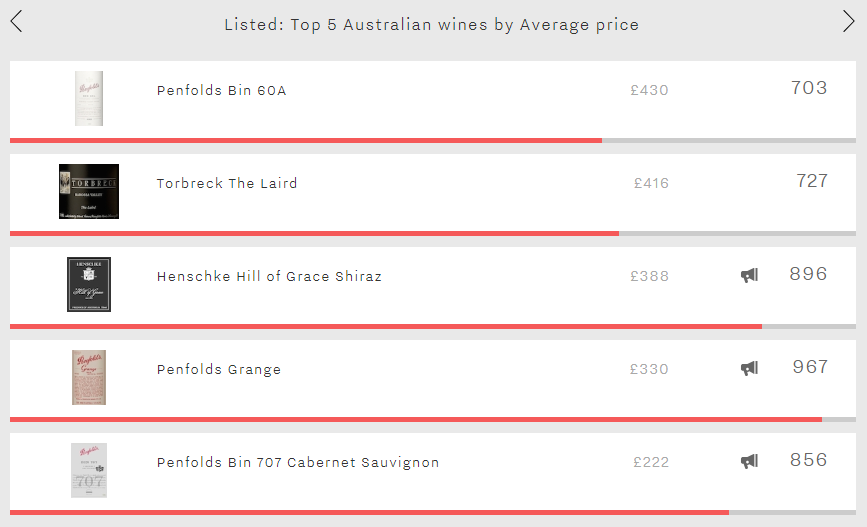 Leading the way is Penfolds Bin 60A at a cool £430 per bottle. The rarest of the rare, this has only been produced twice – once in 1962 and again in 2004 as a reaction to the vintage conditions being very similar to those from 42 years previously. As might be expected given that it is only produced in the very best vintages, the 2004 is a worthy follow-up to the fabled 1962, achieving a formidable Quality score (976). Fortunately, Wine Lister's partner critics expect it to be drinking well until 2040, which might just give enough opportunity for a third bottling in the meantime.
Penfolds features twice more on the list, with its flagship Grange (£330) and Bin 707 Cabernet Sauvignon (£222). Grange is Australia's strongest Brand (991) and also enjoys the country's top Economics score (916). The former is the result of being both Australia's best-represented wine in the world's top restaurants (visible in 34%) and also its most popular, receiving on average 21,118 searches each month on Wine-Searcher, four times more than any other Australian wine. The Bin 707 is more of an anomaly in the group, its Quality score (859) over 100 points below the rest. Whilst its Economics score (871) can't quite match Grange's, it has comfortably achieved superior growth rates over the past three years, with a Compound Annual Growth Rate of 13% compared to its more renowned stablemate's 8%.
Australia's second most expensive wine is Torbreck's The Laird (£416). First produced in 2005, it enjoys Australia's best Quality score (984), but, similarly to Penfolds Bin 60A, its Brand score is unable to keep pace (635). This is probably the result of the fact that very few vintages of it are available and it has an average annual production of just 6,750 bottles each year – it is perhaps too young to have built up a significant following and there are not enough bottles of it for restaurants to get hold of.
Rounding off the group in third place is Henschke's Hill of Grace Shiraz (£388). Again, this has an excellent average Quality score (961). It also achieves Australia's second-best Brand score (913), present in 19% of the world's top establishments – sommeliers are clearly very confident in the wine's quality.