The secret to value in Burgundy
Our in-depth study of Burgundy earlier this year showed that its prices continue to rise at a faster pace than those of any other fine wine region. With such high prices and tiny availability, wine buyers seeking good value drinking wines may often find their cellar a little light on Burgundy.
However, alongside the virtually unattainable wines at the most prestigious end of the Burgundy scale, there are some Value Picks to be found.
One of four Wine Lister Indicators, Value Picks are wines with the best quality to price ratios. Wine Lister's proprietary Value Pick algorithm allows more expensive wines with exceptional quality to shine by reducing the impact of price in calculating the ratio.
The simple answer to good value for white Burgundy is Chablis.
For exceptional value at everyday drinking level in particular, Domaine William Fèvre stands out. Seven out of the last eight vintages of the domaine's straight Chablis are identified as Value Picks, with prices per bottle under £13 and an average Quality score of 553 (above average on Wine Lister's 1000-point scale).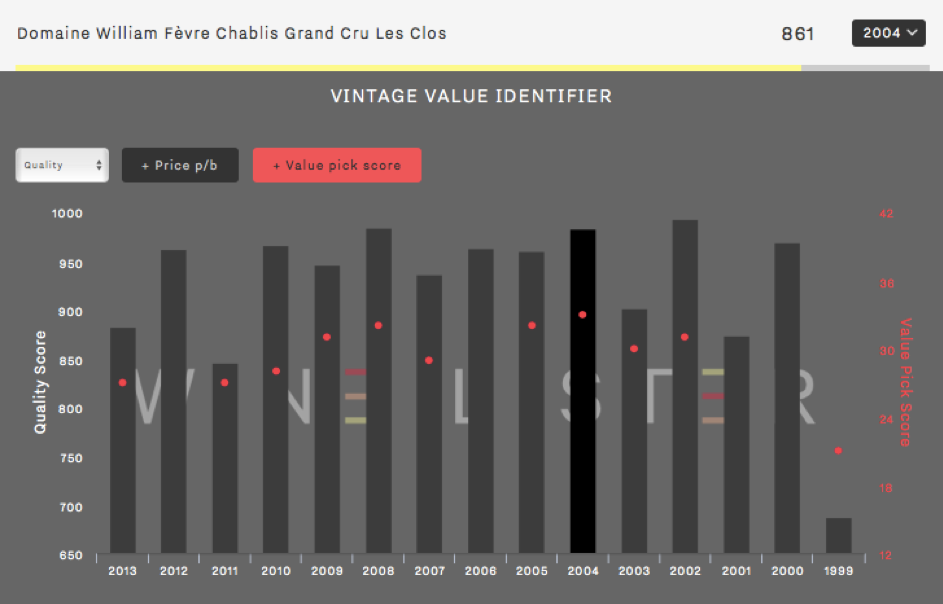 Moving up the price ladder, Domaine William Fèvre's Chablis Grand Crus Les Clos 2004 shows exceptional value, with a price per bottle of £50 and a Quality score of 982 – shown in the Vintage Value Identifier chart above. At a comparative score (979) for white burgundy in 2004 we find Domaine Leroy's Corton-Charlemagne Grand Cru, with a price tag 60 times higher – £3,005 per bottle.
Chablis make up all top 10 white Burgundy Value Picks.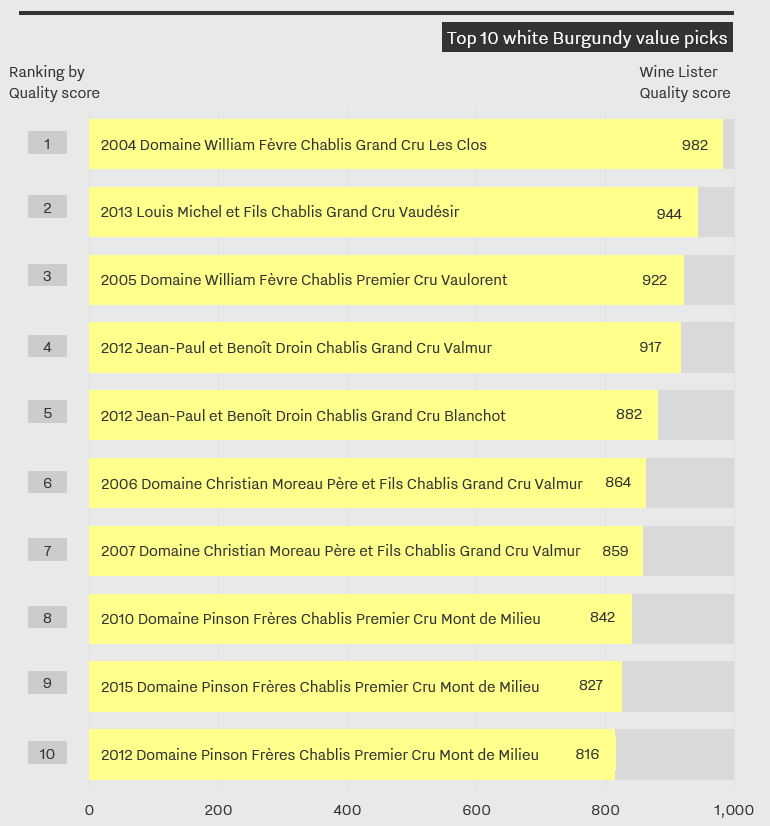 The Burgundian Value Pick with the highest Quality score is in fact a red – Domaine de la Pousse d'Or's Volnay Premier Cru Clos de la Bousse d'Or 1995. At c.£50 per bottle and a Quality score of 983, it earns the highest Quality score for Volnay, and the third-highest for Burgundy's 1995 vintage (after Méo-Camuzet's Vosne Romanée Cros Parantoux and Rousseau's Chambertin Grand Cru, priced at £1,046 and £1,448 respectively). Any lucky owners of the Clos de la Bousse d'Or 1995 should open and enjoy it now. Wine Lister partner critic, Jancis Robinson, puts its drinking window between 2006 and 2019.