Buzz Brands for Burgundy and the New World
Despite the annual bustle of the en primeur campaign, it is healthy to breathe some non-Bordeaux air once in a while. With Bordeaux 2017 behind us, we examine new Buzz Brands for June from contrasting locations – Burgundy and the New World. One of four Wine Lister Indicators, 'Buzz Brands' use Wine Lister's bespoke algorithms to indicate trending wines found in the highest number of the world's best restaurants, and with high online search frequency.
This month, 10 new wines have made the Buzz Brand cut, as shown in the image below.
Six Burgundian wines (four whites and two reds) become Buzz Brands in June. This aligns with results of our latest Founding Members' survey, where Burgundy producers earned the most number of votes (50) from key members of the global fine wine trade as most likely to see the largest brand gains in the next two years.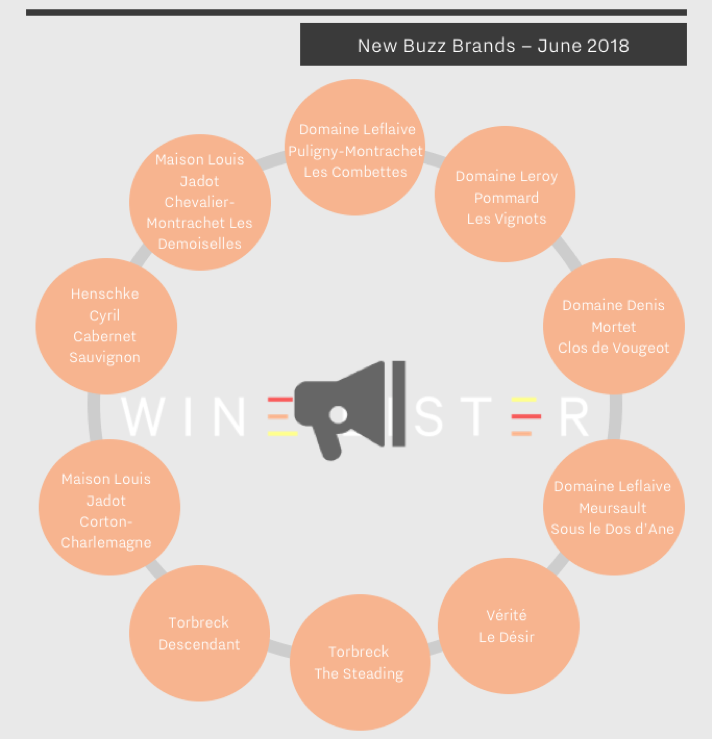 Louis Jadot and Domaine Leflaive both have two new white Buzz Brand references. Jadot's Chevalier-Montrachet Les Demoiselles and Corton-Charlemagne have the highest Quality scores of this month's Buzz Brand additions – 951 and 925 respectively. Domaine Leflaive proves its popularity with presence of its Puligny-Montrachet les Combettes and/or Meursault Sous le Dos d'Ane in 28 out of c.150 of the world's best restaurants, and votes from the trade as a consistent seller (see p.23 of Wine Lister's Bordeaux market study 2018 for more).
Of the red Burgundian Buzz Brands, the popularity of Domaine Leroy's Pommard Les Vignots is perhaps unsurprising, given the producer's renown, and the wine's relative affordability (£505 per bottle) compared with Leroy's more expensive offerings, such as its Musigny Grand Cru (£8,365 per bottle). Denis Mortet's Clos de Vougeot is the only Côte de Nuits to feature in this month's Buzz Brand additions.
The remaining four wines all hail from the New World – three from South Australia, and one from California. The latter, Vérité's Le Désir, wins on all fronts with the highest Quality (949), Brand (740), and Economics (603) scores. The Quality comparison is hardly fair, given Le Désir's price of £233, over four times higher the average of the three Australian representatives. Torbreck's The Steading and the Descendant combined are present in 15 of the world's best restaurants. Henschke's Cyril Cabernet Sauvignon joins its pricier and better-known siblings, Hill of Grace Shiraz and Mount Edelstone Shiraz, as the producer's third Buzz Brand.
You can see a full list of Wine Lister Buzz Brands here