Listed: top five red Value Picks
What do you do when your drinking tastes far outweigh your wine budget? You could trawl the shops and the internet in search of that bottle that combines high ratings and moderate prices, or alternatively you could use Wine Lister's Value Picks search tool. It selects top quality wines that are available at reasonable prices, doing the legwork for you. This week's Listed section shines a spotlight on the top five reds that currently qualify as Value Picks. At present, they are all Tuscan, all available for under £90 – in fact all but one cost less than £50 – and all have Quality scores of over 990, putting them amongst the elitest of the elite on Wine Lister's 1,000 point scale.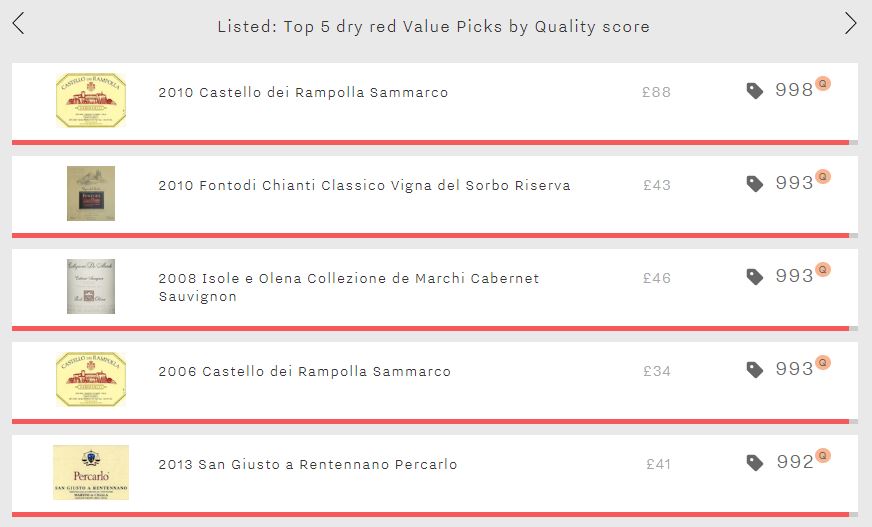 If you are after exceptional value, then look no further than Castello dei Rampolla's Sammarco. With two vintages in the top five (2010 and 2006), each of which have plenty of life still left in them, they look like wise purchases. The 2010 owes its exceptional Quality score to a perfect 100-point rating from Wine Lister partner critic Antonio Galloni, who called it "stunning as it has always been. In a word: magnificent!". At £88 per bottle, it might not be the cheapest, but it does look good value compared to the two other 998-point scorers from Tuscany 2010: Cerbaiona Brunello di Montalcino (£248) and Castello dei Rampolla's Alceo (£128).
Whilst the 2010 is not quite ready to drink, the 2006 has just entered its drinking window. Underlining the wine's longevity, Galloni, who awarded the wine a 97-point score, remarked: "Readers will have to be exceedingly patient here. There is no denying the 2006's greatness, though." The 2006 will be drinking well until 2036, and available for as little as £34 per bottle, looks like an excellent long-term investment (if you can refrain from opening it).
Flying the flag for Chianti is Fontodi's best ever Chianti Classico Vigna del Sorbo Riserva – the 2010 (£43). Whilst its Quality is not in doubt, its economic performance is slightly less impressive, its price having fallen 11% over the past six months.
The remaining spots are filled by Isole e Olena Collezione de Marchi Cabernet Sauvignon 2008 (£46) and San Giusto a Rentennano Percarlo 2013 (£41). Isole e Olena Collezione de Marchi 2010's Quality score is the furthest above its wine-level average Quality score (993 vs 934) of the five. The market has not yet reacted to this standout vintage, its price being no different to the wine-level average price. Meanwhile San Giusto a Rentennano Percarlo 2013's Quality score is the closest to its (formidable) wine-level average (992 vs 967), yet its price is 36% below the wine-level average, underlining the 2013's excellent value.
Please note that prices shown are excluding duty and VAT, and often reflect prices available only when purchasing a full case. They are provided by our price partner, Wine Owners, whose own proprietary algorithms process millions of rows of incoming price data from Wine-Searcher to calculate a more realistic market level price – the price at which a wine is likely to find a ready buyer – based on market supply and spread models. As lower retail prices are likely to sell first, the prices you see on Wine Lister may be below the Wine-Searcher average in some instances.