Listed: top five highest prices in Tuscany
In this week's top five, we take a break from June's Bordeaux bias on the vinous calendar to look at the rising prices of Tuscany's top wines.
However, there's no escaping Bordeaux with Tuscany's most expensive wine, since Masseto is distributed through the Place de Bordeaux. With tiny quantities available to purchase via the Place each year – average annual production is 32,000 bottles – Masseto's price of £511 per bottle makes it well over a third more expensive than the rest of this weeks' top five, and also the second-most expensive Italian wine on Wine Lister (beaten only by Giacomo Conterno's Barolo Monfortino Riserva).
Masseto also achieves the group's best Brand score (977), the result of featuring in the highest number of the world's top restaurants (24%) and being over 2.5 times more popular than any of the other four. The chart below confirms a strong relationship between Brand score and price for these wines, with Masseto's formidable brand strength playing a key role in its high price.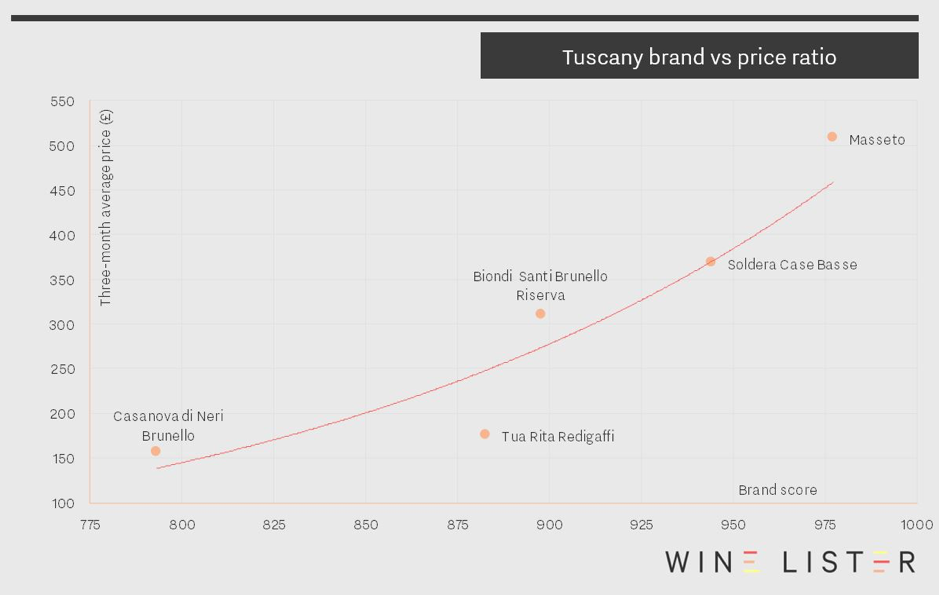 At £367 per bottle, Soldera Case Basse Sangiovese takes the second spot. It achieves the highest Quality and Economics scores of the five (976 and 957 respectively). With an impressive three-year compound annual growth rate (CAGR) of 18.4% – by far the highest of the group – and having added 7.3% to its value over the past six months, Soldera Case Basse continues to cement its position as Tuscany's second-most expensive wine, and close the gap on Masseto.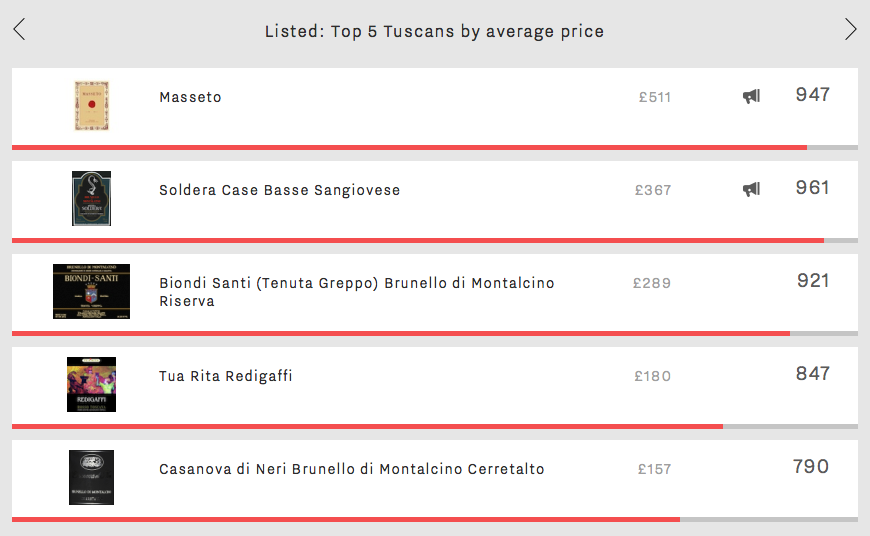 Two Brunellos feature amongst Tuscany's most expensive wines: Biondi Santi's Brunello Riserva (£289) and Casanova di Neri's Brunello Cerretalto (£157). Whilst Biondi Santi Brunello Riserva's appearance might be expected, considering its heritage, the fact that Casanova di Neri Cerretalto is amongst Tuscany's most expensive wines might be more of a surprise, indicating that Riserva status alone does not currently guarantee higher prices than straight Brunellos.
Rounding out the five is Tuscany's fourth-most expensive wine and the group's second 100% merlot – Tua Rita's Redigaffi. At an average price of £180 per bottle, it is over 2.5 times cheaper than its varietal companion in the group, Masseto.