Listed: The best sweet wines of Bordeaux 2017
While the jury is still out on pricing for Bordeaux 2017 (since the majority of key wines are yet to be released) Wine Lister can confirm, through scores from our partner critics, that the sweet whites from Sauternes and Barsac are some of the quality triumphs for 2017. The top five highest Quality scores for sweet whites all appear in the top 20 overall highest scores for Bordeaux 2017.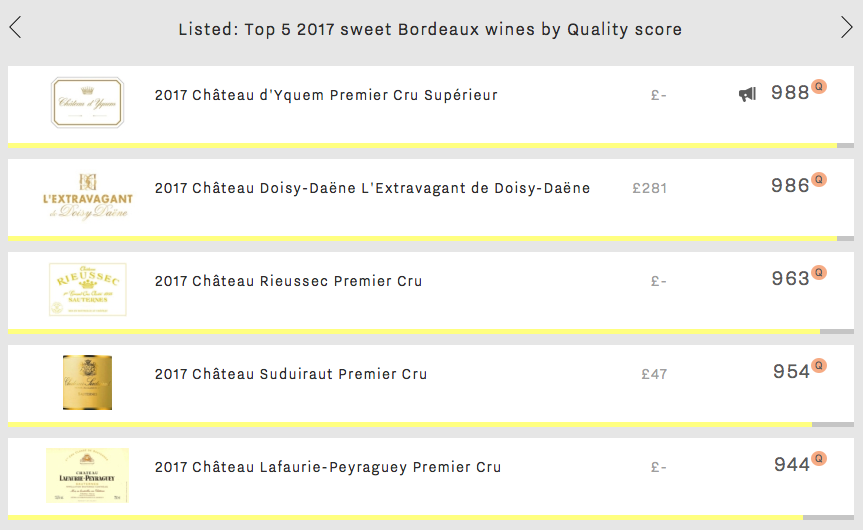 The highest Quality scorer not only for 2017 sweet whites, but for all 2017 Bordeaux is Château d'Yquem (988). Quality here is impressively consistent, with scores of 964-993 for the last 12 vintages (with the exception of 2012, when no wine was made for fear of compromising on quality following poor weather conditions throughout the growing season). Yquem is also a Brand tour de force, earning Wine Lister's highest Brand score (matching Dom Pérignon Vintage Brut and three of the five red first growths, Lafite, Latour, and Mouton).
In second place, again not just for sweet white, but for Bordeaux 2017 in general, is L'Extravagant de Doisy Daëne. With a Quality score of 986, it is Wine Lister partner critic Antonio Galloni's only potential 100-point scorer, earning 97-100 points and a laudatory tasting note; "…could very well turn out to be the wine of the vintage in Sauternes and Barsac…L'Extravagant is a total head-turner." Doisy Daëne produced only 1000 37.5cl bottles of L'Extravagant this year (half their usual production level) – a fact that perhaps offers an explanation for the 2017 release price tag of c.£280 per 75cl, above current back vintages available on the market.
Suduiraut is Sauternes and Barsac's third highest Quality scorer in 2017 (954). At wine level, Suduiraut performs better for Brand and Economics than L'Extravagant, and for a much lower price (£36 versus £256 on average per bottle). It benefits from presence in the world's best restaurants and monthly online searches, both eight times those of L'Extravagant, no doubt due in part to production levels, which are 50 times higher.
Numbers four and five on this week's top five list are Rieussec and Lafaurie-Peyraguey. Lafaurie-Peyraguey achieves its highest Quality score since 2007 (944). Rieussec's Quality score of 963 places the 2017 vintage within reach of some of the greats for the domaine in recent years (namely 2015, 2009, and 2001). Its Quality strength is matched by a strong brand, benefitting from its place under the Domaines Barons de Rothschild umbrella.
However, like most Sauternes, its Economics score is weak. Rieussec does not have the best track record of price performance post-release (as seen on p.14 of our Bordeaux study), and this year released at €42 ex-négociant for the fourth consecutive year, above market prices for all recent vintages.
You can see more Bordeaux 2017 Quality scores on our en primeur page. Follow Wine Lister on Twitter for real time release updates throughout the Bordeaux en primeur campaign.