Listed: Chile's best wines
Taking inspiration and occasionally investment from Bordeaux's most prestigious châteaux, Chile's leading producers have, over a relatively short timeframe, become serious contenders in the fine wine market. Having had the opportunity to carefully select their sites, and benefitting from a more consistent climate than their Old World counterparts, Chile's foremost wines continue to go from strength to strength. This week, we consider the overall top-scoring wines from the long sliver of land that has the cool Pacific on one side and the vertiginous Andes on the other.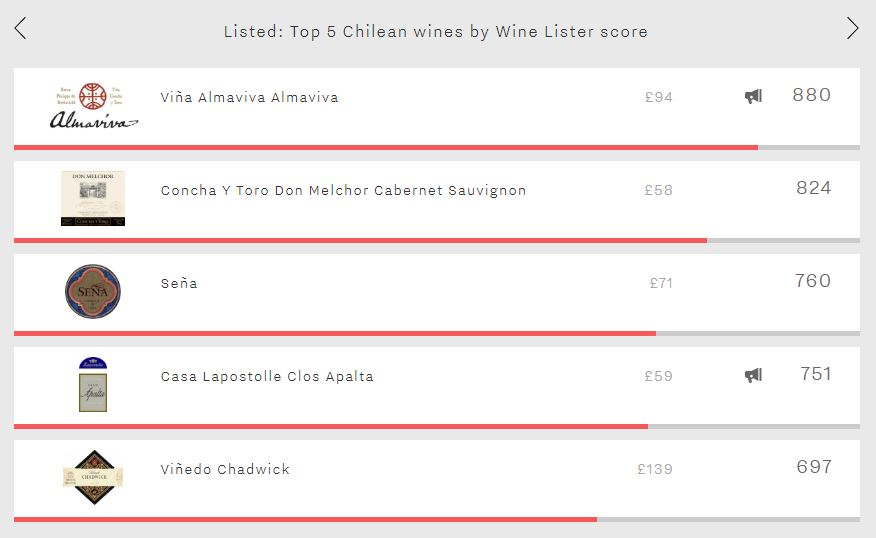 Leading the way is Almaviva (880). One of two Chilean Buzz Brands, this joint project between Baron Philippe de Rothschild and Concha y Toro achieves Chile's strongest Brand score (917), the result of not only featuring in more of the world's top restaurants but also being twice as popular as any other Chilean wine. Surely Almaviva's association with Mouton has played a significant role in its ability to build its brand to such a level over a short period of time – its first vintage was in 1998. It also manages Chile's highest Economics score (787) – still ranking it within the "very strong" segment of Wine Lister's 1,000-point scale, but indicating that it is the area in which Chilean wines currently struggle to compete with their Old World counterparts.
Further proof that economic success is the department in which Chile's best wines have the most room to improve, Chadwick achieves the country's best Quality score (904), yet only manages a score of 295 in the Economics category. This modest score is due to a combination of negative price performance over the past six months and a failure to trade a single bottle at auction over the past year, resulting in Chadwick slipping down to fifth place overall (697).
Don Melchor is Chile's second-best wine (824) – completing a one-two for the Concha y Toro stable. It earns its second place thanks to consistency across each of Wine Lister's three rating categories, finishing third in the Quality and Brand categories (872 and 853 respectively), and achieving Chile's second-best Economics score (662). It is, however, considered Chile's most ageworthy wine, with an average predicted drinking window of 11 years, 30% longer than any other Chilean wine.
The two remaining spots are filled by Seña – the second wine from the Errazuriz stable (alongside Chadwick) – and Casa Lapostolle Clos Apalta, with scores of 760 and 751 respectively. They present contrasting profiles, Clos Apalta achieving a better Quality score (829 vs 811) and Brand score (872 vs 770), but experiencing a significantly lower Economics score (364 vs 626).