Listed: the Rhône's strongest brands
This week, the Listed section travels to the Rhône to consider the region's top brands. As might be expected, all are red – Chave's Hermitage Blanc, the region's top white brand (924), is only the Rhône's overall 12th strongest. However in a battle between North and South, it is the latter that comes out on top in the form of Beaucastel's Châteauneuf-du-Pape with a Brand score of 993 – putting it amongst the top 25 brands on Wine Lister.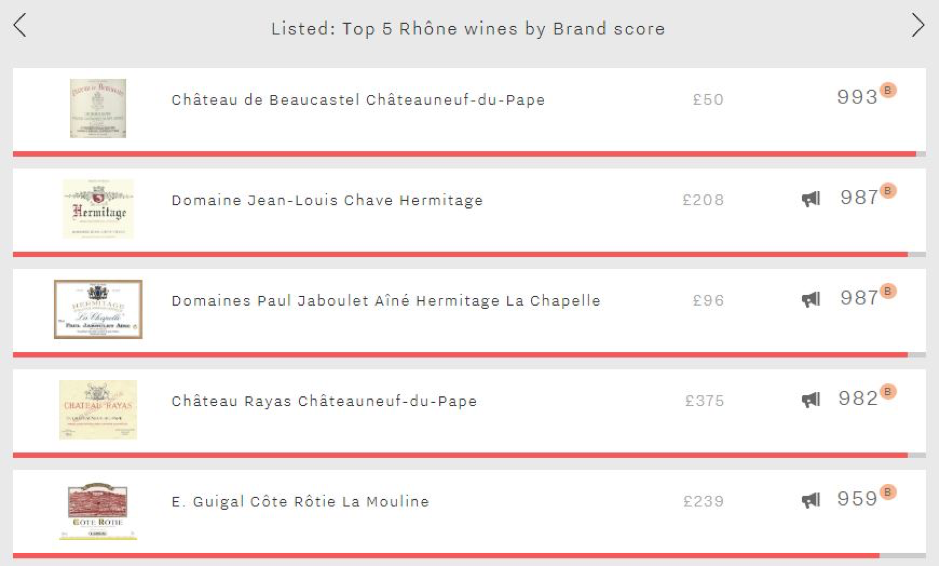 By far the cheapest of the five, Beaucastel leads across both Wine Lister Brand score criteria – presence in the world's top restaurants and online popularity. However, whilst it is visible in 49% of the world's finest establishments (just pipping Chave Hermitage's 47% to the post), with 2.6 references per wine list on average it achieves the weakest vertical restaurant presence of the group, where Chave's Hermitage manages the greatest depth (3.9 listings). If Beaucastel's dominance within the world's top restaurants is less clear-cut, when it comes to popularity amongst consumers it opens up a wider lead over the competition, receiving 16,565 searches on Wine-Searcher each month on average – 40% more than Jaboulet's Hermitage La Chapelle – the group's second-most popular wine.
Tied for second place with a Brand score of 987 are the two Hermitages from Chave and Jaboulet (La Chapelle). Whilst Chave leads in terms of restaurant presence (47% vs 43%), Jaboulet's La Chapelle receives 6% more searches each month on average. Despite their identical Brand scores, Chave's Hermitage is the clear winner elsewhere, with comfortable leads in the Quality category (959 vs 910) and Economics category (935 vs 863). Chave's reward is a 36-point lead at overall Wine Lister score level (964 vs 928), and a price tag over twice that of Hermitage La Chapelle's.
The Rhône's overall top wine – Rayas (968) – is the region's fourth-strongest brand (982). The group's second Châteauneuf-du-Pape, it comprehensively outperforms the Beaucastel in terms of Quality (961 vs 876) and Economics (959 vs 823). It is thus perhaps the Beaucastel's significantly larger annual production – roughly seven times Rayas' – that has helped raise its brand to such lofty heights.
Rounding out the five is Guigal's Côte Rôtie La Mouline with a score of 959. Whilst it can't quite keep pace with the remainder of this week's top five, it leads the two remaining "La Las" – La Landonne and La Turque – by six and 12 points respectively in the Brand category. Similarly to the Rayas, it is perhaps the extremely limited production of the "La Las" that keeps them from achieving even higher Brand scores – the combined annual output across the three cuvées is c.18,000 bottles.