Listed: top five Bordeaux fourth growths by Wine Lister score
While the wine world lives and breathes Bordeaux during this year's en primeur season, Wine Lister looks at some high-scoring Bordeaux reds that could easily be overlooked amidst the sea of releases to choose from across Médoc classified growths and beyond. Below we examine the top five fourth growths by overall Wine Lister score.
The highest-scoring Bordeaux fourth growth on Wine Lister is Château Beychevelle, with a score of 879. Its trailing Quality score of 790 is boosted by Brand and Economics scores of 980 and 904 respectively. Meanwhile, Beychevelle's 2016 and 2015 vintages achieve Quality scores more than 15% higher than its wine-level average. It will be interesting to see how the 2017 vintage (with a Quality score of 805 thus far, based on partner critics Bettane+Desseauve, Neal Martin and Julia Harding MW for Jancis Robinson) is priced during this year's en primeur campaign in the coming weeks.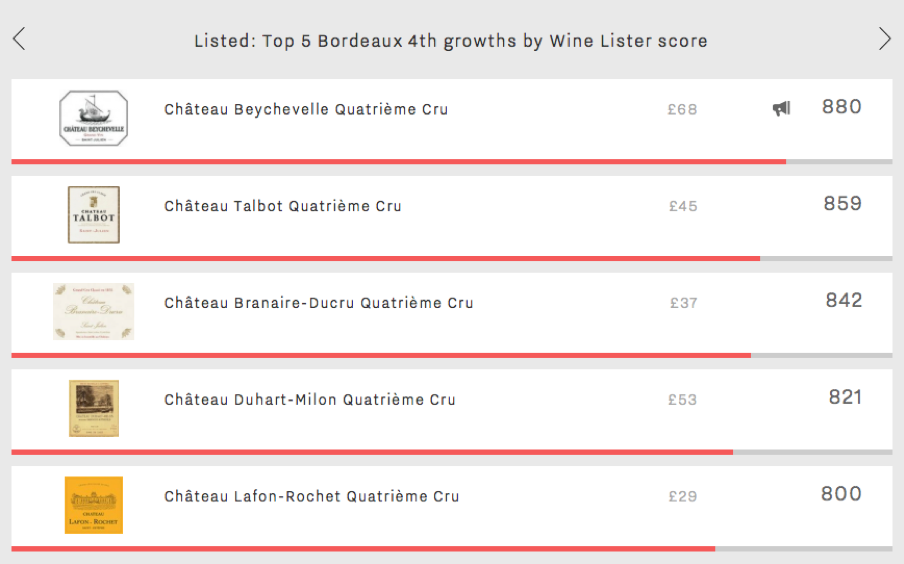 In second and third place are Château Talbot and Château Branaire-Ducru, achieving Wine Lister scores of 859 and 842 respectively. Talbot is the most popular of the five, receiving 14,602 searches each month on Wine-Searcher, resulting in the group's best Brand score (983). Talbot's position as a ubiquitous Bordeaux brand is no doubt helped by a production level of c.400,000 bottles per annum – over twice as many as Branaire-Ducru.
The fourth entry and only Pauillac to feature, Duhart-Milon, has the lowest Quality score of the five (752), but carries a Brand score of 916 points. It is no surprise that, as part of the Lafite group, it is the most-traded Bordeaux fourth growth at auction, its top five vintages having traded 1,186 bottles over the past four quarters.
Finally, Lafon-Rochet appears in the Listed blog for the second week in a row (previously featuring in the top five Saint-Estèphes by Economics score). At 800 exactly, Lafon-Rochet's Wine Lister score is safely in the "very strong" category on the 1,000-point scale. In the context of this week's top five it has the third-highest Quality score (770), but its price per bottle is 41% below the rest – a savvy buy!