Neal Martin's top Bordeaux 2017 scores
Bordeaux 2017 en primeur scores are now out from Neal Martin for Vinous.com – our US partner critic, and one of the most prominent voices of international wine criticism today. (Antonio Galloni's scores are due out this Thursday, 3rd May). This is the first time Wine Lister has featured Neal Martin's scores after he joined Vinous in February this year. Below are his scores equal to or above 94-96: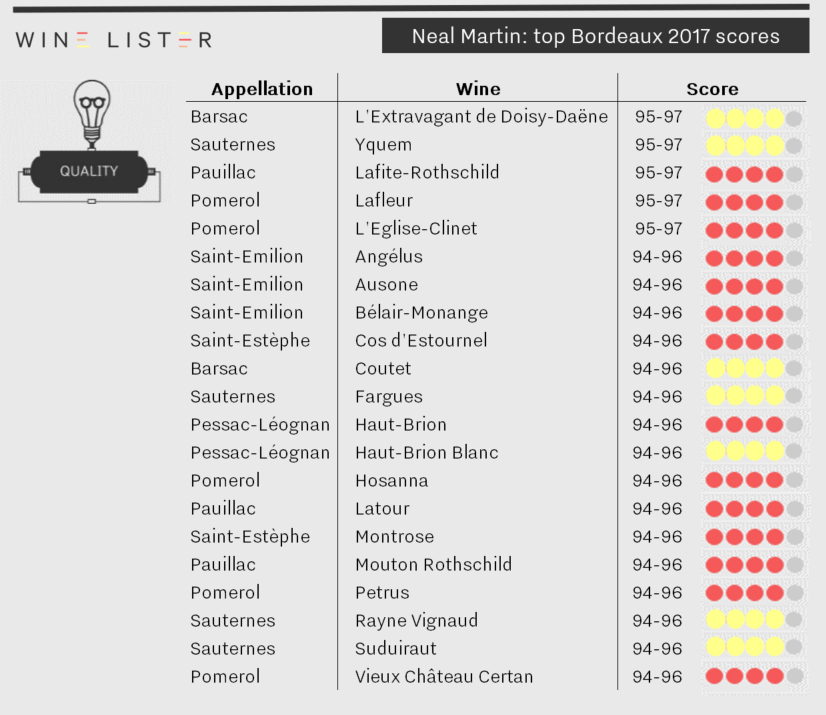 No wines earned perfect scores this year (in contrast with 2016, where Martin awarded a potential 100 points to eight wines), with five wines achieving Martin's highest potential score of 97.
With a score of 95-97, Yquem sits in the top score bracket for the third time, already awarded 18.5 and 19.5-20 by Julia Harding MW (on behalf of Jancis Robinson) and Bettane+Desseauve respectively.
Similarly to Bettane+Desseauve, Martin's appreciation for the quality of Sauternes and Barsac in 2017 is clear, with five other sweet whites making his top 21 (L'Extravagant de Doisy-Daëne, Coutet, de Fargues, Rayne Vignaud, and Suduiraut).
Lafite is Martin's highest scoring Médoc first growth, which he describes as "classic from start to finish". Joining the high rankings are first growths Haut-Brion (and its white), Latour, and Mouton, all earning 94-96 points.
The right bank figures strongly too. Two Pomerols (Lafleur and L'Eglise-Clinet) equal Lafite's score, with three more earning 94-96, alongside three wines from Saint-Emilion. Ausone, like Yquem, makes its third appearance in top scores for Bordeaux 2017 from Wine Lister partner critics. "What a great Ausone this is destined to be," comments Martin.
Bélair-Monange is perhaps the stand-out entry, described by Martin as, "the jewel in the crown of J-P Moueix… an assured, and bewitching Saint-Emilion".
Other wines scoring 94-96 from Neal Martin include: Angélus, Cos d'Estournel, Hosanna, Montrose, Petrus, and Vieux Château Certan.
All these scores are now live on the wine pages of our website for subscribers to view (alongside those of Bettane+Desseauve and Julia Harding), with links through to Neal Martin's tasting notes on Vinous.com. Read Neal Martin's coverage of Bordeaux 2017 here.
Vinous coverage will be completed by Antonio Galloni's scores, due for release on Thursday 3rd May.