Listed: top five white Burgundy 2015s by Wine Lister score
2015 was a phenomenal vintage for reds in Burgundy. However, parts of the Côte de Beaune were affected by frost, and the quality of 2015 whites is therefore less consistent. Below we examine the top five white Burgundy 2015s by overall Wine Lister score.
Domaine Leflaive takes two of the five top spots. Its Chevalier-Montrachet has the highest overall Wine Lister score of all white Burgundies in 2015 (963). This is thanks to a Quality score of 962 (four points higher than the wine's average across the last fifteen vintages) and an impressive Economics score of 991.
Domaine Leflaive's Bâtard-Montrachet comes in third place. Both wines benefit from Domaine Leflaive's position as a superstar white Burgundy brand. Indeed, five of the 10 highest white Burgundy Brand scores are held by wines from Domaine Leflaive.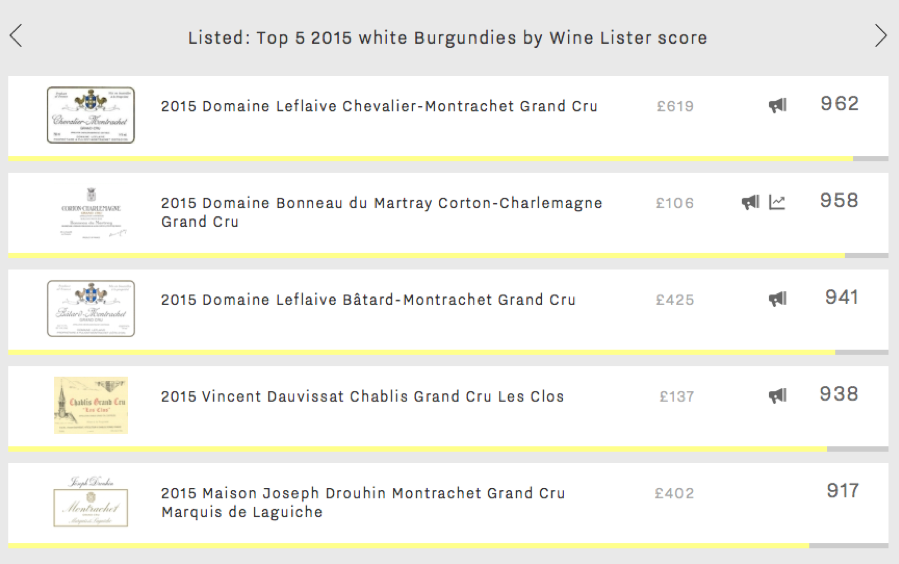 The second highest overall scorer of white Burgundy 2015 is Domaine Bonneau du Martray's Corton-Charlemagne (958). It is both the highest Quality scorer (977, 10% above its average) and the lowest priced (£106 per bottle) of the five, presenting an interesting value opportunity. It is also to be found in 36% of the world's top restaurants, the most prestigious count of this week's top five.
Chablis is represented by Vincent Dauvissat's Grand Cru Les Clos. Identified as one of only three Chablis Buzz Brands on Wine Lister, Dauvissat's Cru Les Clos is present in 23% of the world's top restaurants, helping it to a Brand score of 907. Its overall Wine Lister score of 938 for the 2015 vintage is completed by a Quality score of 947 and its second strongest ever Economics score of 969.
Finally, Maison Joseph Drouhin's Montrachet Grand Cru Marquis de Laguiche has the fifth highest Wine Lister score for white Burgundy 2015s (917). Though it has the lowest global restaurant presence, it is more present than the other four wines in top restaurants in Asia.