Online searches for Spring
Wine Lister uses data from our partner, Wine-Searcher, to examine wines with increasing online popularity on a monthly basis.
This month, Château Canon sees a 7% increase in search frequency for January-March 2018 from the previous period. As predicted by our Founding Members (c.50 key members of the fine wine trade), who voted Château Canon number one wine likely to gain the most brand recognition in the next two years in the 2017 Bordeaux Market study, Canon was one of the big successes of last year's en primeur campaign. Its brand continues to go from strength to strength, with search frequency in 2017 rising 35% between January and October. It will be interesting to see whether this year's en primeur release has the same impact on its online search frequency as the 2016 vintage.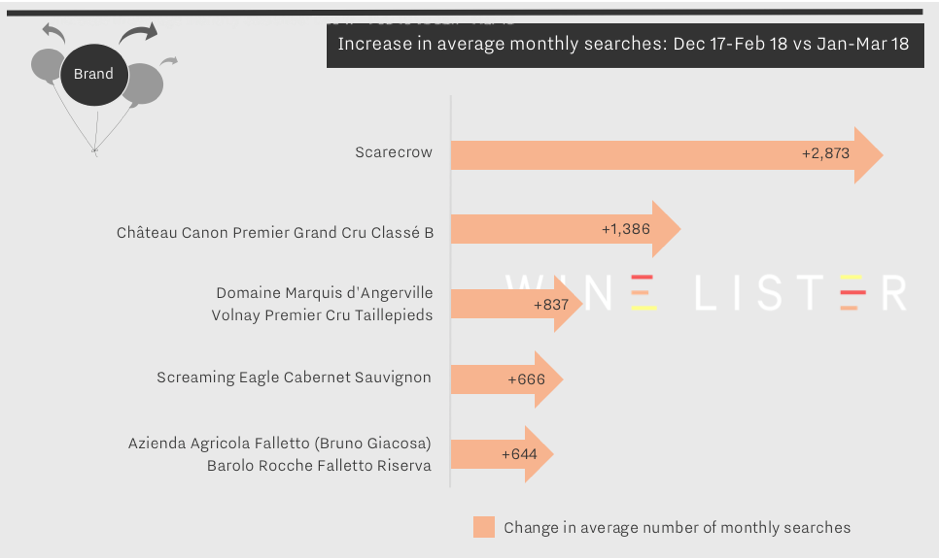 Two cult Californian wines are among the top five for latest search frequency increases.
Scarecrow saw an increased search frequency of 52% for January-March 2018 compared to the previous period thanks to its latest release in February. The 2015 vintage is as yet unscored by Wine Lister partner critics, however the estate has seen consistent Quality scores between 996-987 since 2010.
Screaming Eagle also makes the top five wines with biggest search frequency increase this month. With 17,831 average monthly searches between January and March 2018, the increase is small relative to its already vast online popularity. Indeed, Screaming Eagle remains the number one most searched for Californian wine on Wine-Searcher.
Burgundy is represented in the top search increases by Marquis d'Angerville, whose Volnay Premier Cru Taillepieds saw double its average number of monthly searches in January-March 2018 compared with the previous period. Guillaume Angerville eschews the scrum of the January Burgundy en primeur tastings in London, preferring to showcase his new vintage each March with a small tasting and lunch – the Taillepieds obviously made an impression, and achieves its highest ever Quality score (969).
Finally, searches for Azienda Agricola Falletto's Barolo Rocche Falletto Riserva continue to rise into March following the sad passing of Piedmont legend, Bruno Giacosa. The wine saw a bittersweet rise in popularity of 14% in December 2017-February 2018, which continues at a slightly slower pace (10%).