Listed: the five most expensive dry white Buzz Brands
"Buzz Brands" is one of the four Wine Lister Indicators developed to help our users identify wines for different scenarios. A Buzz Brand is a wine with strong distribution in the world's top restaurants, enjoying high levels of online search frequency or demonstrating a recent growth in popularity, and identified by the fine wine trade as trending or especially prestigious. As such, you wouldn't expect them to come cheap, and the five most expensive dry whites definitely don't, costing around £2,000 on average.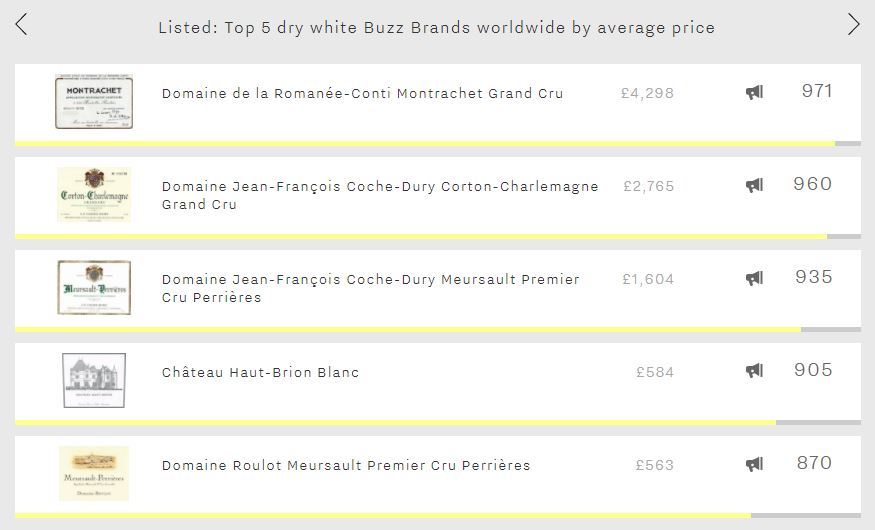 Perhaps unsurprisingly given the miniscule production of its top wines, Burgundy fills four of the five spots (and two of these are from Coche-Dury). DRC Montrachet is the world's second-most expensive dry white – behind Leflaive's Montrachet which fails to achieve Buzz Brand status. It achieves the best Quality score of this week's top five (976), just pipping Coche-Dury's Corton-Charlemagne to the post (971). It also enjoys the highest Brand score of the group – or any dry white for that matter (960) – the result of appearing in considerably more of the word's top restaurants than Coche-Dury's Corton-Charlemagne, which comes second in that criterion (26% vs 19%), and also being nearly 50% more popular than any of the rest of the five.
Whilst Coche-Dury's Corton-Charlemagne has to settle for second place in the Quality and Brand categories, it not only manages the group's top Economics score (991), but also the highest of any dry white on Wine Lister. This is thanks to formidable price growth. It has recorded a three-year compound annual growth rate (CAGR) of 25%, and has added 14% to its price over the last six months alone.
It is to be expected that wines from two of Burgundy's most hallowed grand cru vineyards command the group's highest prices, but it might come as more of a surprise that two Meursaults from the premier cru Perrières vineyard feature. With over £1,000 separating the considerably more expensive offering from Coche-Dury and Roulot's expression, it becomes clear that Brand score is a significant driver of price at this rarefied end of the scale, particularly within Burgundy.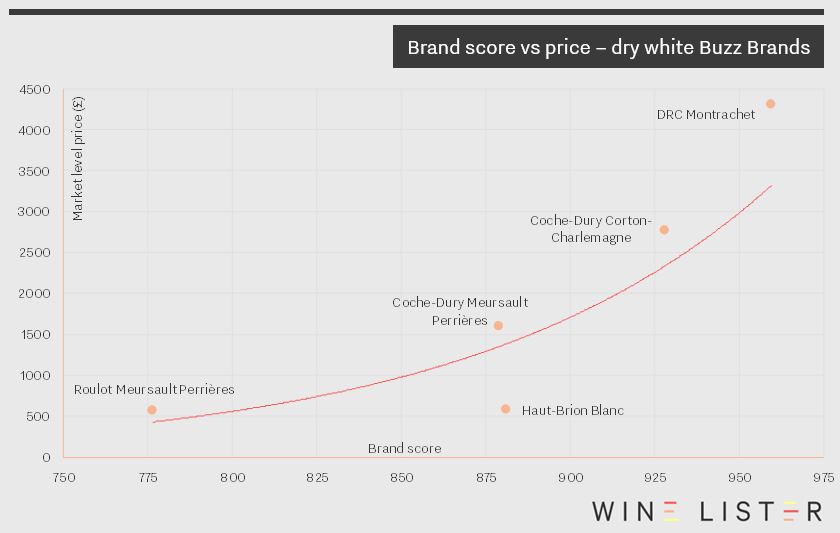 Proving that expensive Buzz Brands are not only to be found in Burgundy, Haut-Brion Blanc makes an appearance in the top five. Whilst it is the most liquid of the group – its top five traded vintages have traded 49% more bottles than any other wine in the five – it has experienced by far the lowest growth rates, with a three-year CAGR of 9% compared to the Burgundy quartet's remarkable average of 22%.