Oregon's best wines
Whilst the wine world – including much of Wine Lister's team – focuses its attention on Bordeaux for en primeur tastings, this week the blog hops over the pond to consider Oregon's top wines. As might be expected, Oregon's top five wines are all Pinot Noirs. Furthermore, in this relatively young fine wine region, its leading wines perform best in the Quality category (averaging 791), with their brand profiles and economic performance not yet able to keep pace (554 and 363 points respectively on average).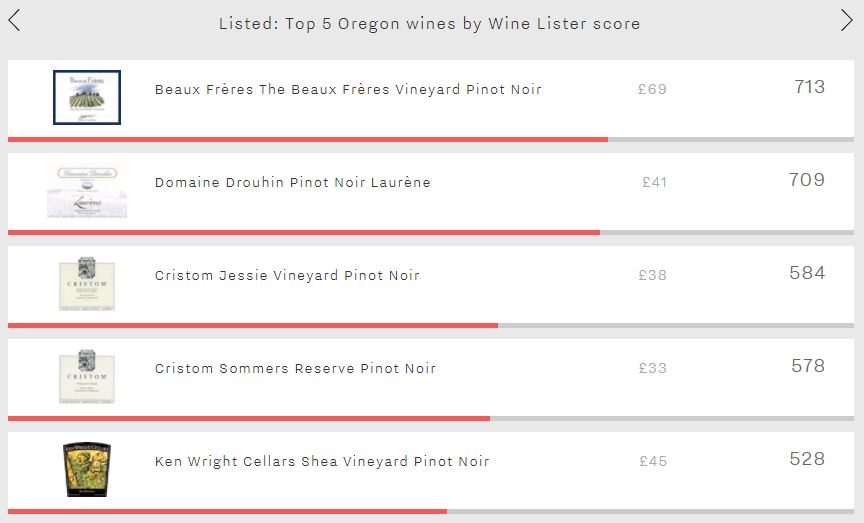 Whilst quality is king in Oregon, Beaux Frères Vineyard tops the table not because of its Quality score (785) – the third-best of the five – but for its stronger brand recognition. It leads Drouhin Laurène – second in the Brand category – by 113 points (715 vs 602), thanks to superior restaurant presence (9% vs 4%) and also because it receives 40% more searches on Wine-Searcher each month on average. Its Economics score of 545 is also Oregon's strongest, but with low trading volumes and negative price growth over the past six months, this only puts it in the "average" range on Wine Lister's 1,000 point scale, confirming that it is the area in which the region's wines currently struggle.
Drouhin's Laurène achieves the group's highest Quality score (872). Produced by the Oregon offshoot of Burgundy's Maison Joseph Drouhin, this is deemed to have the greatest ageing potential of the five, with an average drinking window of nine years, three years longer than the second-longest lived of the group – the Beaux Frères Vineyard.
Third and fourth spots are occupied by two wines from Cristom – Jessie Vineyard (584) and Sommers Reserve (578). Despite being separated by just six points at overall Wine Lister level, they display contrasting profiles. While the Jessie Vineyard achieves a superior Quality score (858 vs 770) and Brand score (490 vs 439), the Sommers Reserve nudges ahead in the Economics category (389 vs 133). This is thanks to it being the only wine of the group whose price has not dipped slightly over the past six months, instead adding 12% to its value.
The final wine of the group – Ken Wright Cellars Shea Vineyard – epitomises the profile of Oregon's top wines, achieving its best score in the Quality category (670), a weaker Brand score (522), before experiencing its lowest score in the Economics category (220). Perhaps as Oregon continues to establish itself on the international fine wine market – and with its quality not in doubt – its leading wines will be able to build up stronger brands and economic profiles able to rival their more southerly Californian peers.