The Veneto's top wines
Tucked away in the Westernmost corner of the Veneto, just to the North of Verona is Valpolicella, home to the region's best wines. The Veneto might conjure up images of Bellinis, Prosecco, and Soave, but it is the region's predominantly Corvina-based reds that top Wine Lister's table. With overall scores all falling in the 800s, these five wines might not quite make it into the most elite section of Wine Lister's 1,000 point scale, but a closer inspection of their performance shows that they are most definitely forces to be reckoned with.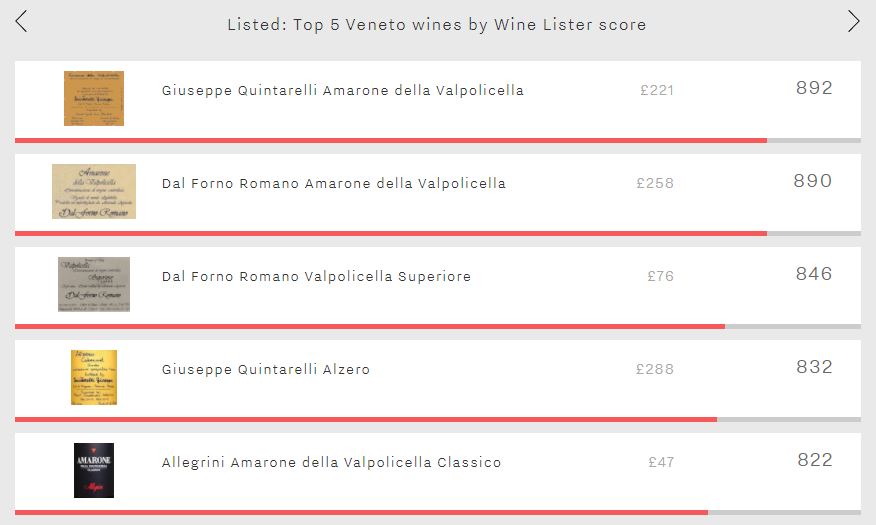 Quintarelli's Amarone della Valpolicella comes out on top with a score of 892, just two points ahead of Dal Forno Romano's Amarone. Its lead is thanks to a formidable Quality score (974), comfortably the best of the group. Receiving over 5,500 searches each month on Wine-Searcher, it is also the group's most popular wine – with perhaps all of Quintarelli's cuvées benefitting from basketball star LeBron James' Instagram posts of empty Quintarelli bottles.
Dal Forno Romano fills the second and third spots with its Amarone and Valpolicella Superiore. The Amarone benefits from by far the best restaurant presence of the group, visible in 21% of the world's top establishments, helping it to the group's best Brand score (926), 25 points ahead of Allegrini's Amarone which is the only other wine to achieve a Brand score above 900. Interestingly, it is Dal Forno Romano's Valpolicella Superiore that achieves the group's best Economics score (810) despite trailing the Amarone by significant margins in the Quality category (870 vs 928) and Brand category (837 vs 926). It does so thanks in part to being the most liquid of the group – its top five-traded vintages have traded 112 bottles at auction over the past year – but also to the fact that it is the only one of the five wines whose price has not fallen in value over the past six months, instead rising 3.8%.
Quintarelli's Alzero is the group's anomaly. The most expensive of the five, it is the only one to eschew indigenous grapes, instead being a Bordeaux blend of Cabernet Sauvignon, Cabernet Franc, and Merlot. With a Quality score of 933, including a formidable average rating of 95.5/100 from Vinous, it seems that international varieties can thrive alongside traditional grapes in Valpolicella.