Listed: top 5 most expensive rosé Champagnes
Unintentionally coinciding with today's International Women's Day – really, it was a complete accident – this week our Listed section looks at "pink Champagne", namely the five most expensive rosé Champagnes. We are a bit embarrassed that it looks like we are jumping on the bandwagon and touting the colour pink today. However, as these five contenders show, top rosé Champagne represents a serious vinous offering worthy of any day or occasion.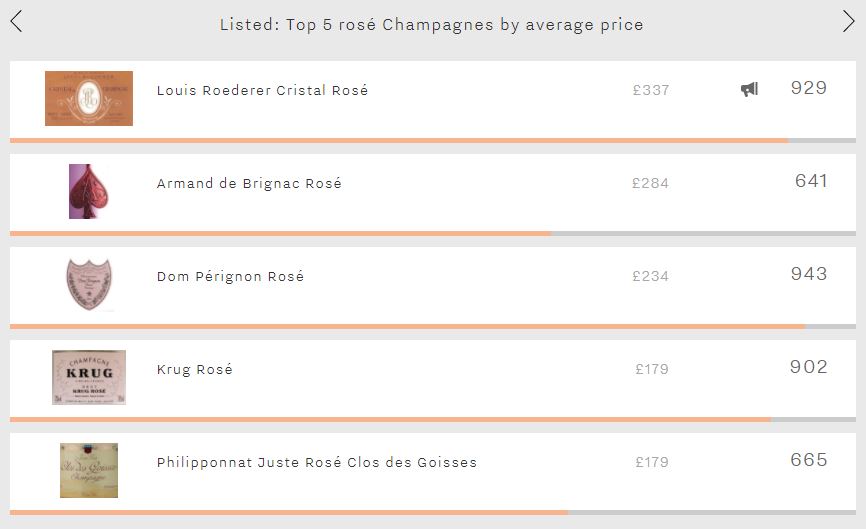 The world's most expensive pink Champagne is Louis Roederer's Cristal Rosé (£337 per bottle). It also achieves the highest Quality score of all rosé Champagnes (972). Whilst it receives excellent scores from each of Wine Lister's partner critics, it is the outstanding average rating of 97/100 from Antonio Galloni's Vinous that stands out. Cristal Rosé also pips its white counterpart to the post in the Quality category (972 vs 970), and is over twice as expensive (£337 vs £165 per bottle). However, despite its superior quality, Cristal Rosé trails its white counterpart in the Brand category by 56 points – it features on under half as many of the world's top wine lists and is searched for 82% less frequently.
The second-most expensive rosé, Armand de Brignac's offering, is a newcomer to the fine wine world, born in 2006. It experiences the group's lowest Quality and Economics scores, and second-weakest Brand score. Its high price (£284) can therefore be attributed to its association with Jay-Z. The American rapper featured Armand de Brignac's white Champagne in the video for "Show Me What You Got" in 2006 – before it even had a US importer – and eventually bought a significant portion of the house in 2014, further aligning the brand with his high-flying lifestyle.
In third place is Dom Pérignon's rosé (£234). Whilst unable to match the peerless brand recognition of its white counterpart, it does enjoy the best Brand score of any pink Champagne (984). This is thanks to receiving on average 2.5 times as many online searches each month as the second-most popular wine of the five (Cristal Rosé).
The last two spots are filled by Krug's rosé and Philipponnat Juste Rosé Clos des Goisses, each costing £179. The fact that the Krug enjoys a lead of 237 points in terms of overall Wine Lister score yet costs the same shows that when it comes to rosé Champagne, prices don't always have a rational explanation. The chart below confirms a lack of correlation between price and overall Wine Lister score for these five wines.