Listed: Australia's top 5 brands
Having stopped off last week in Syrah's spiritual home – the Northern Rhône – in search of the region's leading wines for the 2015 vintage, this week Wine Lister's Listed section ventures to Australia, surely Syrah's most famous home from home. Australian Shiraz might differ stylistically from the Northern Rhône's finest Syrahs, but the Land Down Under's foremost brands have certainly managed to establish themselves as a force to be reckoned with on the international fine wine market.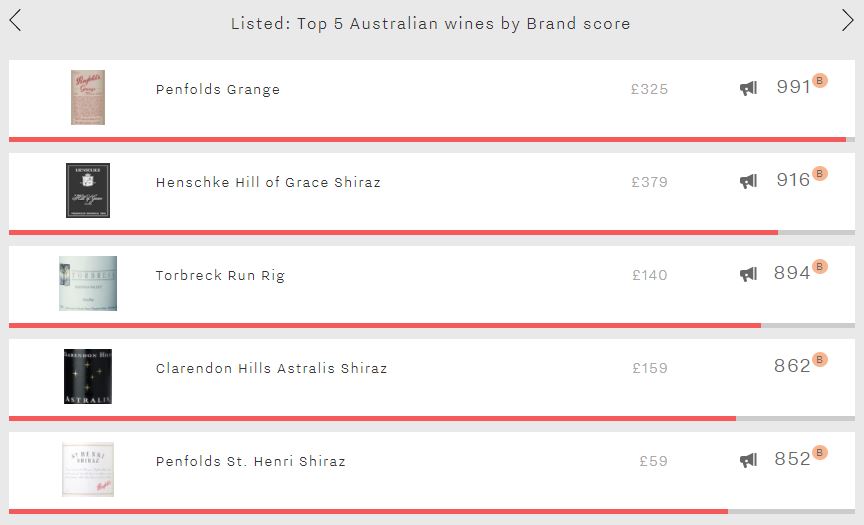 Penfolds' flagship Grange is Australia's runaway leader in the Brand category. Its formidable score of 991 is not only 75 points ahead of Australia's second strongest brand – Henschke Hill of Grace Shiraz – but also nudges ahead of the Northern Rhône's top brand – Jaboulet Hermitage La Chapelle. Whilst Grange can't quite match La Chapelle in terms of the number of the world's top restaurants in which it features (34% vs 43%), establishments in which it does appear list 1.5 times more vintages / formats on average (4.5 vs 3.0). Grange is also considerably more popular than La Chapelle, receiving nearly twice as many searches each month on Wine-Searcher. Within Australia no other wine comes close to its level of brand strength. It is visible in nearly twice as many restaurants as the group's next-best wine in the criterion – Henschke Hill of Grace Shiraz – and is searched for almost five times more frequently than the second-most popular wine of the five – Penfolds St. Henri Shiraz. Last year's release of g3, a blend of 2008, 2012, and (the as yet unreleased) 2014 Grange will only serve to secure Grange's standing as Australia's top brand. Click here to see all of Grange's vintages. Confirming Penfolds as Australia's most prestigious producer, the St. Henri Shiraz bookends the top five with a score of 852.
Other than Grange, the only Australian wine to enjoy a Brand score above the 900-point mark – and thus making the "strongest" band on Wine Lister's 1,000-point scale – is Henschke Hill of Grace Shiraz (916). As previously mentioned, Eden Valley's leading light achieves the group's second-best level of restaurant presence. It is also the third-most popular wine of the five, receiving 4,107 searches each month on average and, notably, is by far the most expensive of the group.
The two remaining spots are filled by Torbreck Run Rig and Clarendon Hills Astralis Shiraz (894 and 862 respectively). Whilst they receive a very similar number of searches each month, Torbreck Run Rig edges ahead thanks to superior restaurant presence (17% vs 11%) – presumably in part due to producing over twice as many bottles each year as Clarendon Hills Astralis.