Champagne breaks the Bordeaux bias in trading volumes
After two quarters of Bordeaux dominance, the latest trading volume data has room at the top for one non-Bordeaux wine. Among the five wines with the greatest incremental increase in trading volumes for the period of January-December 2017 (calculated using figures collated by Wine Market Journal from sales at the world's major auction houses), sits Louis Roederer's Cristal in second place.
Volumes of Cristal traded increased by 267 bottles, helped along by a Sotheby's auction in New York in November where 37 bottles went under the hammer. While this translates into a small Economics score increase of just one point, the wine nevertheless holds the highest overall Wine Lister score of the five at 975/1000.
Château Pavie appears high up the list for a consecutive quarter, with a further 228 bottles added to its trading volume count compared to October 2016-September 2017. Though in third place for incremental change, Pavie has the highest overall volume of bottles traded of the top five (2,466).
The number one spot for increased trading volumes is taken by Château Pape Clément, with 293 more bottles traded over the course of 2017 compared to the previous dataset period. Pape Clément has the lowest Quality score of the top five (825), however high Economics (952) and Brand (960) scores pull the overall score up to 898.
Château Calon Ségur and Château Troplong-Mondot fall in fourth and fifth place for biggest change in trading volumes.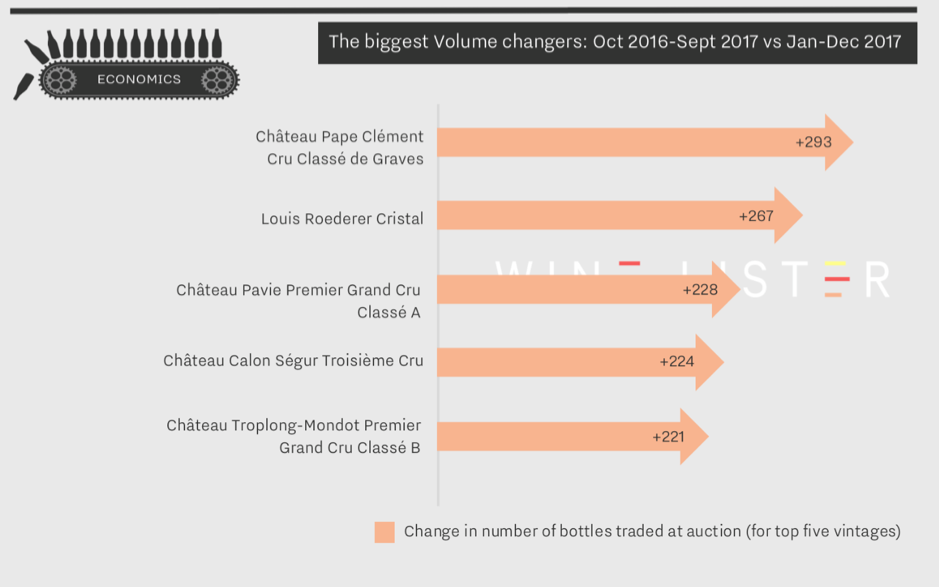 It is interesting to note that Larrivet Haut-Brion Blanc has the highest growth of Economics score, moving up a huge 376 points since Q4 2016, to 669. With the recent spike in trading volumes of the red (as seen in our last analysis), trading volumes of the château's wines are increasing across the board.