Top 5 Saint-Emilion 2015s by Economics score
The Bordeaux 2015 vintage broke a more lacklustre run since the formidable 2010, and seemed to prove the wine trade legend of vintages ending in 5. En primeur tastings took place at the crest of "Bordeaux Bashing", with some journalists reluctant to praise the vintage too highly, and there was talk of inconsistency between appellations. Saint-Estèphe was said to have suffered from more rain than its southerly neighbours, for example. Meanwhile in Saint-Emilion, a lack of homogeneity allowed each wine to express its terroir and its identity to the utmost.
Now that the wines have been bottled, it seems a suitable time to revisit the vintage. Our CEO, Ella Lister, has just got back from tasting over 200 wines from across the two banks with Wine Lister's partner critics Michel Bettane and Thierry Desseauve. She reports Saint-Estèphe as "exceptional and wrongly dismissed as rained-out", and names Figeac and Canon as two highlights, both "stunning". The two Saint-Emilion wines are among the top five Quality scores for the vintage on Wine Lister.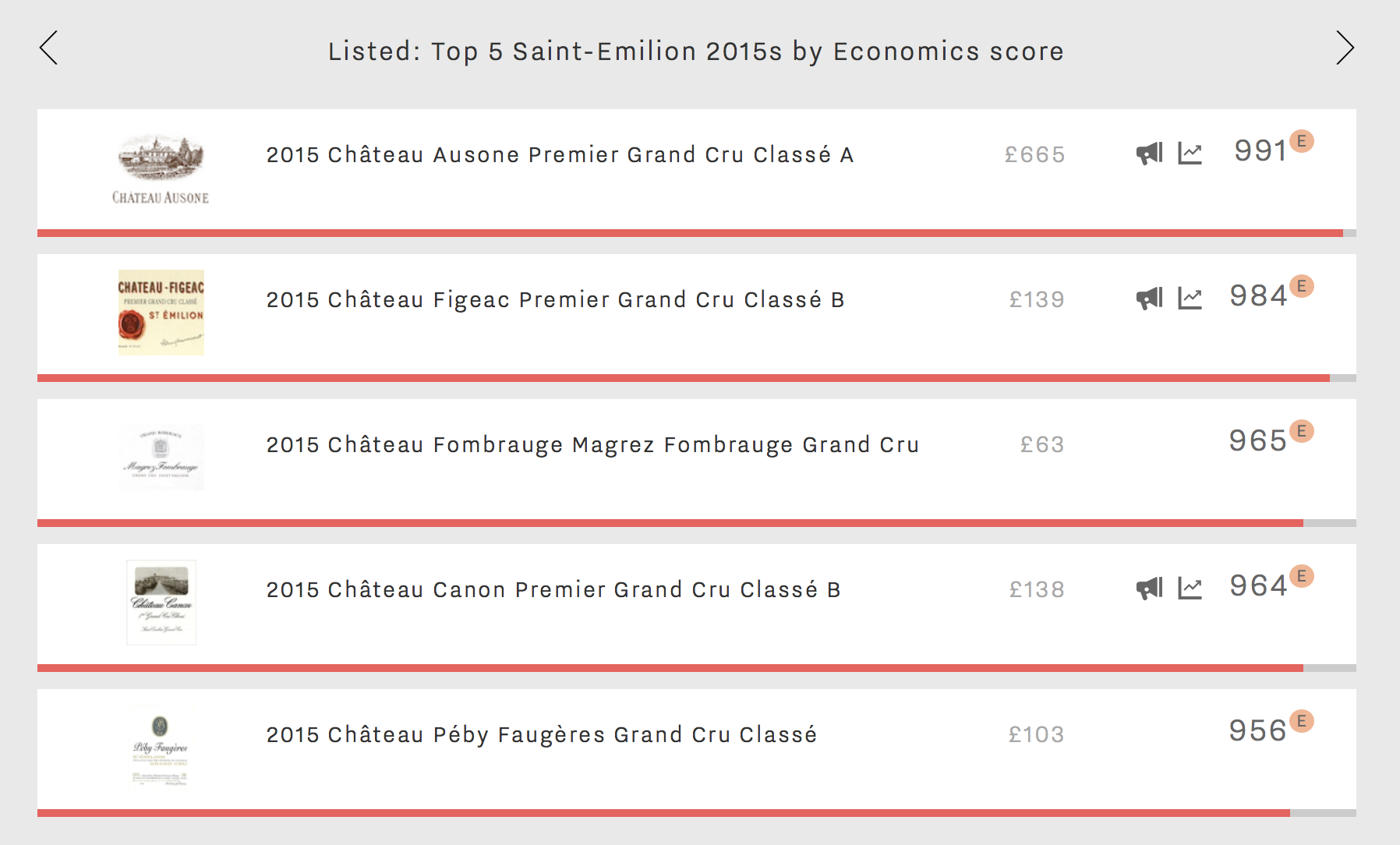 Figeac and Canon both also feature in this week's top 5: Saint-Emilion 2015 Economics scores, showing that the market recognises their worth. Coming in second and fourth place, both hold premier grand cru classé B status since the reclassification of Saint-Emilion in 2012. Château Figeac 2015 achieves its best Economics score to date with an impressive six-month price performance of 18%.
However, Château Canon is the real surprise here. One of the most talked-about wines by the fine wine trade, its Wine Lister scores are improving from vintage to vintage, with its Economics scores, in particular, soaring. It comes in second place among all Bordeaux wines for Economics score in the 2016 vintage. Both Figeac and Canon are Buzz Brands and also Investment Staples (two of the four Wine Lister Indicators), and so is number one on the list…
Beating both of these is premier grand cru classé A, Château Ausone, with an Economics score of 991 – a record high for this producer, even against the strong 2005 vintage. The château also gains the number one spot across all Saint-Emilion 2015s in Quality, with a score of 990. In the context of overall Wine Lister scores, Ausone is just behind Petrus and Margaux as the third highest-scoring Bordeaux of 2015.
Magrez-Fombrauge and Péby Faugères are the 'underdog' entries among Saint-Emilion Economics performers. With Quality and Brand scores ranging from average to strong, the overall score of both wines is "strong" according to the Wine Lister 1,000-point scale (the other three entries sit comfortably in the "strongest" category, with overall scores significantly above 900).
In contrast, one might expect some bigger names, such as Cheval Blanc (a Wine Lister Buzz Brand) to appear higher up the list. Its Economics score of 946 puts it in seventh place, with slower price growth (3% over the last six months). Its price per bottle currently stands at around £500, over five times higher than that of Péby Faugères, and seven times more than Magrez-Fombrauge.