Listed: New Zealand's strongest brands
Mention New Zealand, and the first thing that springs to mind will most likely be rugby. The All Blacks are not just the world's best team, but the foremost brand in rugby. In wine terms, they are the left bank first growths; the team that even people who don't follow rugby will recognise. Whilst peerless with the oval ball, when it comes to vinous competition New Zealand can't compete with its Old World counterparts in terms of brand strength. However, as this week's top five shows, New Zealand's top brands definitely shouldn't be discounted.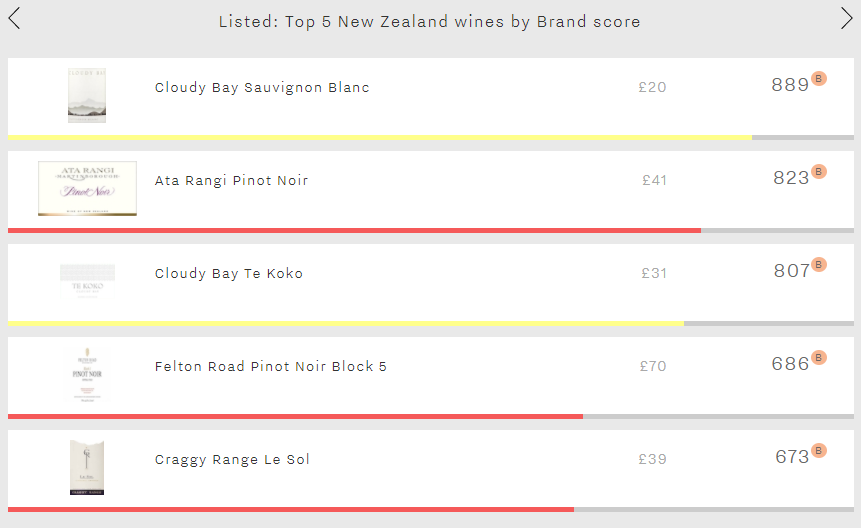 Cloudy Bay fills two of the five spots with its straight Sauvignon Blanc and Te Koko Sauvignon Blanc. With a very strong score of 889 – putting it ahead of the likes of Haut-Brion Blanc – the straight Sauvignon Blanc dominates the rest of the five across both of Wine Lister's brand criteria. It receives 56% more searches each month on Wine-Searcher than Ata Rangi Pinot Noir (the group's second-most popular wine). Te Koko – New Zealand's third-strongest brand (807) – displays a similar profile to the straight Sauvignon Blanc. Its brand is its strongest facet, comfortably outperforming its Quality and Economics scores (614 and 308 respectively).
Whilst Sauvignon Blanc is New Zealand's foremost white grape, its most prestigious reds are Pinot Noirs, with Ata Rangi's offering and Felton Road's Block 5 both appearing in the top five. Ata Rangi is by far New Zealand's strongest red brand (823). It is the country's most visible red in the world's top dining establishments (11%), and also the most popular with consumers, receiving three times as many searches each month as the Felton Road. Whilst it appears in just 7% of top restaurants, Felton Road Block 5 enjoys the group's best vertical presence, with two vintages / formats offered on average per list. It is also the most expensive of the five. Incidentally, the two Pinot Noirs comfortably achieve the group's best Quality scores and are the only two with scores above 800 in the category.
Proving that New Zealand isn't all Sauvignon Blanc and Pinot Noir, Le Sol – Craggy Range's Syrah – completes the five, with a Brand score of 673.