Listed: top five US whites by Wine Lister score
With Burgundy having dominated our thoughts recently, we thought it was time for a change. So this week, our Listed section continues on its travels, this time stopping in the USA, to consider the country's overall top five whites. However, whilst the landscape might be different to the Côte d'Or, the grape certainly is not. As might be expected, the USA's top five whites are all Chardonnays – and all Californian.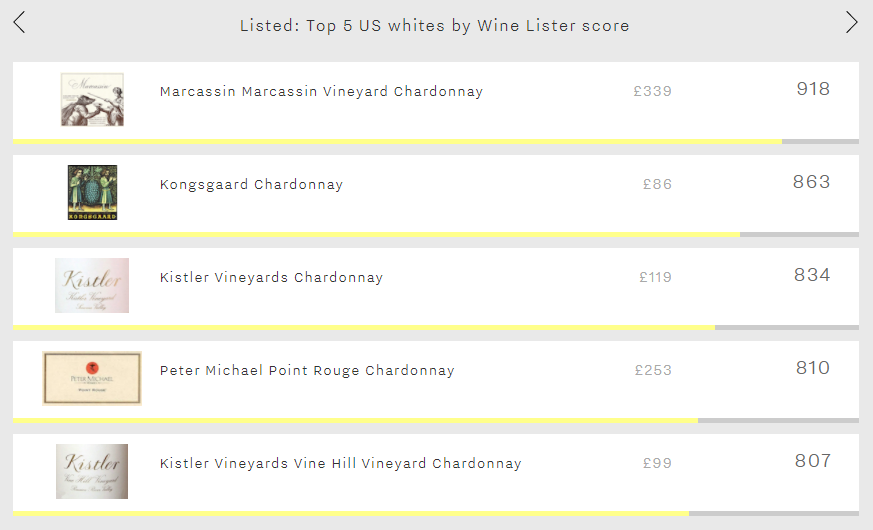 Leading the pack is Marcassin Vineyard Chardonnay, with an excellent score of 918 – putting it amongst the very best on Wine Lister. Its score – 55 points above second-placed Kongsgaard Chardonnay – is the result of excellent consistency across Wine Lister's three categories. Whilst it comes second in terms of Quality (927), it leads in the Economics category (968), and is well out in front in the Brand category (879). The dominance of its brand is the result of achieving the group's best restaurant presence – both horizontal and vertical – and being the most popular of the five – it receives nearly twice as many searches each month on Wine-Searcher as the second-most popular wine in the group.
Next comes Kongsgaard Chardonnay (863). The cheapest of the five (£86 per bottle), it experiences the group's second-weakest Economics score (873). However, it starts to climb back up the table with the group's third-best Quality score (894), and cements its position with the second-best Brand score of the five (817).
The three final wines in the group are evenly matched, with just 27 points separating Kistler's straight Chardonnay, Peter Michael's Point Rouge Chardonnay, and Kistler's Vine Hill Vineyard Chardonnay. The two Kistlers display contrasting profiles. Whilst the straight Chardonnay comfortably outperforms the Vine Hill Vineyard in the Quality category (892 vs 805), the roles are reversed in the Economics category, with the Vine Hill Vineyard's very strong three-year CAGR (16.5%) helping it to an excellent score of 951, c.70 points ahead of the straight Chardonnay. In the Brand category, despite achieving very similar scores, again they display contrasting profiles. The straight Chardonnay is over twice as popular as the Vine Hill Vineyard, but features in half the number of the world's top restaurants.
Peter Michael Point Rouge Chardonnay – the USA's fourth-best white – has a somewhat topsy-turvy profile. It enjoys the group's best Quality score (933), but the worst Brand and Economics scores (641 and 827 respectively). Thanks to an extraordinary three-year CAGR of 47.7% it is also by far the most-expensive of the five, with a three-month average price of £457.