Listed: the top five Ports
This week's top five takes Wine Lister to the Douro Valley in search of its vintage ports. In some ways this top five is very much a four plus one, with the fifth placed Quinta do Noval Nacional, costing nine to ten times more than each of the others. It is also the only one to enjoy Buzz Brand status. At a total Wine Lister score of 880 and £521 per bottle, against the top-ranked Taylor's 932 and £60, that constitutes quite a buzz.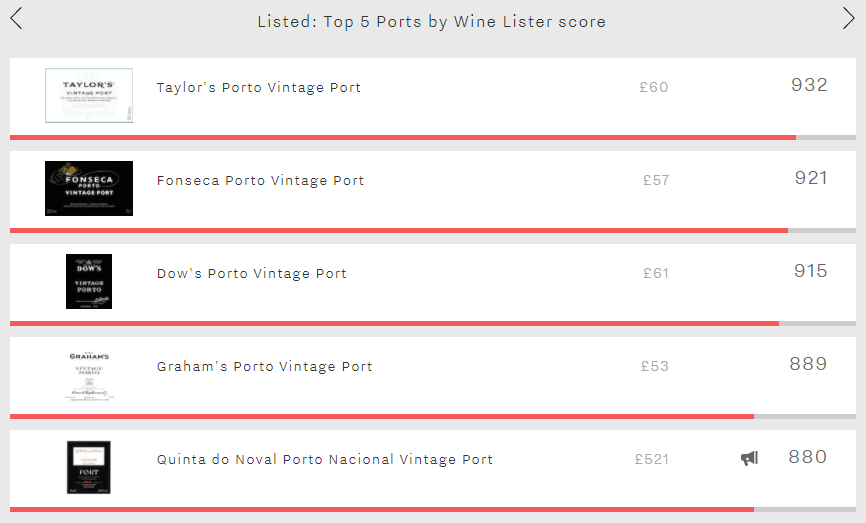 Here is a classic case of all metrics count but some count for more than others when it comes to cost. With a stonking 981 for Quality and the longest drinking window in its peer group the Quinto do Noval is clearly the nichest of the niche; its relatively low restaurant presence (9%) and monthly searches (2,457, on average, to Taylor's 10,787) make its Wine Lister Brand score (825) well below Taylor's and the other three.
With an overall score of 932, an excellent Quality score of 967, and a Brand score of 965 based on decent restaurant presence (23%) and over 10,700 average monthly searches, Taylor's tops the Vintage ports. Fonseca comes a close second at an overall 921. With almost identical Quality (965) and slightly lower Brand (942), Fonseca just pips Taylor's for liquidity, with 1,072 (against 1,061) of its top five vintages traded at auction in the past year.
At around £60 per bottle on average, Taylor's and Fonseca are each affordable flutters with future Christmases in mind. Even illustrious older vintages such as 1970 and 1977 – in their drinking prime this Christmas – can be found at two to three times the price.
The same goes for third-placed Dow's (£61) and fourth-placed Graham's (£53). At an overall 915 Dow's has a slightly lower Quality score than the top two. 943 is nevertheless still highly creditable. Graham's edges Dow's on Quality at 948 but a relatively lowly 650 for Economics brings it down to 889 overall.
All in all, Taylor's and Fonseca merit their top two spots. If Santa has very deep pockets then consider adding Quinto do Noval 1994 to your wishlist (at a cool £1,229).