Battle of the Brand scores
The latest three-month average search frequency data is in, and with it we can see which wines' increase in popularity has boosted their Brand score. Here we focus on the five wines that saw the largest increase. All saw at least a 29-point rise in their Brand score.
Château Montviel saw the greatest increase, gaining 60 Brand points and taking its overall Wine Lister score to 523. Its average monthly search frequency of 1,085 remains its strongest criterion score, as its three-month average price (£31) and liquidity hold it back — it has failed to trade a single bottle at auction over the past year.
The second-highest increase was Campo Eliseo, whose Brand score rose 37 points to 453. Although it holds the lowest overall Wine Lister score of the group (490), it had the greatest surge in online surge frequency (+64%).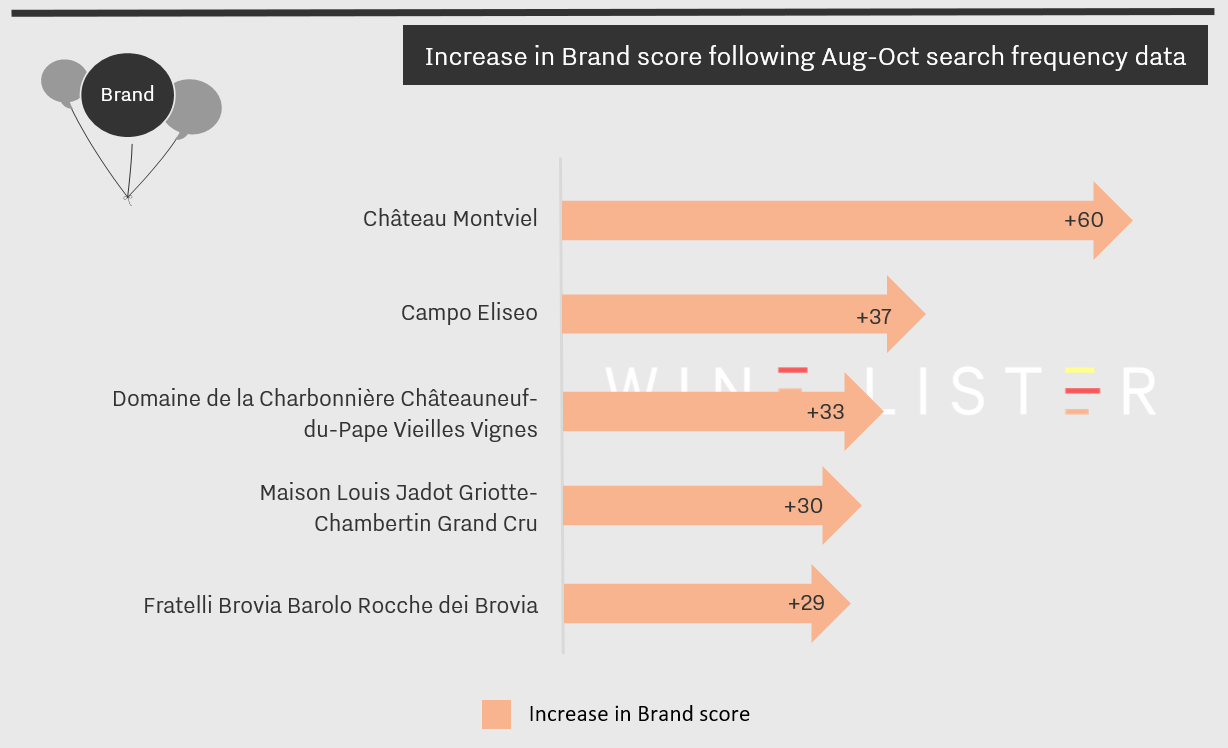 Following a drop in its price over the last six months, Domaine de la Charbonnière Châteauneuf-du-Pape Vieilles Vignes also saw a welcome increase in search frequency (+51%) and a subsequent Brand score increase of 33 points to 437, pushing its overall score towards the 'Strong' band on the overall Wine Lister scale (now just 17 points short at 583).
The fourth-highest increase, though still the with the lowest overall search frequency of the five (172 searches), is Maison Louis Jadot Griotte-Chambertin Grand Cru. Currently holding Hidden Gem status, is this an early sign that this wine won't be under the radar for much longer?
Finally, Fratelli Brovia Barolo Rocche dei Brovia saw an increase of 29 Brand points to 654, following a 45% increase in search frequency. US partner critic Antonio Galloni rates it very highly, with the result that it achieves the highest overall Wine Lister score of the group (702).
So, with an impressive 10% increase in its Brand score this month, Château Montviel is the one to watch as we move in to the winter months.