Bordeaux's best dry whites
Bordeaux is renowned for its reds and sweet whites, but its best dry whites should not be forgotten. While the majority of Bordeaux's top dry whites are not the flagship wine of their respective châteaux, they still achieve overall Wine Lister scores that are amongst the strongest or very strong on Wine Lister's scale. Furthermore, as part of some of the most prestigious châteaux in Bordeaux, they all achieve Buzz Brand status.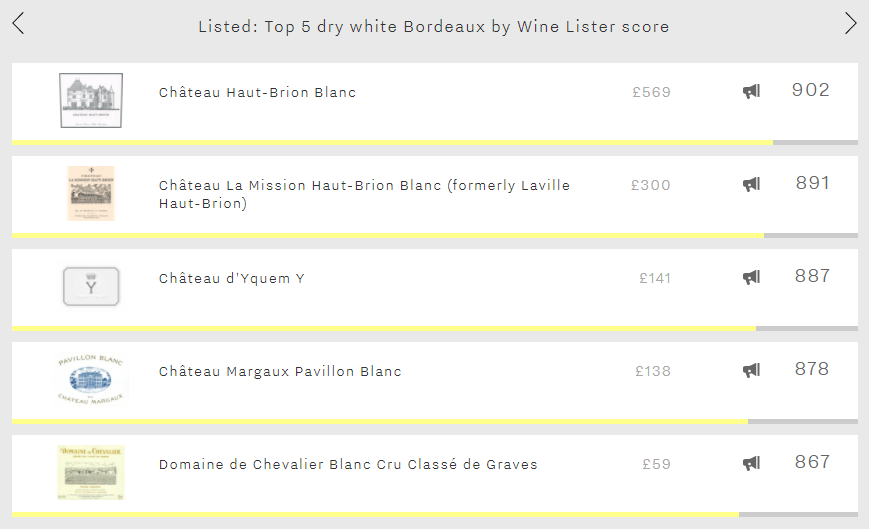 Leading the way is Château Haut-Brion Blanc, with a score of 902. It is by far the most expensive at £569 per bottle. This puts it 62% above the current market price of Haut-Brion's red, presumably because just one sixteenth the number of bottles are produced each year.
In second place is Château La Mission Haut-Brion Blanc (891). Relabelled in 2009, this was formerly Laville Haut-Brion. It has the best Quality score of the group (908), the result of very strong ratings from each of Wine Lister's four critics and the longest ageing potential of the group – the last six vintages bottled under the Laville Haut-Brion label will still be drinking well until at least 2020.
Next comes Y d'Yquem with a score of 887. Whilst it can't match the quality of the botrytised Sauternes for which the château is best known – not many can – it is available at a 34% discount, making it an excellent way of enjoying an iconic producer on a different occasion.
Margaux's Pavillon Blanc achieves the fourth-best score (878). The only straight Bordeaux AOP in the group, Pavillon Blanc comprehensively outperforms its red counterpart in the Quality category (895 vs 771). That said, Pavillon Rouge has a stronger Brand score (944 vs 831) and Economics score (953 vs 920), in spite of a slightly lower price (£122 vs £138).
Confirming the dominance of the Graves when it comes to Bordeaux's best dry whites, the last spot is filled by Domaine de Chevalier Blanc (868), the third Pessac-Léognan wine of the group. By far the cheapest of the five (£59), it is an absolute steal given its consistent high quality and ageing capacity. It also achieves the best Brand score (909), thanks to outstanding restaurant presence – it is visible on 23% of the world's best wine lists.