Listed: the Australian wines getting their prices right
Wine Lister's Economics scores are based on a variety of price and liquidity metrics, including a wine's three-month average bottle price, six-month price performance, and three-year CAGR. This week's newly updated Listed section features the five top-scoring Australian wines by Economics score. Noticeably, all are red, and red wines outperform for Australia in this category (the top white, Leeuwin Estate Art Series Chardonnay, has an Economics score of 498, its top traded vintages only trading 10 bottles in auction over the past year). While there is quite a difference in points between the first and fifth wine on today's list, all are considered very strong (750–900) or among the strongest (900+) wines in Wine Lister's database.
Several of Australia's best-known producers feature in our top five, including Penfolds, which accounts for the top two entrants: Penfolds Grange and Penfolds Bin 707 Cabernet Sauvignon. While both wines excel on three-month average bottle price and three-year CAGR, Penfolds Grange is particularly strong for liquidity, its top five trading vintages having traded 626 bottles over the past four quarters.
The third wine on this list, Torbreck Run Rig, experiences good trading volumes but has the lowest three-year CAGR of the five (3.27%). Fourth place goes to Henschke Mount Edelstone Shiraz, which is the lowest in price and sees fewer bottles traded than the others, but has an excellent six-month price performance of 11.88% and good price stability. Finally, the list is completed by Grant Burge Meshach Shiraz, which has one of the higher three-year CAGRs, at 6.4%.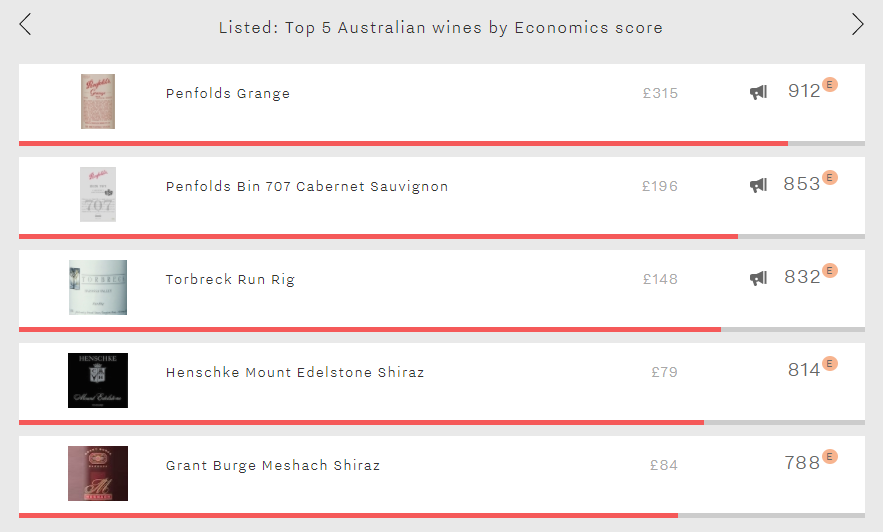 Don't forget – if you're not yet a subscriber to Wine Lister, you can still fully explore this week's five Listed wines, and those for the previous four weeks, via the homepage.