Champagne corks a-popping in July
The latest search frequency data is in from Wine-Searcher, and with it we can see which wines enjoyed the greatest popularity gains during July. After the en primeur campaign fuelled the big surges of May and June, July's top five gainers witnessed more modest gains. There is also more variety this month, with two Champagnes and a Napa joining two Bordeaux right bank heavyweights.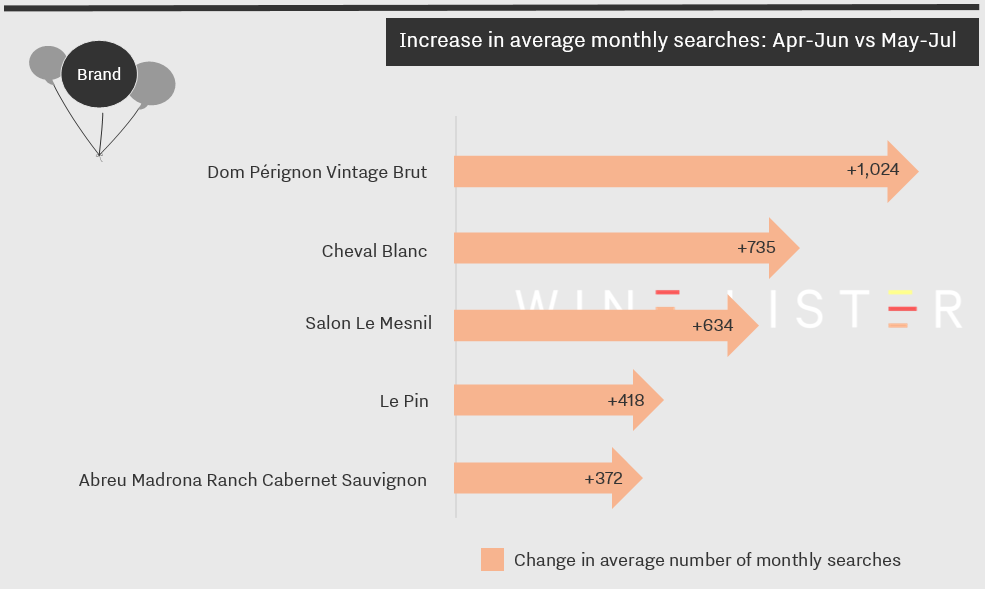 Experiencing the greatest increase in popularity during July was Dom Pérignon Vintage Brut – particularly impressive considering it started from an already extraordinarily strong average of over 54,000 searches each month.
Next came Cheval Blanc, whose 2016 vintage was released in early June, before July saw the release of Salon Le Mesnil 2006. Described by Wine Lister partner critic Antonio Galloni as an "utterly compelling Champagne to follow over the next several decades", its rise in online popularity suggests that consumers have already started to track its progress.
The last two wines are both produced on very small scales. Le Pin, notoriously rare, released its 2016 vintage in late June, which likely contributed to its increase in online popularity, at least among those lucky few with both an allocation and requisite funds. About 6,000 bottles of Napa Valley's Abreu Madrona Ranch Cabernet Sauvignon are produced each year. As we saw in our recent post on California's most expensive wines, production levels play a big role in the region's prices. Perhaps the rarity of Abreu Madrona, the region's eighth most expensive wine, is helping to boost its caché.