Listed: top five Italian white wine brands
This week's Listed section features the five Italian white wines with the strongest brands. They comprise two Langhes from Gaja (Gaia & Rey and Rossj Bass), two of Italy's cult whites (Valentini Trebbiano d'Abruzzo and Gravner Anfora Ribolla Gialla), and Cervaro della Sala (from the Antinori stable).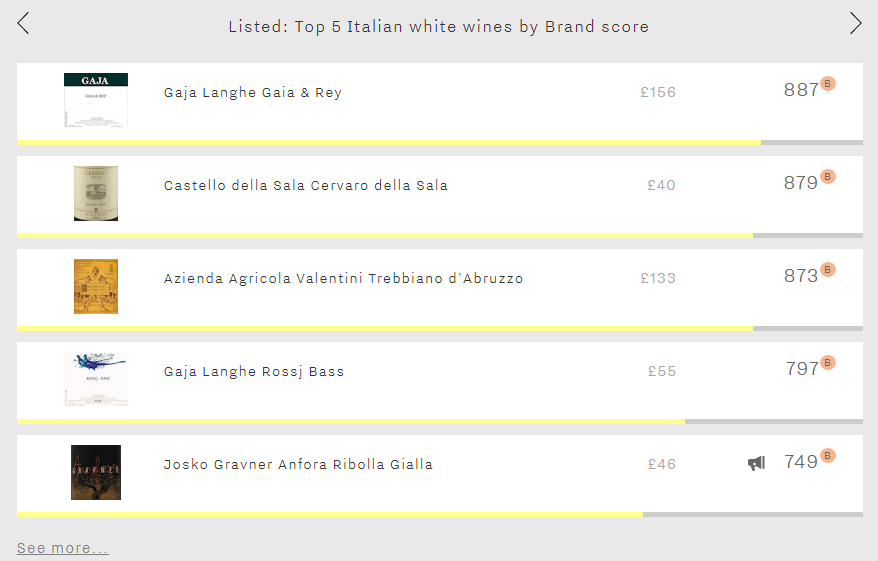 Whilst these wines all enjoy strong or very strong Brand scores, they do not command the same level of brand recognition as the top five Italian red wine brands, trailing them by c.90-250 points in the Brand category. Tuscan powerhouses Sassicaia, Tignanello, Ornellaia, Solaia, and Gaja's Barbaresco all achieve Brand scores of over 975 points, with Sassicaia's outstanding 997 points putting it ahead of the likes of Cheval Blanc and DRC La Tâche.
Wine Lister's Brand scores comprise restaurant presence and consumer popularity. It is in the latter category that the whites have the most ground to make up. For example Gaja Langhe Gaia & Rey, which featured in our latest blog on new Investment Staples, is present in well over half the number of restaurants of its close relative Gaja Barbaresco, but it receives under a quarter of the number of searches each month on Wine-Searcher. If sommeliers are convinced that these top Italian whites can grace the tables of the finest establishments, they still fly well under the radar of most consumers.