Top Bordeaux crus: Brand and Economics scores
When it comes to wine scores, we're all used to looking at quality and critic ratings. Wine Lister scores incorporate two other crucial measures: Economics and Brand. Today, we take a closer look at these categories in the context of the top Bordeaux crus in our 2017 Bordeaux Market Study. 
Brand: not much in it
We begin with the Brand category, based on search frequency and distribution. The first thing to notice is that score differentials are incredibly narrow. The 15th wine in Economics terms achieves a score of 932, while the 15th wine in the Brand table gets 992 – testament to the incredible brand strength of Bordeaux crus in general.
Three wines share the top spot, with near-perfect scores of 999 apiece: Lafite, Mouton, and Yquem. Latour and Margaux have lost one point since last year, putting them in joint fourth with Haut-Brion, up one place, while Pauillac and Pomerol powerhouses, Lynch-Bages and Petrus, share seventh position. Only two right bank wines achieve Brand scores in the top 15, and Cheval Blanc is the only Saint-Emilion premier grand cru classé A to feature.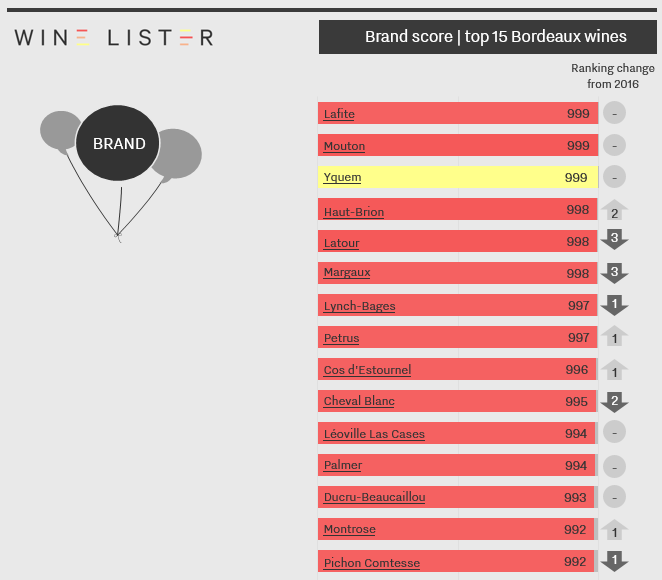 Economics: all change at the top
We now move onto the Economics score, based on a variety of price metrics and liquidity. Unsurprisingly, due to the constantly changing nature of its component parts, the Economics category displays significant changes over a 12-month period. The order of wines in the top 15 has completely changed from the previous year. Compared with the Brand table, the top 15 is also very different: wines have moved in and out, and the order has shifted.
In a continued display of commercial strength, Angélus has moved up three places into pole position, while second and third places are also occupied by right bank wines: Pomerol's Le Pin and Petrus. The first growths have all moved up the table since last year, in part thanks to improved price performance, although Latour still trails the others. The wine that has most improved on 2016 – a new entrant into the top 15 – is Ausone, up 26 places, while Beychevelle has also seen significant improvement. Pavillon Rouge is the only second wine in the top 15.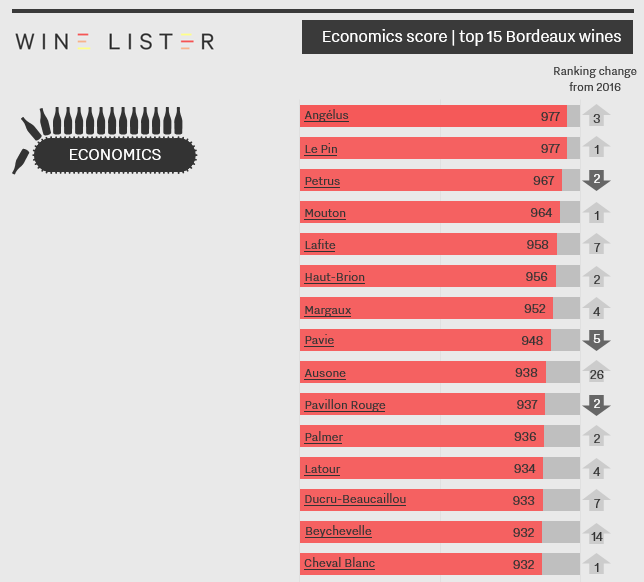 For the top Bordeaux crus in terms of overall Wine Lister score – which takes into account a wine's Quality score as well as those for Economics and Brand – take a look here.
These are excerpts from Wine Lister's 48-page Bordeaux Market Study – subscribers can download the full report from the Analysis page.