Jancis Robinson's top Bordeaux 2016 scores
Wine Lister's UK partner critic Jancis Robinson has released her scores for Bordeaux 2016 over a series of tasting articles, and these can now be found on Wine Lister's individual wine pages.
While 2016 has been hailed by some as a left bank vintage, Robinson found much to enjoy across both sides of the Gironde. In Pomerol, she praised "those who waited and managed the difficult business of judging picking times correctly", and more 19-point wines came from this appellation than any other. She singled out Vieux Château Certan 2016 for setting "the standard for the appellation" and noted its "lovely ripeness and nobility." In Saint-Emilion, 19-point Figeac 2016 was "Zesty and confident and of the place", while Canon 2016 had "real lift and drive."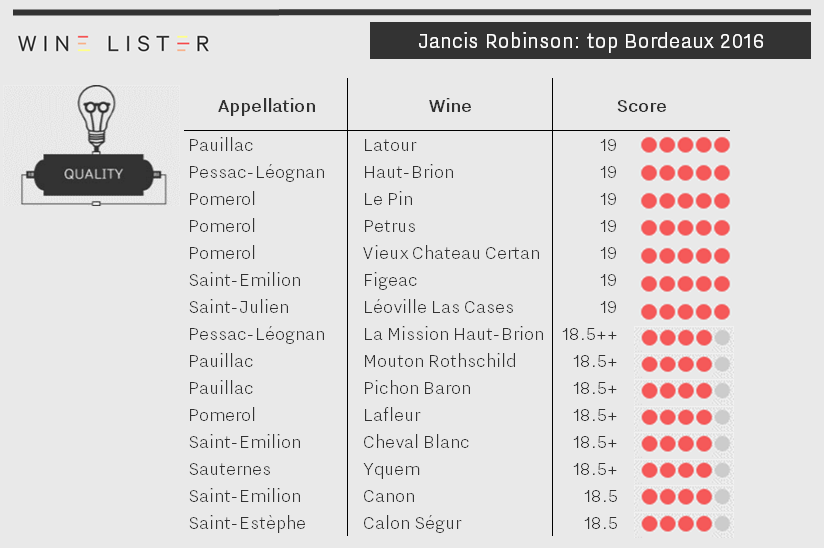 On the left bank, three of the first growths were among Robinson's top scorers. As Wine Lister has already noted, 2016 was a tricky growing season, and Robinson reports that at Haut-Brion, Jean-Philippe Delmas "pointed out that the vintage was saved by the cool nights that retained the grapes' and therefore wines' freshness."
From Pauillac, Latour 2016 significantly had "much more finesse than traditional Latour", while Robinson described Mouton Rothschild 2016 as "bone dry and utterly embryonic compared with most of the 2016s (with the notable exception of Las Cases)." Léoville Las Cases 2016 also received 19 points from Robinson.
Notably, amongst Robinson's top scorers there are no dry whites – a category she described as "the least exciting section of the Bordeaux 2016 vintage" – and only one sweet white (Yquem 2016), a group for which Bordeaux 2016 "won't go down in history."