Top US wines increase in popularity
With the latest data now in from Wine Searcher, we took a look at which wines have seen their average monthly searches soar in the last month. The US boasts two wines in this top 5, with searches continuing to increase for Screaming Eagle, and Scarecrow seeing a significant uptick. Bottled relatively recently, Scarecrow 2014 scored 96+ from our US partner critic Antonio Galloni, who described it as "a wine of finesse." At the end of February, Scarecrow 2014 was the top lot in a Premiere Napa Valley auction, selling for $200,000. The increase in searches has boosted Scarecrow's Brand score from 868 to 885.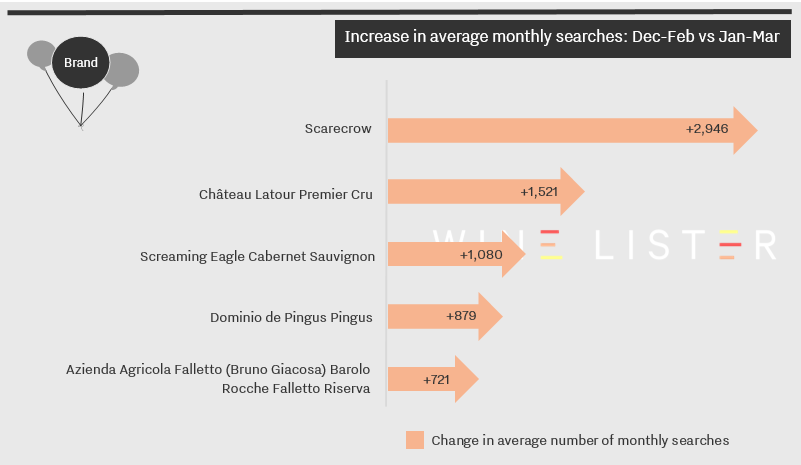 Latour was the only wine from France to see its popularity rise last month, with searches for the Bordeaux first growth no doubt increasing as a result of the ex-château release in mid-March of Latour 2005, for €670 per bottle ex-négociant. Latour has the highest Brand score of all the wines in the table, with a near-perfect 999.
The final two wines to have seen a rise in popularity are Spain's Pingus, whose 2014 recently received a 100-point score in the Wine Advocate, and Italy's Azienda Agricola Falletto (Bruno Giacosa) Barolo Rocche Falletto Riserva. In March, Antonio Galloni praised "the genius of Bruno Giacosa" in a vertical tasting, and the increase in searches resulted in the wine's Brand score rising from 812 to 822.
How is the popularity score calculated and how does it fit into the overall Wine Lister score?