Bordeaux 2016 en primeur part II: pricing, volumes, and timing
Our recent blog post reported the excellent quality of the Bordeaux 2016 vintage in the face of a tricky growing season, and discussed the generous yields that many producers enjoyed. In theory, the latter should keep en primeur release prices down. We took the temperature during our week in Bordeaux.
Olivier Bernard, President of the Union des Grands Crus de Bordeaux, declared that quantity is "good for the producers and for the people selling our wine, because it will help the château owners find the right price." He went on to refer to the ease with which "mistakes" are made when quantity is low, a nod to over-zealous en primeur pricing in the past.
In a recent survey of Wine Lister's 49 Founding Members (key global wine trade players), the average price adjustment for Bordeaux 2016 considered reasonable on 2015 was a decrease of 4%. Even the Bordeaux trade only suggest a 2% increase. It should be noted that this questionnaire was carried out prior to any tastings, and also that the trade's interest naturally lies in curbing price rises by the producers.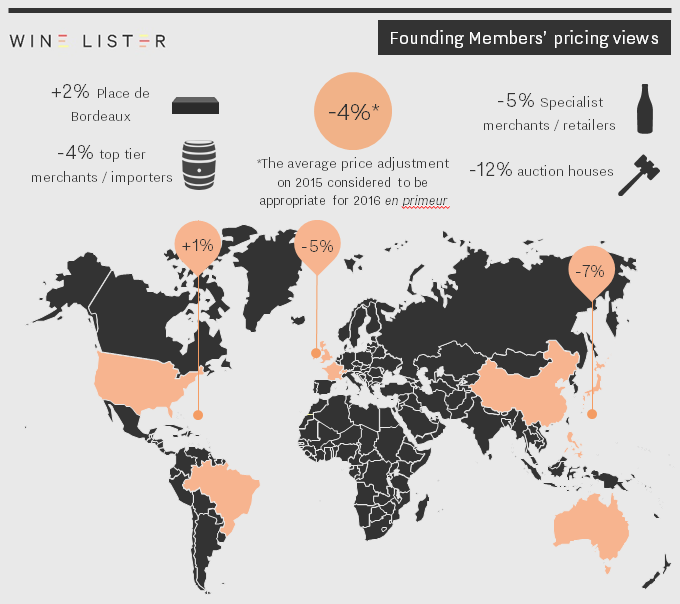 "What's for sure is that prices to the consumer need to be significantly lower than current prices of physically available vintages such as 2005, 2009 and 2010," asserted Stephen Browett, Chairman of Farr Vintners. "Why not allow all our distributors and consumers to make good buys and profitable sales of this vintage, with prices that are relatively stable compared to 2015?," appealed Nicolas Ballarin, courtier at Blanchy et de Lestapis.
Wine Lister's Founder, Ella Lister, is more sceptical, saying:
"I would be very surprised if Bordeaux 2016 prices do not increase on 2015, in some cases significantly. Every producer we spoke to said they would be upping prices on last year."
"Price-wise I don't think there is anyone who's thinking about selling 2016 at a lower price than 2015," confirmed Philippe Blanc, Managing Director of Château Beychevelle, hitting the nail on the head when he added, "the big question is how much more."
This remains to be seen: the mood is broadly bullish but with a dose of caution. François-Xavier Borie, owner of Grand-Puy-Lacoste, summarised, "demand is good, and perception of the vintage is great," concluding, "we will without doubt raise the price, but it shouldn't explode." His only fear is that things might be confused if certain châteaux adopt a different policy, going for "a high price on low volume." Nicolas Glumineau, Managing Director of Pichon Longueville Comtesse de Lalande, agrees that partial releases at inflated prices are counterproductive, calling the approach "artificial", and saying it "doesn't work to sell only 50% at a higher price." Pichon Comtesse usually sells 80% of production en primeur.
"It's a great vintage so it will be expensive," confirmed Glumineau, disclosing, "my ambition is to raise the price this year, yes." He is acutely aware, as are his fellow Bordelais, of mitigating factors such as the impending French elections. A Marine Le Pen victory "would affect the stock markets", he says, and "could devalue the euro relative to the pound."
Referring to the weak pound post-Brexit, Didier Cuvelier, owner of Léoville Poyferré, admitted, "it's true England worries us as it's always what sets the tone of the campaign." Emmanuel Cruse, Co-owner of Château d'Issan and Grand Maître of the Commanderie du Bontemps, Médoc, Graves, Sauternes and Barsac, cited political uncertainty in the UK, the US, and France, when he announced to a room full of producers and négociants, "we all know the situation isn't stable, but we need to be positive as the vintage is great and we have made a lot of it." Mathieu Chadronnier, Managing Director of négociant CVBG, observed, "I really feel a desire here in Bordeaux for this to be a successful campaign."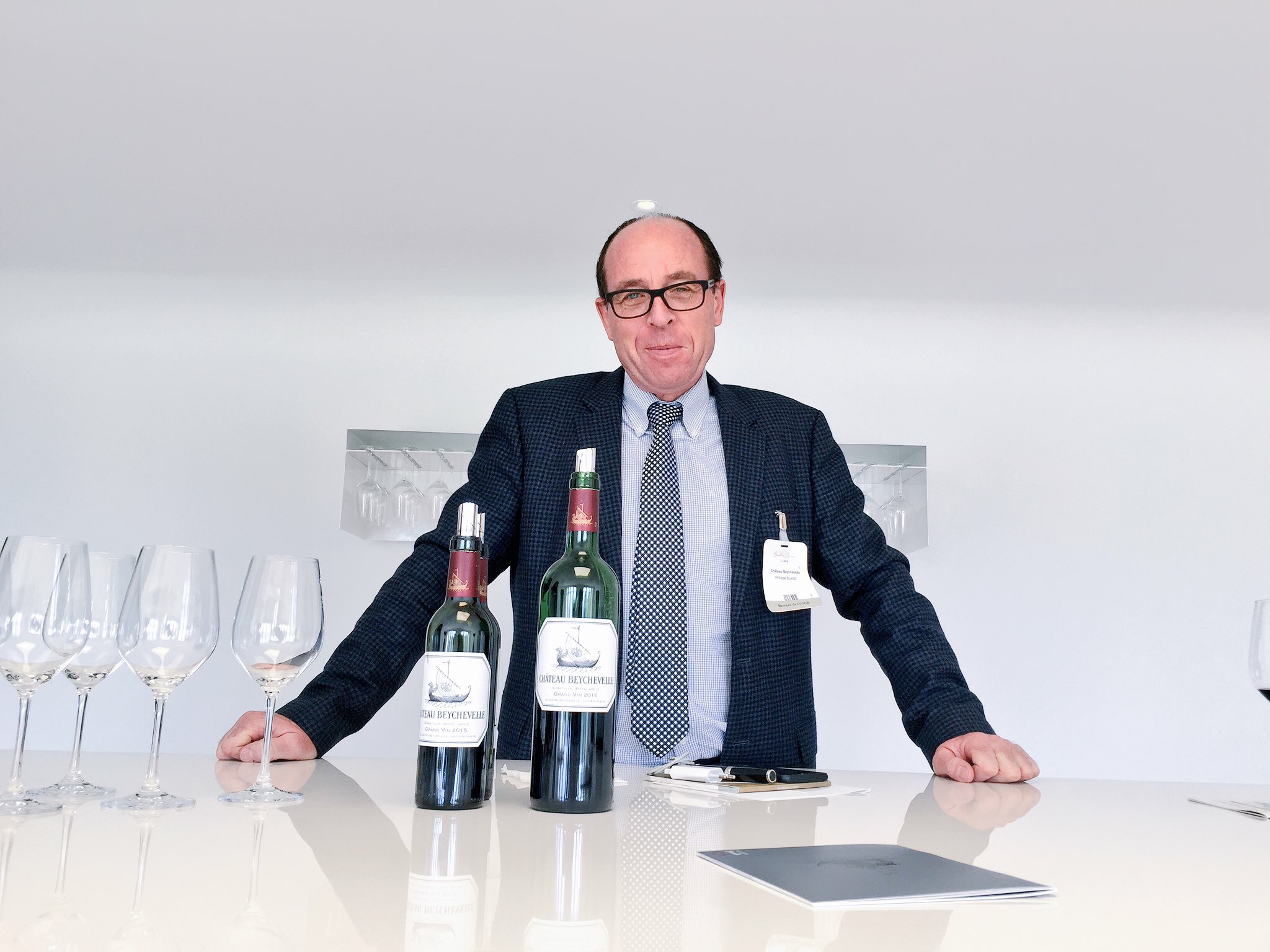 Philippe Blanc, Managing Director of Château Beychevelle, who will almost certainly raise the price on 2015, but won't be first out of the block. Photo © Ella Lister.
How will this positive approach affect timing for Bordeaux 2016? A couple of sources hinted at the possibility of a handful of early releases at the same price as last year, either by châteaux who priced highly last year or perhaps first growths wanting to set a trend. However, by far the dominant view was that the campaign would be a long one, lasting until after Vinexpo (18th-21st June in Bordeaux).
"A good campaign is one where timing follows a pattern – crus bourgeois first, then the fifth growths, the fourths etc.," expounds Glumineau. Blanc believes, "the general opinion is not to be quicker than need be," saying "it's good to have context," and confirming that Beychevelle "definitely won't be the leader timing-wise." Lister concludes:
"We await the first releases with interest, because of course nobody can predict the campaign's level of success until the party actually gets started."
Check www.wine-lister.com in early May for our new Bordeaux study, and follow us on Twitter for real-time analysis of the releases.