Tuscany: the trade's view on the producers and wines to watch
In the latest of our blogs on the findings from Wine Lister's Tuscany Market Study – following on from a look at the region's global standing, and the popularity of its appellations – we turn our attention to its individual wines. Here, we have carried out an in-depth survey with our Founding Members (the key fine wine trade players from across the globe, between them representing more than one third of global fine wine revenues), for insight into their confidence in Tuscany's individual wines.
First, we asked respondents which producers are due to see the largest gain in brand recognition in the next two years. More than half those cited are producers whose flagship wines are Super Tuscans / Tuscany IGT: Tenuta Tignanello (Tignanello and Solaia), Masseto, Montevertine (Le Pergole Torte) and Tua Rita (Redigaffi).
Brunello di Montalcino DOCG is home to two contenders, Biondi Santi and Casanova di Neri, while the final producer, Le Macchiole, makes mainly Bolgheri DOC wines.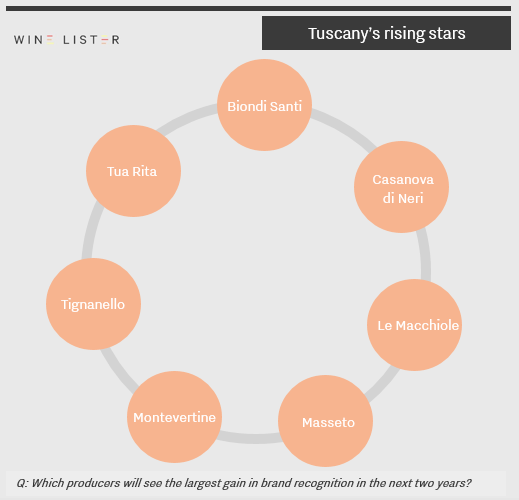 We also asked the trade which individual Tuscan wines they consider to be hidden gems: wines that they rate highly but which they perceive as underappreciated elsewhere. Two of these wines are made by rising star producers above: Tignanello, and Le Macchiole's Paleo Rosso, suggesting that these wines may not stay underappreciated for long.
Apart from Soldera Case Basse, all of the wines cited have average prices per bottle of £75 and under, combined with strong average Quality scores that vary between 814 (Castello del Terriccio Tassinaia) and 919 (Tignanello).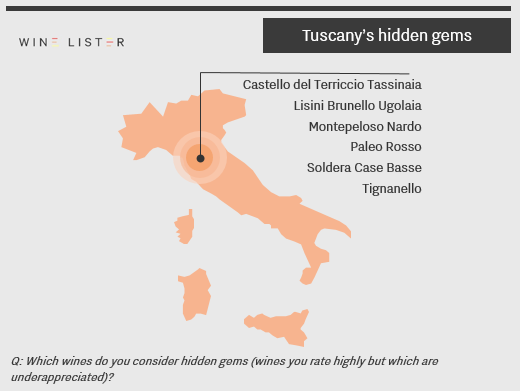 To take a look at the rest of the survey's findings – including which Tuscan wines have seen the sharpest rise in demand, which consistently sell out, and which the trade have most confidence in – please log in to Wine Lister and download the report from the Analysis page.