Wine brands hotting up in February
The latest Wine-Searcher search frequency data is in, allowing us to update our Brand scores with changes to each wine's popularity (one of the two criteria contributing to the Wine Lister Brand score, the other being a wine's presence in the world's top restaurants).
This month we've taken a look at the biggest movers in terms of incremental search increases (rather than percentage changes), comparing average monthly searches in the three-month period up to the end of January with those up to the end of February. While no region dominates, Bordeaux boasts two wines in the month's top five: Ausone and Calon Ségur. It may be no coincidence that the latter attracted considerable attention in February: the heart adorning its label ensures that Calon Ségur regularly finds a place in St Valentine's Day wine lists.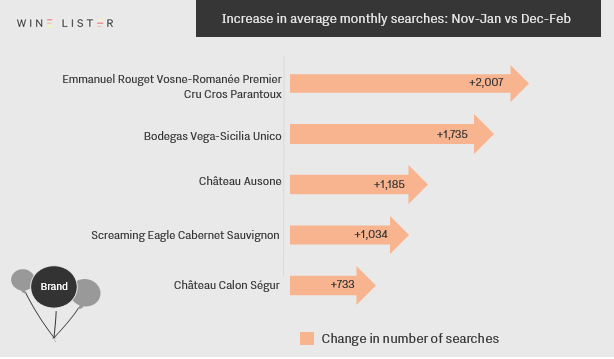 Bordeaux is not the only region whose top wines are on the rise. Two of the leading lights from Spain and California also make this month's top five. In February, Screaming Eagle featured in Sotheby's first Finest and Rarest New York wine auction of 2017 – a sale that brought $3.3 million. Vega Sicilia Unico has also made headlines recently with the long-awaited release of its 2005 in December, scored 18/20 by our partner critic Jancis Robinson. With an impressive overall score of 971/1000 from Wine Lister, Vega Sicilia Unico is the table's highest-scoring wine.
Gaining most in terms of online searches is Emmanuel Rouget Vosne-Romanée Premier Cru Cros Parantoux, which has seen average monthly searches increase from 3,114 to 5,121. In January, the wines changed US importer for the first time in 30 years.