22 Champagnes for 2022
Considering the latest industry insights shared in our annual end of year study, Wine Lister explores an eclectic range of Champagne MUST BUYs worth celebrating. With an initial selection made by our proprietary recommendation algorithm, based on quality and value within the category, we have singled out some top picks to pop open as we ring in 2022.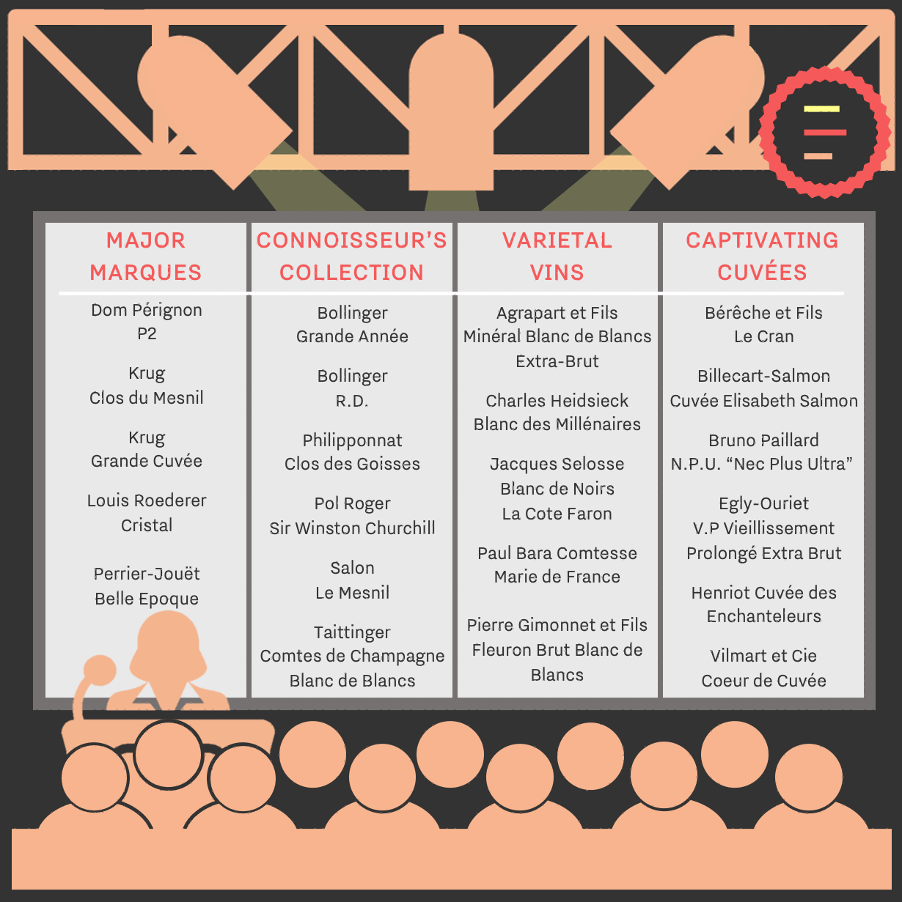 Wine Lister Leagues 2021: New Year's Eve Champagne MUST BUYs (p. 17)
With demand for Champagne reaching record heights this year, Wine Lister's latest Leagues explore a selection of top bottles to take you into 2022, featuring a variety of styles and price points across four categories: Major Marques, Connoisseur's Collection, Varietal Vins, and Captivating Cuvées.
What Champagne should I buy?
Major Marques
 A selection of Champagne's strongest brands, the list of Major Marques features Krug's Grande Cuvée and Clos de Mesnil alongside Louis Roederer's Cristal, Perrier-Jouët's Belle Epoque, and Dom Pérignon's P2. The latter is considered a top Investment Staple, receiving recognition from the global fine wine market as a relatively stable and liquid option (discover our list of 2021 Investment Staples on p. 16).
Connoisseur's Collection
Favourites among the trade and fine wine lovers alike, these insider icons include Philipponnat's Clos des Goisses, Pol Roger's Sir Winston Churchill, Salon Le Mesnil, and Taittinger's Comtes de Champagne. Bollinger is featured twice in the line-up with its Grande Année and R.D. cuvées; with a distinguished history dating back to 1829, the estate has the only two vineyards in Champagne to remain phylloxera-free throughout the late 19th-century epidemic.
Varietal Vins
Our selection of Blanc de Blancs worth seeking out include Agrapart et Fils Minéral Extra-Brut, Pierre Gimonnet et Fils Fleuron Brut, and Charles Heidsick's Blanc des Millénaires. Produced only in exceptional years, there have been four vintages of Blanc des Millénaires released since its inaugural 1983 vintage, with the cuvée spending a minimum of fifteen years maturing in the heart of Charles Heidsieck's 2000-year-old underground chalk cellars (a UNESCO world heritage site) before release.
Made exclusively from Pinot Noir, Jacques Selosse's La Cote Faro and Paul Bara's Comtesse Marie de France also feature in the MUST BUY selection. A seventh-generation family business, Champagne Paul Bara is one of the few grower producers in Bouzy – a village widely regarded as amongst Champagne's top sites for the production of Pinot Noir.
Captivating Cuvées
Sure to impress during the festive season, our list of Captivating Cuvées includes key grower producers Bruno Paillard, Bérêche et Fils, Vilmart et Cie, and Egly-Ouriet, whose featured wines each offer relative value within the selection of Champagne MUST BUYs. Henriot's Cuvée des Enchanteleurs and Billecart-Salmon's Cuvée Elisabeth Salmon complete the list – the latter being the only rosé Champagne featured, comprising a blend of around 50% Chardonnay and 50% Pinot Noir, of which 10% is vinified as red wine and incorporated into the final blend.
For further analysis on quality consistency, increased popularity, and a list of 2021s most compelling wines, download the Winer Lister Leagues 2021 here.